Leading Through Conflict — Getting an MPA to Transform Policy in the US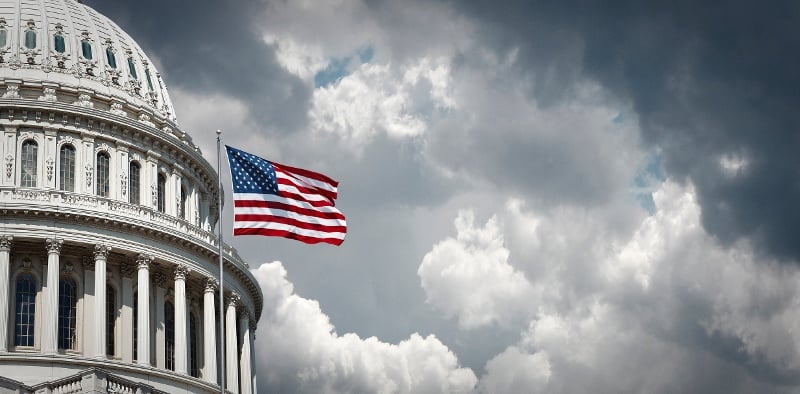 Whether you're interested in reforming the education sphere, combatting the opioid crisis, improving access to healthcare for marginalized communities, or countless other important issues, there's a place for you in the field of public affairs.
The United States is in dire need of skilled, driven leaders in public affairs who can address domestic policy challenges and ultimately, improve the lives of others in American, and beyond.
How can you best gain the practical skills you need to turn your idealism into reality? By getting an MPA (Master of Public Administration), you will develop the sought-after skills needed to lead through conflict in the United States.
Let's explore what this means for you.
What is Domestic Policy?
According to the Cambridge Dictionary, domestic policy is defined as: "the set of decisions that a government makes relating to things that directly affect the people in its own country."
The United States' polarizing political climate has engendered bitter, bipartisan struggles across many spaces: education, healthcare, immigration, infrastructure, national security, and the environment, to name a few.
While these struggles rage among elected officials, those doing the "business of government" are working hard to improve access to healthcare, promote criminal justice reform, address climate change, and advance gender equality.
In many ways, these impact-driven individuals play an important role in the wheels of change, but to enact meaningful domestic policy reform, you need to have relevant skills — skills that an MPA can provide you.
Is an MPA Worth It?
An MPA program values diversity of thought and experience. Relative to other professional degrees, the MPA is far more interdisciplinary, drawing on the fields of economics, finance, management, political science, and psychology. By promoting this interdisciplinary perspective, the MPA provides students with the tools required to improve people's lives.
Those who pursue an MPA pursue management roles in the public interest, where the standards of accountability, transparency, and equity demand a unique mix of knowledge, skills, and abilities. Those who choose an MPA degree do so after careful introspection, and upon determining that their goals, values, and focus lie in positively impacting the lives of others.


MPA Concentration Options for Policy Leaders in the US:
Cornell's MPA program allows you to choose from eight concentration options and pursue specialized courses to develop expertise in your selected area.
Within each of these concentrations, you have the flexibility to formulate a personalized study plan. With the guidance of your advisor, you select a set of five courses that offer you the specialized knowledge you need to achieve your personal goals within a concentration.
For MPA student who want to transform policy in the United States, there are seven concentration options that specifically are designed to prepare tomorrow's domestic US policy professionals for success.
MPA Fellows choosing the Government, Politics, and Policy Studies concentration develop an advanced understanding of how politics and political management intersects with policy processes, program development and resource management in the public sector.
Note: For more information on the Government, Politics, and Policy concentration, read: How Getting an MPA Can Help You Build a Career in Government Policy.
MPA Fellows concentrating in Environmental Policy tailor their courses to gain an understanding of current economic, social, political, technical and legal issues regarding the restoration and management of our natural environment, as well as engineering, economic and legal perspectives for analyzing and formulating policy at the national, sub-national and international levels.
Note: For more information on the Environmental Policy concentration, read: Want to Address Climate Change? Study Environmental Policy.
Those who choose to participate in the Social Policy concentration learn an array of tools and policy history required for designing, managing, and evaluating programs in their choice of social policy area which include health, nutrition, education, poverty alleviation, aging, criminal justice and others.
Note: For more information on the Social Policy concentration, read: Getting an MPA to Advocate for At-Risk Children in the United States.
The STIP concentration is intended to assist MPA students in developing the knowledge and skills to work in policy/project analysis, project planning, implementation (including financing and construction) and operations in the areas of science, technology and infrastructure policy.
Note: For more information on the STIP concentration, read: What is Science, Technology, and Infrastructure Policy?
Students participating in the Public and Nonprofit Management concentration tailor their studies for careers as general managers in the public sector or as leaders of domestic or international nonprofit organizations. In this concentration, students acquire a strong set of budgeting, investment, debt financing, and data-driven analytical skills as well as managerial skills including negotiations, leadership, staffing, and compensation skills.
Note: For more information on the Public and Nonprofit Management concentration, read: How Getting an MPA Will Prepare You for a Career in Nonprofit Management.
MPA students who choose a concentration in Human Rights and Social Justice focus on human rights, which, although often assumed to be universal, remain controversial in domestic and world politics. Students in this concentration study policies that support the expansion of human rights and the elimination of all forms of discrimination, such as those based on gender, race, class, religion, ethnicity, caste, sexual orientation, disability or marital status both domestically and internationally, and work toward ensuring equal opportunities before the law and in society-at-large.
Note: For more information on the Human Rights and Social Justice concentration, read: Promote Gender Equality by Getting an MPA.
MPA students concentrating in Economic and Financial Policy explore ways in which public policy affects economic and financial decision making, and vice versa. Students may study these policy issues at the level of international organizations, federal/state/local government, non-governmental organizations or the private sector.
Note: For more information on the Economic and Financial Policy concentration, read: How Getting an MPA Can Help You Shape Economic and Financial Policy.
Getting an MPA at Cornell University:
You have the opportunity to transform policy in the United States — in turn, positively impacting the lives of others in the U.S., and beyond.
At Cornell University, we are prepared to help you build a successful and meaningful career, which means we are committed to both your educational and professional success. By earning your MPA at Cornell, you are investing in a degree that will prepare you for a dynamic, rewarding career in public administration.
If you have questions about beginning your MPA journey at Cornell, we encourage you to request more information today!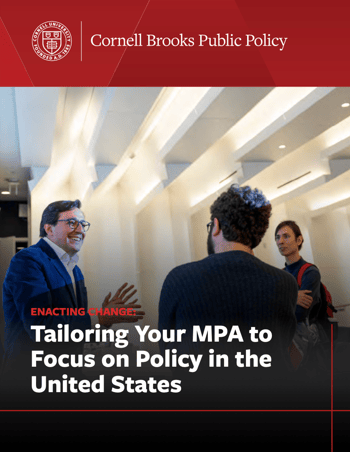 Thinking about getting an MPA?
Download Cornell University's Domestic Policy Guide to learn more!
---
Recommended for you