Promote Gender Equality by Getting an MPA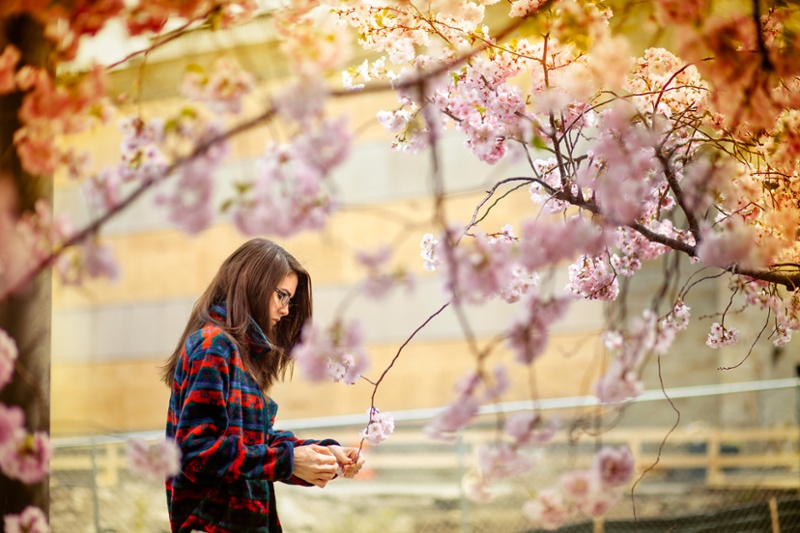 Longer lives, the chance to go to school, the #MeToo movement. The world has made some measurable progress on gender inclusion and women's empowerment in recent years. Because of global resolutions made in the last 25 years, women are living nearly eight years longer than they were in 1995. In terms of education, nearly two-thirds of girls around the globe are now enrolled in secondary school, as opposed to 1:2 in 1998, according to UNICEF.
The gender equality movement still has far to go — but armed with a Master of Public Administration with a concentration in Human Rights and Social Justice from Cornell University's Institute for Public Affairs, you can team up with companies, cities, international organizations, and nations around the world to address gender inequality.
There are so many reasons you might want to concentrate in Human Rights and Social Justice and so many ways you can combat gender inequality:
Help the thirteen million teenage girls around the world who have experienced forced sex
Raise awareness on the topic of violence against women and the urgency of wartime sex slaves
Work on behalf of the one in four girls aged 15-19 years who are underemployed and underserved in education (compared to nine out of ten boys their age who are employed or receiving useful education and training)
Whatever your area of interest, if you're a highly mission-driven, results-oriented professional who wants to promote gender equality and social justice, getting an MPA and concentrating in Human Rights and Social Justice may be just the next step for you on your journey to make a positive difference.
5 Jobs That Protect Human Rights
There are thousands of jobs in the field of gender equality and human rights that require the advanced skills provided through Cornell's MPA coursework. Take a look at just five of them, all diverse and highly impactful.
Social and Community Service Manager
A social and community service manager plans and directs the work of a social service program or community outreach organization. They oversee the program, budget, policies, and personnel with sensitivity to best practices for diversity, inclusion, and empowerment of women.
Policy Analyst
Policy analysts work for companies, research groups, or the government as professional researchers, helping to advance human rights through data-driven policy recommendations. They gather and analyze data and present findings about the costs and benefits of different solutions. Policy analysts are usually required to have a master's degree in a relevant field.
Communications Manager
A communications manager promotes the human rights mission and services of a nonprofit organization, for-profit, or government agency. They shape the organization's image, content, and messaging to the public. In fields related to social justice and human rights, a communications manager will likely work hands-on with key stakeholders to increase the organization's visibility and effectiveness.
Director of Public Policy
The director of public policy for an organization seeking to advance gender equality and social justice develops and carries out a government relations plan that supports their objectives. The director develops plans of action, represents the organization and its strategic plan at public forums, and oversees the preparation of research projects to support their organization's policy objectives.
Strategic Human Resources Manager
A strategic human resources manager acts as the leader for an organization's overall strategy for hiring, sometimes across HR teams and locations. They may oversee budgets and provide leadership, advice, and guidance to executive management and members of the organization. The human resources manager will see that diversity and inclusion form the basis for their organization's staffing.
As you can see, there is potential in a variety of sectors for you to be a change agent. Use your business and program development skills, conduct research and analysis, and build relationships all over the globe. Don't settle for less — you don't have to, with an Ivy League MPA and the opportunities it will afford you.
Externships and Internships in Public Administration
Do you already know that you would like to gain professional experience at a particular government agency, NGO, or private-sector firm? Many students are drawn to our MPA because of its focus on experiential learning. During their graduate coursework, MPA students at Cornell have a number of internship and externship options, nearly 43 percent of them being international.
Cornell's MPA externship options allow you to live, work, and gain experience somewhere else in the world while enrolled in our coursework. All students who participate in off-campus semesters get paired with an alumni mentor who is already working in their field. This provides tremendous benefits and opportunities for our students, particularly after graduation.
Recent program participants have been placed in MPA internships with the following representative organizations that are tackling gender inequality in various sectors:
AfricAid
Amnesty International
China Labor Watch
Community Foundations
Human Rights Watch
National Organization for Women
NY State Department of Labor
UN Office for the Coordination of Humanitarian Affairs
UN Office of the High Commissioner for Refugees
U.S. Department of Justice
These organizations work every day to promote and defend universal human rights that are still controversial in domestic and world politics. Working with them, students in the concentration learn to serve as advocates for alleviating political, economic, and social inequality. Our students also study policies that support the expansion of human rights and the elimination of all forms of discrimination. Through our concentration in Human Rights and Social Justice, students work toward ensuring equal opportunities before the law and in society for people of every gender, race, class, religion, ethnicity, caste, sexual orientation, disability or marital status.
Here at the Cornell Institute for Public Affairs, we are preparing people to solve some of the world's most complex public policy challenges related to Human Rights and Social Justice. With the help of our expert faculty and strategic learning opportunities, you can join hundreds of other successful graduates of the MPA program who are leaders in promoting gender equality.
Is an MPA Worth It?
As you think about getting an MPA and wonder, "Is an MPA worth it?" remember this. Being a leader in public policy requires skills and tools that give you a competitive edge. You need tremendous critical thinking skills, policy expertise, and advanced preparation for management roles. But the payoff is world-changing. With a career in public affairs, you can help improve gender gaps and reform public policy in a way that benefits vulnerable populations everywhere.
Our Cornell MPA students go on to a myriad of jobs in public administration, human rights, and social justice. More than 90 percent of past graduates have found full-time employment or continued their education within nine months.
Are you interested yet? We welcome you to ask questions and request more information here! We can't wait to see where your goals and our unique MPA concentrations converge.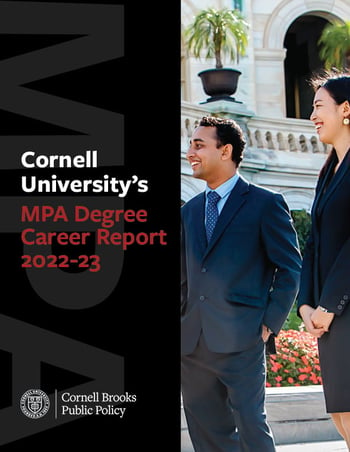 Allow the professionals in Cornell's MPA program to help you land your dream career — download the 2021-22 MPA Career Report today!
---
Recommended for you