Experiential Learning Makes a Difference — One Veteran's MPA Journey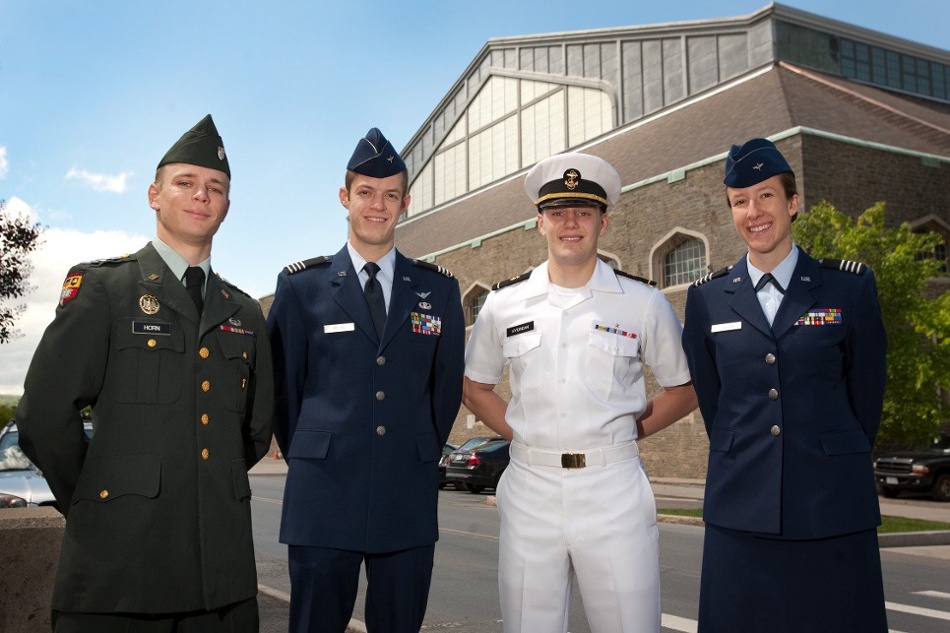 Mauricio Cortes is a military veteran, a graduate of Cornell University's Master of Public Administration program, and is currently employed at the U.S. Department of State in Washington D.C.
Cortes found a community in Cornell's MPA program, and he's here to showcase his unique experience.

When did you graduate from the Cornell MPA program?
I graduated in 2017 with a Master of Public Administration degree and with a Public and Nonprofit concentration. I was also selected as Cornell Graduate School Marshal during 2017 Commencement.
What is the title that you had when you exited the military? What endeavors are you currently pursuing?
I served four years in the U.S. Navy (USN), active duty, and I left as a Second Class Petty Officer (Gunner's Mate). I currently work at the U.S. Department of State in Washington D.C.
What brought you to Cornell's MPA program?
I enlisted in the USN shortly after 9/11. After my military service, I worked in the private energy sector for a handful of years through North America and Europe — then, I went to college. When I was a rising junior at Penn State, a couple of professors encouraged me to consider top-tier Public Administration graduate programs since I was interested in pursuing a career in foreign affairs.
I visited three Ivy League schools, and Cornell University was the only one that checked all the boxes. I was looking for a robust, yet flexible program that would allow me to do a semester away from Ithaca to gain relevant experience and network. I also wanted to be in a place away from distractions and in a program where I could be more than just a "number." As my GI Bill benefits were coming to an end at Penn State, CIPA offered me, by far, the most comprehensive financial aid package with the unique opportunity to take courses anywhere within Cornell.
Describe how the MPA prepared you for your future work.
Since I arrived at the U.S. Department of State in 2016, I have served in four bureaus at various capacities: Policy Analyst, Foreign Affairs Officer (Labor Relations), Program Analyst, and Compliance Specialist. Every class I took at CIPA, whether related to Public Administration, Finance, Labor Relations, Statistical Methods, or Microeconomics, has had some type of relevance to the work I do on a daily basis. I would make extensive data visualization/analysis one morning and then switch to editing the Human Rights Report the same afternoon at the Bureau of Democracy Human Rights and Labor.
At the Bureau of Overseas Buildings Operations, I would meet with infrastructure professionals to discuss building a new embassy compound abroad while taking into account the social, environmental, and economic impacts of such project on the local community. At my current job, I ensure our military technology is properly safeguarded from bad actors and terrorist organizations. Knowing how to successfully navigate stakeholder maps while dealing with cross-cultural, multidisciplinary and diverse teams were some of the many skills I honed during my time at CIPA.
What makes CIPA's MPA an ideal fit for someone coming from a military background?
Globalization continues to be paramount whether in the private, public, or nonprofit spheres. During my time at CIPA, I was fortunate to learn from many fellows who were changing the world in their respective communities/countries.
I always admired the drive and tenacity of some of these CIPA fellows, who would often deal with many constraints in every corner of the globe. Some of the issues my former CIPA fellows dealt with is what made them strong and exceptional, and when you put many of these folks in the same cohort, the knowledge exchange and room for improvement can be exponential. A similar phenomenon happens in the military, where all of us come from different walks of life and work very hard to foster a safe and sustainable environment.
Are there any experiences in the MPA program that made a lasting impact on you?
My overall experience in the Cornell MPA program was outstanding! I would say the opportunity to do a semester in D.C. was phenomenal because I was able to work in the State Department and gain some diplomatic experience while taking courses that counted toward my MPA. I was very fortunate to have worked in WHA, which exposed me to many fields and topics across the region. One day I was working on research analyzing trading patterns between China and Latin America, the next day was learning about counter-terrorism and human trafficking issues.
My supervisors invited me to many meetings inside and outside the department to learn about other transnational issues and policymaking, an opportunity that many of my peers from other federal agencies did not have. Lastly, having the ability to network in the nation's capital was a great advantage as well. During my semester in D.C., I learned about the Veterans Innovation Partnership (VIP) program, which eventually served as a gateway for full-time/permanent employment at the State Department.
How would you describe the sense of community you found in Cornell's MPA program?
The sense of community at CIPA and Cornell are very special because we come from many places around the country and around the world which fosters a very tolerant, open-minded, and engaging environment. Our group became a big family as we interacted with one another on a regular basis. Our faculty and staff were always very caring and compassionate all throughout, and as a result of it, we built strong relationships.
My experience at CIPA reminds me of my time in the U.S. military in the sense that I have created strong bonds and made some unforgettable memories with very special people that will always be able to rely on. As stated on Cornell's video, the school is "elite and egalitarian" and not pretentious as other top-tier programs.
What advice would you offer a fellow military member who had decided to pursue an MPA at Cornell University?
The best advice I can give any prospective military member/veteran is to come to Ithaca and visit Cornell University. Spend a full day on campus, talk to other military people, undergraduate and graduate students, and sit in a couple of classes to get a sense of the caliber of public administrators that are being trained in this beautiful and magnificent place.
Not many MPA or International Affairs programs will let you take courses in engineering, labor relations, or city and regional planning. People on campus appreciate our military service and the experience we bring to the program; take advantage of all the great things Cornell has to offer.
Do you have any other information or input that you think would be helpful for applicants to know?
Since the MPA program is part of the College of Human Ecology, eligible CIPA veterans qualify for additional financial aid with the New York State Higher Education Services Corporation through its Veterans Tuition Awards.
Military experience can open many doors… imagine what this experience, combined with a top-tier education, can do to your personal and professional development? That is a great platform to make friends, network, and participate in other events.
Getting an MPA at Cornell University:
If you're passionate about the field of public affairs and if you want to learn more about how getting an MPA at Cornell University will enable you to make a real difference in the lives of others, we encourage you to request more information today!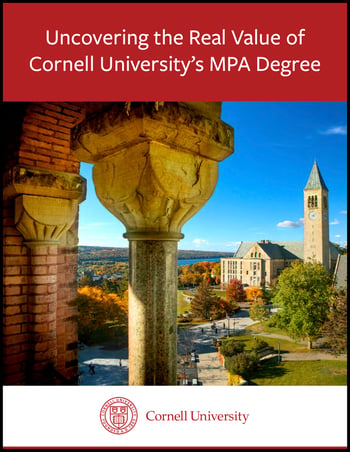 Is getting an MPA worth it? Download and explore Cornell University's Value of an MPA Guide to learn more about advancing your career opportunities.
---
Recommended for you