4 Changemakers in Public Affairs Teaching in Cornell's MPA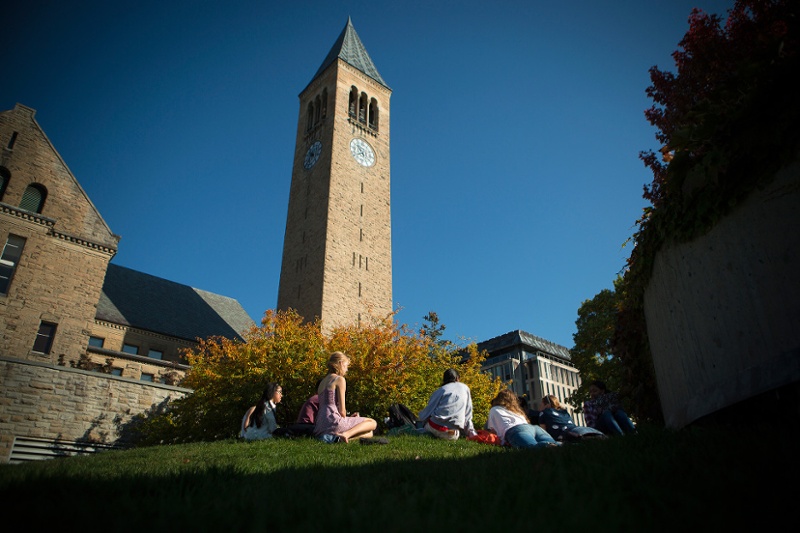 The Master in Public Administration degree offered by the Cornell Institute for Public Affairs is unique in many ways; it can be described as flexible, customizable, and experiential, but perhaps the most valuable aspect of our MPA program are the experts we employ to teach the curriculum.
The community of faculty members who teach in Cornell's MPA program are a diverse and talented group of faculty who are renowned for being some of the most dedicated and effective change agents in public policy.
CIPA: A Unique Faculty Community
Cornell's MPA features an interdisciplinary curriculum. This means that, within your concentration, you may take courses through the College of Human Ecology, as well as from a variety of world-class faculty representing disciplines from across the university. Why is this important? It is important since as you refine your concentration goals, you will have the flexibility to choose coursework with experts who are conducting research and publishing in your chosen area of study, regardless of which Cornell school or college they belong to.
Without further ado, allow us to showcase just a few of the many respected changemakers who are teaching and inspiring the next generation of leaders in public policy and public affairs.
1. Laurie Miller, Associate Director for CIPA public engagement
Laurie's background: Miller holds a B.A. degree from the University of Massachusetts and graduate degrees in education and human development from Harvard University along with degree in public policy and administration from Columbia University.
Laurie's research and impact: Miller has conducted research on local implementation and administration of federal programs; communication, awareness, knowledge, and understanding of government programs and services within different communities; the development of public-private partnerships; state-level and community collaborations to improve education, early childhood, health, and social services; and stakeholder engagement in the policy, program development, and legislative processes.
Miller's research, government, and independent consulting experience in the public sphere informs her work with CIPA students as they engage with public agencies, NGOs, and other partners to address public concerns internationally, in the United States, and in Ithaca and Tompkins County.
2. Sharon Tennyson, Professor, Policy Analysis and Management
Sharon's background: Tennyson began her career as an Assistant Professor in the Department of Insurance and Risk Management at the Wharton School of the University of Pennsylvania. From 2014-2017 Dr. Tennyson served as Director of CIPA, and from 2012-2017, she served as Editor of the Journal of Consumer Affairs. She is now a professor at Cornell University in the Department of Policy Analysis and Management and Director of Graduate Studies for the Field of Public Affairs.
Sharon's research and impact: An economist by training, Dr. Tennyson's primary research focus is the impact of laws and government regulations on the well-being of consumers in markets. Recognizing that government actions may alter firms' operations and/or consumers' decisions in markets, her work explores the effects of regulations on these behaviors and the changes in market outcomes that result. Much of her work has studied insurance markets, but she has also written on the regulation of credit cards, prescription drugs, and airlines.
Tennyson is currently the Editor of the International Review of Financial Consumers and a Senior Associate Editor of the Journal of Risk and Insurance.
3. Raza Ahmad Rumi, Visiting Lecturer
Raza's background: Rumi is a Pakistani policy analyst, journalist, author, and visiting lecturer at Cornell University. He has also taught at Ithaca College and the Gallatin school at NYU. Rumi was Director at Jinnah Institute, a public policy think tank, and Executive Director of Justice Network, Pakistan, and in March 2014, he moved to the United States after surviving an assassination attempt.
Rumi has been fellow at United States Institute for Peace, National Endowment for Democracy, and Berkley Centre for Religion Peace and World Affairs at the Georgetown University. Prior to his foray in journalism and public affairs, he worked for the Asian Development Bank as a governance specialist and an officer in Pakistan Administrative Service.
4. Daniel Peter Loucks, Professor Emeritus, School of Civil and Environmental Engineering
Danie's background: Daniel P. Loucks obtained a B.S. from Pennsylvania State University, 1954, an M.F. from Yale University 1955, and a Ph.D. from Cornell University, 1965. From 1965 to 2012, and now as an emeritus professor on the faculty of the School of Civil and Environmental Engineering at Cornell University, he teaches and directs research in the development and application of economics, ecology, and systems analysis methods to the solution of environmental and regional water resources problems.
Daniel's research and impact: During periods of leave from Cornell, Loucks has been a Research Fellow at Harvard University (1968); an Economist at the Development Research Center of the World Bank (1972-73); a Research Scholar at the International Institute for Applied Systems Analysis (1981-1982); and a Visiting Professor at the Massachusetts Institute of Technology (1977-78), the University of Colorado in Boulder (1992), the University of Adelaide in South Australia (1992), the Aachen University of Technology in Germany (1993 and 1995), the Technical University of Delft in the Netherlands (1995), the University of Texas in Austin (2000), and the Technical University of Vienna, Austria (2010-13).
Loucks has served on various committees and boards of the National Research Council of the National Academy of Sciences, and was appointed to United States Army Corps of Engineers Environmental Advisory Board in 1994. He served as Vice Chair of the EAB in 1995, as Chair from 1996 to 1998, and received the Commander's Award for Public Service in 1998. He was given the first Maass-White Fellowship at the Corps' Institute for Water Resources in Alexandria, Virginia in 2002. He currently serves on the Governing Board of the Natural Heritage Institute, a law firm specializing in freshwater restoration located in San Francisco, California.
Join a community of experts in Cornell's MPA
Fueled by a dedication to academic excellence, the faculty who contribute their time and skills to Cornell's MPA coursework are both practitioners and thought leaders. They offer experience with on-the-ground policy implementation coupled with solid research. At Cornell, you will find an environment where future leaders in public affairs can learn the skills necessary to make a tangible difference in the lives of others — no matter your chosen area of focus and passion.
You can read more about our prestigious faculty, the program structure, and more details for those eager to apply to Cornell in our Cornell MPA Thought Faculty Guide. You can also request more information today to receive a variety of informative resources.
We look forward to answering your questions and helping you determine how to transform your future with an MPA degree from Cornell University!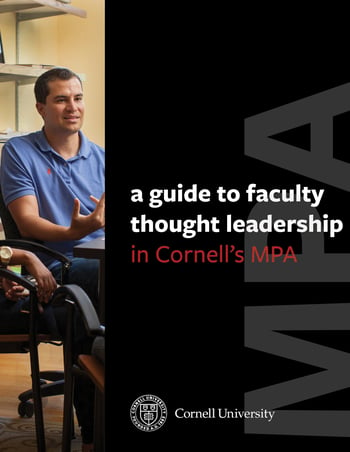 Download the Faculty Thought Leadership Guide to hear from the expert thought leaders who are teaching in Cornell's MPA and who are inspiring the future changemakers in public policy!
---
Recommended for you