Want to Address Climate Change? Study Environmental Policy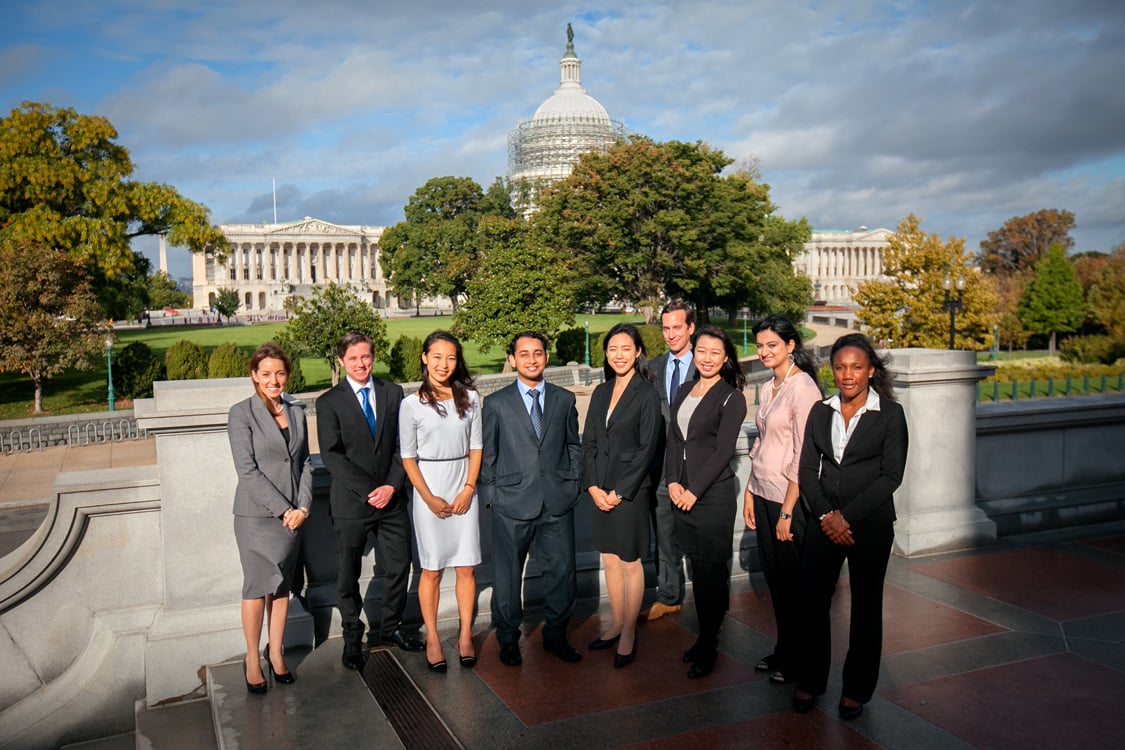 Climate change is a pressing issue.
It is altering our environment in ways that impact disaster management, economic development, and food security among other vital areas of public policy. If you are concerned about climate change and want to do something about it, a Master of Public Administration with an Environmental Policy concentration might be right for you.
The world needs mission-driven, results-oriented professionals like you to combat the threat of climate change.
Prepare for a management or leadership career in public service by getting an MPA degree at Cornell University. Students of this respected program graduate with the skills and tools to address policy challenges that impact climate change. Cornell's MPA program stands out among other Ivy league MPA programs due to its valuable internship opportunities, unique externships, and supportive faculty and alumni. It is the strategic choice for earning a valuable degree that will in turn, prepare one to address climate change.
Why study environmental policy?
The United Nations called climate change "the defining issue of our time." The planet's average surface temperature has risen about 1.9 degrees Fahrenheit since 1880, resulting in warmer oceans, shrinking ice sheets, and rising water levels. The results of these changes impact almost every aspect of public life, from economics and politics, to business to sustainability. Studying environmental policy can help prepare you to make a difference in any of these areas.
By focusing on Environmental Policy in Cornell's MPA, you will take classes in finance, management, political science, economics, and political psychology. Along the way, you will investigate current economic, social, political, technical, and legal issues and how they are impacted by climate change. With a concentration in Environmental Policy, you will gain the skills and hands-on experience to work on issues directly related to climate change and environmental security.
Food, water, energy, and environment are all connected. As the climate changes, public policy must change as well. Professionals working in public affairs can help reduce the risks from floods, droughts, and pollution while improving water, food, and housing security for people around the world. An MPA focused on Environmental Policy will help you get there.
Is an MPA worth it?
The interdisciplinary approach and global focus of Cornell's MPA make it one of the most valuable graduate degrees you can earn. Most students find employment in their field, while a small percentage go on to further graduate study.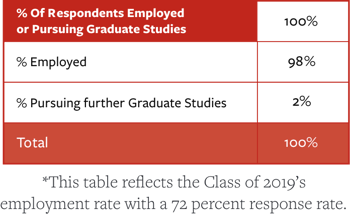 Start changing the world right away by getting hands-on, real-world experience with an internship and externship. These valuable experiential learning opportunities give you a platform to transform public policy and improve environmental security before you even graduate.
Cornell MPA interns have worked with organizations as diverse as Accenture, the Brookings Institute, Citibank, The Port Authority of New York and New Jersey, UNICEF, the U.S. National Park Service, and the United States Department of State. More than 40 percent of internships are international with an even split between public, private, and non-profit opportunities.
Environmental policy students can also pursue externships. Live and work in Albany, Washington D.C., New York City, or India for a semester. Connect with professionals in the industry while working with an alumni mentor who offers guidance and career support. By the time you graduate, you will have a robust professional network that spans the globe. Because environmental issues are global issues, 45 percent of Cornell's MPA graduates are employed internationally.
Careers in environmental policy
Studying environmental policy prepares you for a range of public affairs careers and jobs in public administration. Address climate change head-on or help communities address the effects of rising seas, warming temperatures, and melting ice caps.
Here are just a few of the careers you can pursue with your MPA:
1. Environmental Policy Analyst
Address environmental challenges by researching data, policy, and proposed solutions. Your recommendations will guide legislation, awareness campaigns, and fundraising approaches. Environment and health organizations at all levels of government employ environmental policy analysts. In this role, you may also choose to work for a non-profit organization.
2. Marketing and Research Associate, Environmental Policy
Support the work of environmental policy analysts and consultants by conducting research, drafting documents, and managing schedules. You may be called upon to create marketing campaigns or other communications that help promote environmental initiatives and increase awareness of global climate change. Marketing and research associates in environmental policy often work with government agencies, utility providers, and foundations.
3. Corporate Social Responsibility Consultant
Help businesses of all sizes integrate strategies to minimize carbon footprints, protect the environment, and improve sustainability. Your work will help businesses protect the planet while serving their customers. Perform environmental impact assessments and advise the c-suite on best practices to address global warming and other environmental challenges.
4. Environmental Lobbyist
Advise lawmakers in local, state, and national governments on laws and policies that will protect the environment. Your job will be to support special interest groups or non-profits to advance their environmental protection initiatives. Environmental lobbyist is a perfect career for someone who is passionate about both politics and the environment. Build relationships with politicians, researchers, and public agencies to unique them in the common goal of addressing climate change.
5. Public Involvement Specialist or Public Outreach Officer
Help environmental organizations and public awareness groups find potential donors and spread vital information related to climate change and the environment. Involving the public is an essential contributor to real, lasting change. You can even help to dispel the cloud of misinformation surrounding climate change. Non-profit organizations, foundations, and government agencies with environmental concerns may employ public involvement specialists.
6. Climate Change Analyst
Take a stand on the front lines of the climate change debate. As a climate change analyst, you will investigate the effects of the changing climate and translate that information into useful data for education, grant writing, and outreach. Your work can help non-profit organizations, government agencies, research organizations, and even universities investigate and address climate change.
Become a changemaker by getting an MPA at Cornell University
Prepare to make a positive change in the world with an MPA from Cornell University. With wide-ranging interdisciplinary courses, hands-on experience from MPA internships and externships, and a network of environmental policy professionals, you will have everything you need to succeed while working in public affairs.
If your mission is to address climate change, then getting an MPA and concentrating in Environmental Policy may be an ideal choice for you. To achieve your professional goals and start impacting public policy, request more information or apply online today!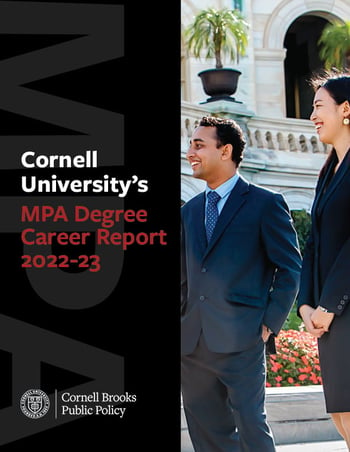 Allow the professionals in Cornell's MPA program to help you land your dream career — download the 2021-22 MPA Career Report today!