7 Public Service Careers for MPA Graduates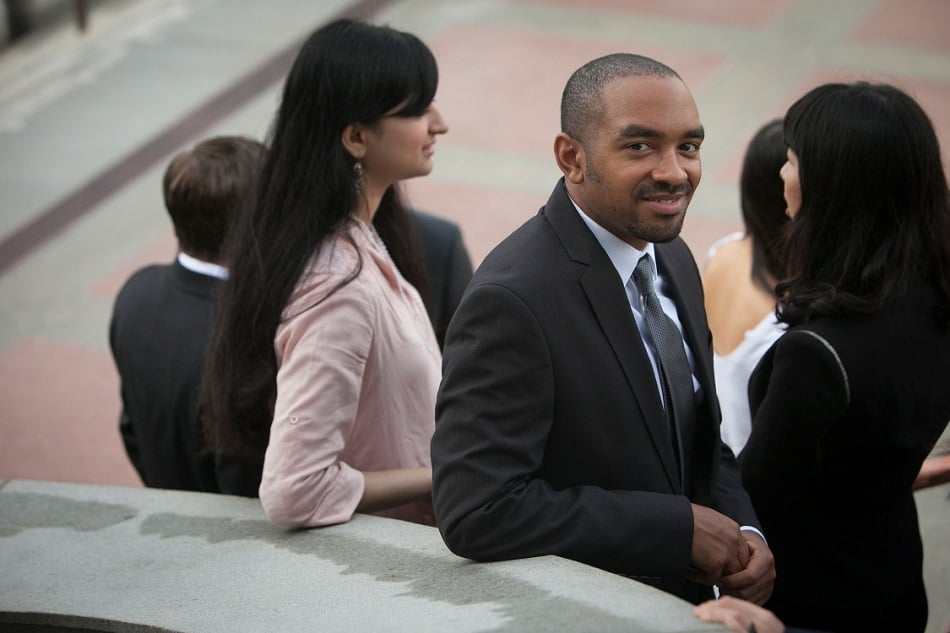 How do you define career success?
At the Cornell Institute for Public Affairs, we begin by asking you to think critically about your career goals and then enable
you to design a curriculum that allows you to build the skills, knowledge, and tools needed to achieve your desired career
path. Allow us to showcase just a few of the public service careers that are available to graduates of a Master of Public Administration degree.
Is getting an MPA worth it?
At Cornell University, we have measurable data that shows the real return on investment that comes with pursuing an MPA at the Cornell Institute for Public Affairs. Here's a quick breakdown of Cornell's MPA graduates who have either found employment in the field or have moved on to further graduate study within six months of graduation.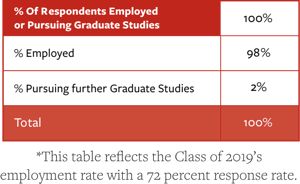 Further, here are four more data-driven reasons you should get an MPA at Cornell University:
Relative to other professional degrees,

the MPA is far more interdisciplinary, providing students with the tools required to navigate conflict and bring people together to improve lives.
Fueled by the expert faculty teaching the MPA curriculum, graduates enter the workforce with

real-world experience and the practical expertise

needed to succeed in a variety of professional landscapes.
Because Cornell is the only Ivy League school with land-grant status, the total cost of attendance for Cornell's two-year MPA ranges from $20,000 to $40,000 less

than our competitors.
Hands-on,

experiential learning opportunities

such as options for consulting, internships, off-campus study, and Capstone experiences help MPA students develop the skill sets they need to be successful in their future careers.
There are so many other reasons why getting an MPA at Cornell University is a strategic, valuable choice for future leaders in public affairs, and we encourage you to explore the resource below to learn more.
Public Service Careers — Jobs for MPA Graduates


1. Chief Financial Officer
According to Betterteam.com, a "CFO, or Chief Financial Officer, manages the company or organization's finances and are responsible for financial reporting. They assess financial risks and opportunities and oversee and manage lower level financial managers. They also help set and track financial goals, objectives, and budgets."
Meet an alum of Cornell's MPA: Lindsey Novakovic Oates, 2007 - Chief Financial Officer of the New York City Department of Education
2. Transportation Planner
According to Environmentalscience.org, transportation planners in the public sector "may work for government bodies or contractors, examining current traffic and population trends and determining the effectiveness of proposed roads. They will also be involved in planning new roads - its designation and nature depending on expected capacity. They will work with other professionals such as transport engineering, developers and environmental planners."
Meet an alum of Cornell's MPA: Lillian Gabreski, 2018 - Transportation Planner at SW PA Commission
3. Museum Director
According to Study.com, "museum directors, also known as curators, oversee the procurement and storage of a museum's collection of art, artifacts and archives. Curators direct museum exhibitions and are often involved in securing art and artifacts, through negotiation and purchase. A master's degree is the standard requirement for a career as a museum director."
Meet an alum of Cornell's MPA: Ben Sandberg, 2017 - Former Museum Director at the 1890 House Museum in NY (Ben Sandberg is currently the Executive Director of the History Center in Tompkins County.)
4. Machine Learning Specialist
According to Talentlyft.com, a "machine learning specialist is a professional specialized in developing Machine learning, a branch of computer science that focuses on developing algorithms which can "learn" from or adapt to the data and make predictions."
Meet an alum of Cornell's MPA: Lucas Ackerknecht, 2014 - Machine Learning Specialist at Google
5. Policy Analyst
According to Study.com, policy analysts "ensure that the policies intended to counter hunger, poverty, disease and many other terrible things, are running efficiently and as intended."
Meet an alum of Cornell's MPA: Diana Ming Zheng, 2016 - Policy Analyst, Privy Council Office, Government of Canada
6. Public Relations Director
According Study.com, a "public relations director works as the head of a public relations firm or a business communications department. Public relations directors often need years of work experience before obtaining their position. Computer skills are also necessary."
Meet an alum of Cornell's MPA: Vivian Sun, 2016 - Head of Public Relations at TuSimple
7. Operations Manager
According to the Bureau of Labor Statistics, general and operations managers "plan, direct, or coordinate the operations of public or private sector organizations. Duties and responsibilities include formulating policies, managing daily operations, and planning the use of materials and human resources, but are too diverse and general in nature to be classified in any one functional area of management or administration, such as personnel, purchasing, or administrative services."
Meet an alum of Cornell's MPA: Marcell Fischler, 2019 - Operations Manager at Amazon in Germany
Getting an MPA at Cornell University
If you are a driven, mission-oriented leader looking for tools to address the world's most challenging public policy issues, the Master of Public Administration program at Cornell University is the perfect place to hone the skills you need to positively impact the world around you. While there are many quality MPA programs available, the Cornell MPA program is uniquely qualified to prepare tomorrow's leaders, and here's why:
World-Class Faculty: Cornell's MPA values diversity of thought and experience as the MPA features an interdisciplinary curriculum. This means that, within your concentration, you may take courses through the College of Human Ecology, as well as from a variety of world-class faculty representing disciplines from across the university. Why is this important? It's important because as you refine your goals, you will have the flexibility to choose coursework with experts who are conducting research and publishing in your chosen area of study, regardless of which Cornell school or college they belong to.
Learning-by-Doing: In Cornell's MPA program, there are several options for fulfilling the Practical Experience requirement for the MPA. Real-world consulting opportunities, internships, externships, off-campus study, and Capstone experiences help you develop the skill set you need to be successful in your future careers.
Customizable Coursework: CIPA allows you to choose from eight concentration options and pursue specialized courses to develop expertise in your selected area. Within each of these concentrations, you have the flexibility to formulate a personalized study plan. In addition, high-achieving MPA students have the opportunity to further customize their coursework with a dual degree program or a graduate certificate program.
If you're interested in management or leadership roles in public service — community or economic development, criminal justice, cultural or environmental policy, education, emergency management, nonprofit management, public health, sustainability, transportation, urban planning, and more — then getting the Master of Public Administration degree at Cornell University could be the perfect fit for you.
If you have questions about getting an MPA, we encourage you to request more information today!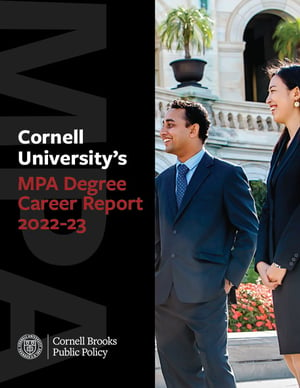 Allow the professionals in Cornell's MPA program to help you land your dream career — download the 2021-22 MPA Career Report today!