MPA Capstone: How Working With a Startup Refined My Professional Skills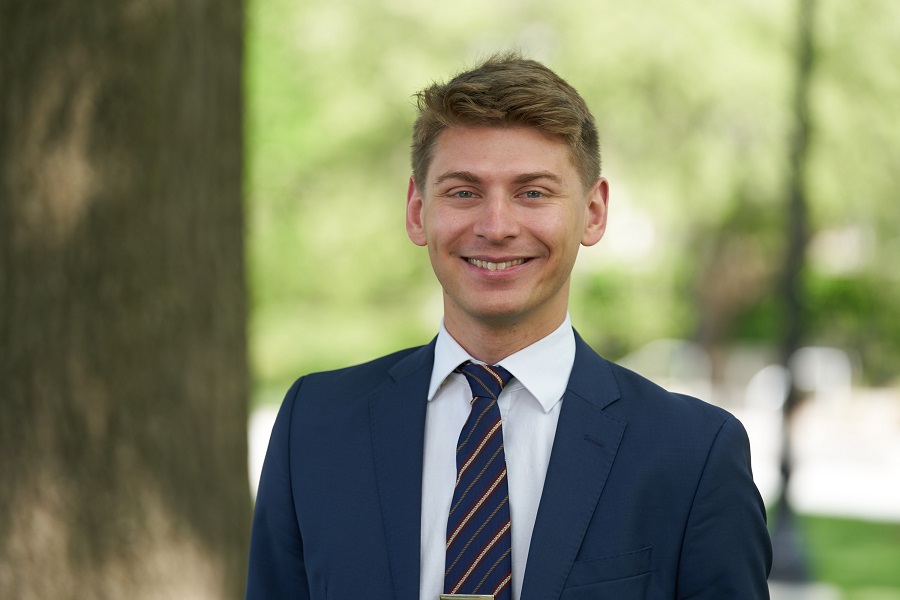 Marcell Fischler graduated from CIPA in May of 2019 with a concentration in Science, Technology, and Infrastructure Policy. He is employed at Amazon in Leipzig, Germany, where he serves as a Pathways Operations Manager.
Here's what he had to say about the benefits of studying at Cornell University— and how his Capstone project made a lasting impact on him, personally and professionally.
What made you choose CIPA over other programs you were considering?
I looked at other programs, but I eventually settled on CIPA's MPA because it offered me flexibility in choosing coursework, as well as a variety of concentrations options.
What are your long-term career goals? How did CIPA help prepare you for these?
Long-term, I hope to work my way up to C-suite management, preferably in the tech industry. At some point down the line, I may even be interested in moving into politics. I believe that my education at CIPA has positioned me well for whatever path I choose. Among the most useful skills I learned were stakeholder engagement, negotiation, and the dissemination of public information.
What would you say are the top three reasons that CIPA was a good fit for you?
1. The ability to design one's own curriculum
2. The caliber of the Cornell faculty
3. The networking opportunities that the university
What "stand out" experiences at CIPA made a lasting impact on you?
My Capstone project for the social enterprise Bright Citizen, a start-up that beneficially impacts women and children in Afghanistan, was a very positive experience — rewarding and fun. It helped me understand the mechanics of a small start-up in regards to market segmentation and customer discovery.
Working with both clients and stakeholders during this project also helped me refine my professional communication skills. I gained valuable experience navigating a long-term team project; defining roles and responsibilities for group members with varying skills and differing personalities can be tricky.
I was also thankful for the funding I received to participate in Italia Innovation, a program that taught participants how innovation should be conducted in today's globalized economy. It illustrated how such innovation can benefit local communities rather than just create dollar profits for the company.

Finally, I have to mention some of my favorite classes at CIPA. These included: Entrepreneurial Strategy, Project Management, Designing Tech for Social Impact, Management Consulting Essentials, Organizational Design, Strategic Stakeholder Engagement, Model-based Systems Engineering, and Infrastructure Financing.
How would you describe the sense of community you find at CIPA?
CIPA's student body is outgoing, ambitious, and collaborative. Many are unafraid to speak up; rather than take the status quo for granted, they are eager to challenge it. I learned to speak up even in the face of dissent, and I think this will be extremely important in my future career.
What advice would you like to share for students thinking about getting an MPA?
My advice to new students is to make the most of your time at CIPA and don't forget to network with fellow students! Classes and grades are important, but academics will only get you so far. Interact with other students as much as possible, and don't limit yourself to the CIPA student body either — the Cornell community is huge and we pride ourselves on our diversity. So, don't stick around in the same social groups all the time; get out of your comfort zone and be open for new experiences!
Getting an MPA could transform your future:
If you're interested in management or leadership roles in public service — community or economic development, criminal justice, cultural or environmental policy, education, emergency management, nonprofit management, public health, sustainability, transportation, urban planning, and more — then getting the Master of Public Administration degree at Cornell University could be the perfect fit for you.
If you have questions about getting an MPA, we encourage you to request more information today!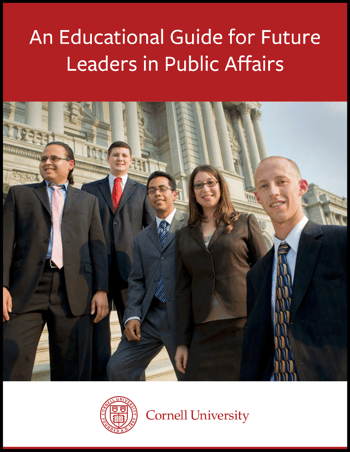 Thinking about getting an MPA at Cornell University? Explore industry resource: An Educational Guide for Future Leaders in Public Affairs.
---
Recommended for you