How Cornell's MPA Prepared Me for a Leadership Role in the Field of Public Finance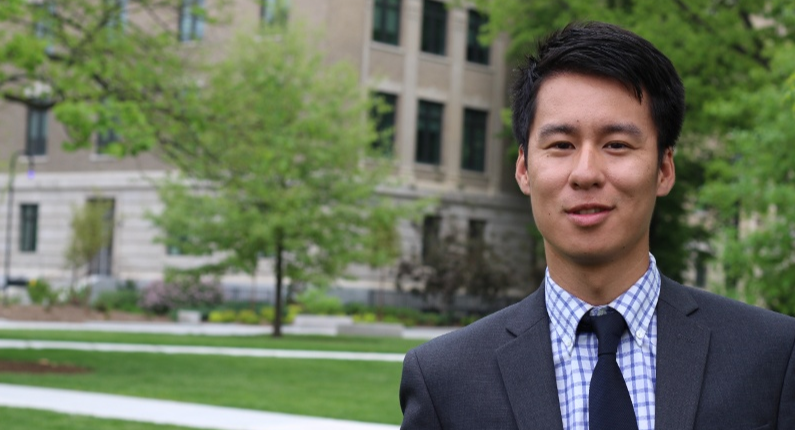 Frankie Shi Cheng graduated from CIPA in May of 2018 with a concentration in Economic and Financial Policy, and a certificate from CIPA's Infrastructure Finance and Project Management Fellows (IPMF) program. He is currently employed as a financial analyst in corporate investment function at Mr. Cooper (formerly Nationstar) in Dallas, TX.
Why CIPA?  What made you choose CIPA over other programs you were considering?
CIPA gave me a feeling of family. Since we live and study together in this nice town of Ithaca, the cohorts are united and diverse like a family unlike other public schools in the cities. I made many great friends here in CIPA from different countries, cultures, and backgrounds. The cross- discipline curriculum and freedom of course selections allowed for students to develop a tailor-made MPA program to fulfill their career goals and personal interests.
What are your long-term career goals?  How did CIPA help prepare you for these?
Long-term, I hope to be a leader in the public finance field, focusing on infrastructure projects. CIPA enriched me, helping me develop an understanding of public perspectives and policy considerations for making business decisions. I also gained experience working in the private sector with public perspectives.
What would you say are the top three reasons that CIPA was a good fit for you?
Family-like and diverse cohorts: Not only do you learn from CIPA coursework, but you also learn from your peers who come with different backgrounds, cultures, and work experiences. The small-town (ITHACA) lifestyle provides opportunities for you to engage with your fellow students to develop life-long friendships.

Tailor-made program: Each student may choose completely different coursework from their peers, even ones that share the same concentration. This flexibility of coursework enriches your academics and allows you to specifically develop expertise in your area of policy interest.

Warm-hearted faculty and staff: The advisors and CIPA-affiliated faculty and staff help you solve problems, whether they are related to career or academics.
Are there any particular "stand out" experiences at CIPA that made a lasting impact on you? 
I traveled to South Africa as part of a SMART team, which was tasked with developing marketing strategies for a local lavender farmer there. It was quite a challenging and difficult task to work with team members from different schools and disciplines at Cornell, while navigating a complete new country. The different stakeholders that we interviewed offered me a variety of perspectives for finding the best solution for the farmer. The research methodologies that we were called upon to use, the different ways of thinking that I observed in my team members and stakeholders, and the learning experience of working on a team were all enriching opportunities.
How would you describe the sense of community you find at CIPA? 
As I said before, CIPA is a big family. I attended lectures organized by Women in Public Policy (WIPP), participated in career orientation sessions led by the Cornell Public Affairs Society (CPAS), engaged in challenging material shared by CIPA's Cornell Policy Review, and attended numerous events and parties across the community. Even though I was an international student, I always felt engaged.
Describe the role that the Capstone played in your educational experience at CIPA.
My Capstone team partnered with the Inter-American Development Bank to develop an IT infrastructure plan for the El Salvador Ministry of Health. I performed a financial analysis and budget estimation for the project. From this project, I learned how to navigate and find solutions when your client is not clear about what project outcomes they are striving for at the outset.
Is there anything else about the CIPA program, about the opportunities here, or about your particular experience that you would like to share with prospective students?
As an Infrastructure Finance and Project Management Fellow (IPMF), I worked on a practicum project for aviation services in New York's Southern Tier. We interviewed different stakeholders from the local and federal government, local legislative bodies, a senator's office, and industry and academic experts. We were successful in finding a solution to balance conflicts that existed between some of these stakeholders. This real-world challenge was an excellent opportunity for us to practice what we learned in class and gain hands-on field experience.
If you have questions about attending Cornell University's Institute for Public Affairs, we encourage you to request more information today!
Explore our digital resource — An Educational Guide for Future Leaders in Public Affairs — for tips and tools related to pursuing a Master of Public Administration degree and a career in public affairs!
---
Recommended for you