Growth, Brand, and Limitlessness — Why I Chose Cornell's MPA Program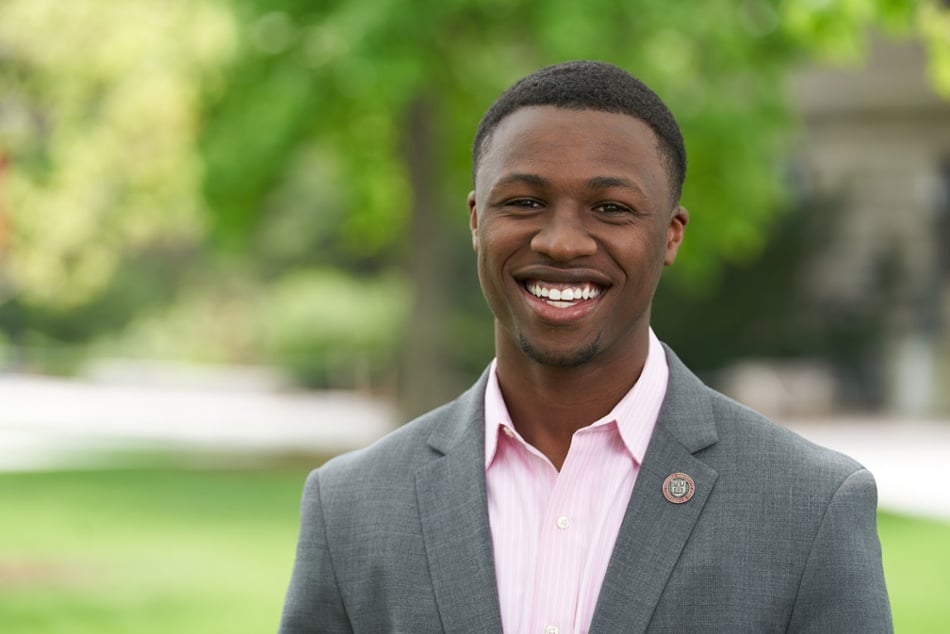 Elgin Ford, Jr. completed his MPA at Cornell University in May of 2019 with a concentration in Government, Politics, and Policy. He is employed now as a Staff Consultant in the Government and Public Sector, Strategy, and Process Improvement at Ernst & Young in Tysons, Virginia.
We had the opportunity to speak with him regarding his experience in Cornell's MPA program and how getting an MPA at Cornell University prepared him to make a real difference in politics and policy.
What made you choose Cornell's MPA program over other programs you were considering?
When I visited CIPA, I was considering a few other programs, even one overseas. I came to Ithaca for the Open House, and I immediately fell in love. From the students, to learning program structure, to meeting staff and faculty, I felt welcomed and like my degree and experience was in my hands.
I wanted autonomy with guidance, and that's what CIPA offered.
What are your long-term career goals? How did CIPA help prepare you for these?
My goal is to be a great problem-solver and strategist. Doing consulting after school will be a good start in that direction.
I do have interests in public office down the line, and CIPA did a phenomenal job of providing me autonomy and flexibility in course management. Being able to choose a homogenous mixture of classes, which covered the inner-workings of both the private and public sectors, was paramount for pursuing my career aspirations and ensuring my future success.
When I sat in interviews and networked with people, I was able to pull from classes I chose — classes that I enjoyed and stimulated me well past a desire to achieve a good grade.
What would you say are the top three reasons that CIPA was a good fit for you?
Brand. Growth. Limitlessness.
Coming directly from undergrad, I had many lofty aspirations and still do. What I will say is that Cornell helped me to focus my aspirations more on my ability to be flexible in my skill set. That growth is important, and you may not recognize it until you're thinking more critically and acting on those analyses; not just in an academic setting but professional and social as well. Lastly, limitlessness. We all have the same core classes, but outside of those, Cornell University [and the world] is your oyster. People study abroad, have externships, and take classes that have nothing to do with public affairs — and it all contributes to that growth.
The idea of "any person; any study" is truly embodied in every aspect of this campus.
What "stand out" experiences at CIPA made a lasting impact on you?
My internship and capstone were the "stand-out" experiences. They both encompassed utilizing the skills I learned in classes and seeing my own growth and progression was phenomenal. For my internship, I was in Washington, D.C . working for Toyota's Government Affairs. I was able to work with multiple automotive manufacturers and policy leaders to learn how important the intersection of business and government is.
My capstone was with a cannabis tech company ZealTech, and my group conducted a market analysis about the market in Uruguay in relation to Oregon (USA) and Canada.
How would you describe the sense of community you find at CIPA?
Here at CIPA, everyone is family. No matter where we are from, no matter how different, we all take care and strive to make each other better. Steel sharpens steel, so we all are very focused on helping each other to achieve what we set out to do. This made my last two years so much easier to manage because I had a phenomenal cohort and support system. I wish I had one more year!
Leaders of tomorrow are made here at Cornell. Here, you can accomplish anything you set out to, and the Cornell MPA family helps you to do so. The mix of autonomy, challenge, and public service is the perfect formula for not only a successful MPA but an amazing boost towards making our world a better place.
Getting an MPA at Cornell University:
An MPA program values diversity of thought and experience. Relative to other professional degrees, the MPA is far more interdisciplinary, drawing on the fields of economics, finance, management, political science, and psychology. To learn more about what it would mean for you to pursue an MPA at Cornell, we invite you to request more information today.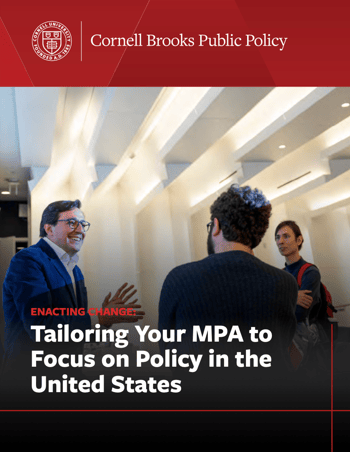 Explore our digital resource — Enacting Change: Tailoring Your MPA to Focus on Policy in the United States — for advice and tips related to choosing a career in domestic policy-making.
---
Recommended for you