An Interview With the Director of the Cornell Institute for Public Affairs — Maria Fitzpatrick
Maria Fitzpatrick is an Associate Professor in the Department of Policy and Management, Milman Fellow at the Bronfenbrenner Center for Translational Research, and Research Associate at the National Bureau of Economic Research. She is also an Affiliate in the CESifo Research Network, the Cornell Populations Center, the Center for the Study of Inequality, and the Bronfenbrenner Center for Translational Research. Her main area of focus is the economics of education. Specifically, her research focuses on early childhood education policies, higher education and teacher compensation, benefits and labor supply.
We had the opportunity to ask her several questions regarding her experience teaching at the Cornell Institute for Public Affairs and got her thoughts on domestic policy and how getting an MPA can prepare mission-minded professionals to make a real difference in the field of public affairs.
Tell us a little bit about yourself. Where did you grow up and attend college?
I was born in Detroit, but we moved to Cleveland, OH when I was 4. So, I grew up in Cleveland and have a lot of hometown pride (as almost all Clevelanders do). I went to UNC-Chapel Hill for college, and there's still a part of me that considers North Carolina a second home.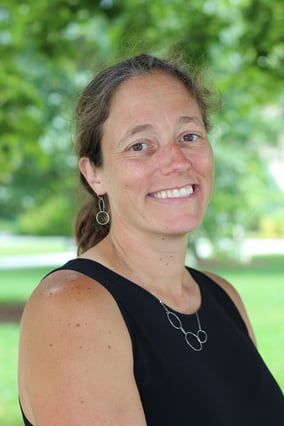 Did you pursue an MPA? If so, where? / If not, what is your background in higher education?
I have always been interested in policy. After I got my BA in Economics, I moved to D.C. to work at the Brookings Institution for a couple of years. It was great to be so close to the federal government — I learned a lot about policymaking. That confirmed for me that I wanted to go back to graduate school to be able to help understand how effective policy is (or isn't). So, I went to the University of Virginia and got my MA and PhD in Economics.
What courses do you teach for CIPA students?
Currently, I'm the Director of CIPA, so I get to spend a lot of time with CIPA students. Before I took over as Director, I taught CIPA courses on microeconomics and education policy. Many of my students in my education policy course were students concentrating in Social Policy, one of our more popular concentrations.
What inspired you to teach for the MPA program and what do you most enjoy about it?
I am very committed to the responsibility of academics and Universities to engage with the world and communicate our research and findings in ways that can be useful. I think our MPA students are the embodiment of that goal — they are the living connection between Cornell, and the research we do here, and policy-making in the rest of the world. I most enjoy getting to know the students, learning from their experiences, and helping prepare them with the knowledge to take the next step in their careers.
Did you pursue a career in the field of policy at some point, in addition to pursuing an academic career?
As I mentioned earlier, I spent two years in Washington D.C. at a think tank. It was a great opportunity to learn about policy issues and how the U.S. government works.
What research projects are you currently pursuing?
Currently, I am working on several projects. In one, I am investigating the role of teachers in identifying and reporting child maltreatment. Given that nearly 4 in 10 children experience maltreatment at some point in their lives, this is an important problem. Early detection is key in stopping maltreatment and in helping children recover from its negative effects, and our work shows that teachers play an important role in helping identify abuse and maltreatment. In another set of projects, I am examining the effectiveness of teachers at improving other life outcomes for students — both behavioral and work-related outcomes. And, in a final set of work, I'm looking at how school spending changes when districts are required to spend additional money on teacher pensions. Since the cost of teacher pensions is only likely to grow in coming years, it is important to understand how spending on other school related things — teacher salaries, buildings, etc. — is affected.
Why do you think work in domestic policy is important?
I think ALL policy work is important. I work on domestic policy because it's what I know. Also, we are one of the richest nations in the world but have social and fiscal problems like those of our much less wealthy counterparts. I think policy should work to help solve those problems.
Compared to other MPA programs, what do you believe sets CIPA apart?
The sense of community. All of our staff, faculty, and alumni are very supportive and hardworking. That makes CIPA a great place for students to building their networks, skills, and knowledge base for the next step in their careers.
Lastly, what's your favorite thing about being at Cornell?
My favorite thing about Cornell is the diversity — diversity of knowledge, of ideas, of culture, and of community. It makes for a rich environment where I am learning from the people around me on a daily basis. My favorite thing about Ithaca is the natural beauty, and the sense of community that fosters. It's rare that one would get to live in a place with so many exquisite natural wonders — trees, streams, gorges, hills, and even snow. It's all beautiful.
If you have questions about attending Cornell University's Institute for Public Affairs, we encourage you to request more information today!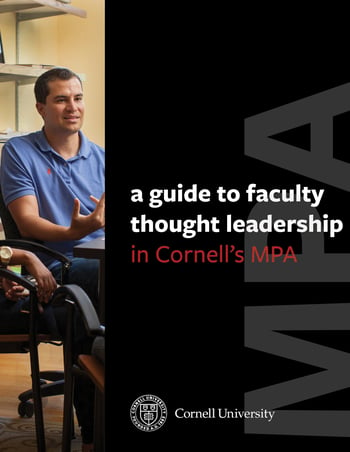 In Cornell's MPA program, you'll learn from world-class faculty who represent disciplines from across the university. Take the first step in transforming your future, and download the guide today!


---
Recommended for you