How Getting an MPA Can Help You Shape Economic and Financial Policy
How and where governments spend money is pivotal in building and supporting communities, and as the global economy becomes increasingly interdependent, the need for well-constructed policy initiatives is a growing concern.
Economic and financial policy helps shape public policy through an understanding of the needs of a community and the allocation of available necessary resources. The monetary requirements of many policy initiatives can significantly influence their acceptance and implementation — which is why economic and financial policy is critical in the field of public affairs.
The Importance of Economic and Financial Policy in Public Affairs:
Whether your career interests are focused within the United States or on the global community, a strong understanding of economics is critical when dealing with both international and domestic policy initiatives.
One of the primary responsibilities of those working in economic and financial policy is to gather, organize, and interpret data in order to create models that predict the impact of investments, policy proposals, industry trends, demographics, aid initiatives, climate change, and so much more.
Economics is a social science "concerned chiefly with description and analysis of the production, distribution, and consumption of goods and services." It's an interdisciplinary field that teaches individuals how to study the social and political implications of how individuals, businesses, governments, and nations choose to allocate resources.
A comprehensive understanding of the field requires rigorous analytical skills that are needed to prepare and implement successful public policy. When working with communities and policy makers, the economic impacts are an important factor that can determine the success of an initiative.
In today's uncertain economic climate, a Master of Public Administration is a valuable graduate degree program for mission-driven professionals interested in a career improving and implementing economic and financial policy.
The Value of Getting an MPA:
A Master of Public Administration (MPA) is a professional degree designed specifically for those interested in advancing the quality of life of those around them and leaving a lasting impact on their local and global communities. By earning an MPA degree, individuals receive the foundational knowledge and experience needed for management and leadership careers across the field of public administration.
An MPA degree draws on the fields of economics, finance, management, political science, and psychology — making it increasingly valuable for individuals interested in the diverse and ever-changing world of public policy.
Often compared to the Master of Business Administration (MBA) for its interdisciplinary focus on developing leadership skills, the MPA stands out among other professional degrees. Unlike the MBA, those who pursue an MPA do so because they are mission-driven and dedicated to serving others. MPA graduates go on to work for a wide range of governmental, nonprofit, and private organizations, where they serve as managers, executives, and policy analysts, among other things.
Concentrating in Economic and Financial Policy at Cornell University:
The Cornell Institute for Public Affairs (CIPA) offers a two-year Master of Public Administration program that prepares individuals for management and leadership careers — in the public, private, and nonprofit sectors.
The CIPA curriculum is designed to balance general knowledge and skills with more specific applications to particular areas of public affairs. In addition to our rigorous, interdisciplinary curriculum, MPA students at Cornell have the valuable option of choosing one of eight areas of concentration. Within each concentration, you have the flexibility to formulate a personalized study plan that allows you to cater your coursework to your unique goals.
"I've always been interested in analyzing and addressing multiple policy issues that don't fit nicely into one field of thought. CIPA's various concentrations and course offerings attracted me, as I felt that I could customize my academic program rather than force myself into the confines of an off-the-shelf curriculum."
— Lillian Gabreski, MPA '18
Our MPA offers a solid foundation of core coursework in management, economics and finance, and quantitative analysis, but by choosing to concentrate in Economic and Financial Policy, you will build upon those foundations and explore the ways in which public policy affects economic and financial decision making, and vice versa. Students study these policy issues at the level of international organizations, federal/state/local government, non-governmental organizations, and in the private sector.
"CIPA enriched me, helping me develop an understanding of public perspectives and policy considerations for making business decisions. I also gained experience working in the private sector with public perspectives. "
— Frankie Shi Cheng, MPA '18
As a student, you will have opportunities to build your expertise by taking courses with renowned faculty across many different departments, schools, and colleges at Cornell, along with practical experiences offered both inside and outside the classroom. In fact, our students often say that they're drawn to Cornell's MPA program because of the emphasis we place on experiential learning.
Pro Tip: Cornell University also offers a graduate certificate in Environmental Finance and Impact Investing (EFII Fellows Program). This program aims to train Cornell University graduate students for emerging opportunities at the intersection of sustainability and finance. This is the first program of its kind to be jointly offered by any graduate school of business and graduate program in public affairs.
"The EFII program was one of the reasons I chose CIPA. My background is in international development and I was interested in learning more about the role of the private sector in achieving environmental and social development goals. The EFII program allowed me to develop a deeper understanding of the financial side of this equation. I loved being a part of the program because it fit perfectly into the flexible structure of CIPA curriculum and included a practical work experience component. EFII helped me focus within my concentration."
— Elif Senvardarli, MPA '17
Public Affairs Careers in Economic and Financial Policy:
Many jobs in public administration rely on a strong understanding of economic principles, making the skills acquired through an economic and financial policy concentration applicable across sectors.
Some recent Cornell MPA students with the concentration in economic and financial policy have held jobs or internships at companies and organizations that include:
Accenture
Bank of China
Citibank
Deloitte
Empire State Development
JP Morgan Chase
NYC Economic Development Corporation
NYC Office of Management and Budget
Twitter
U.S. Office of Management and Budget
Here are five possible career opportunities for those interested in economic and financial policy:
1. Economist
Economists study the production and distribution of resources, goods, and services by collecting and analyzing data, researching trends, and evaluating economic issues. Many economists work in federal, state, and local government. Federal government economists collect and analyze data about the U.S. economy, including employment, prices, productivity, and wages, among other types of data related to education, health, development, and the environment. They also project spending needs and inform policymakers on the economic impact of laws and regulations.
2. Director of Strategy and Business Development
Directors of strategy and business development focus on building relationships, both internally and externally, and providing strategic direction to help companies grow and profit. They are responsible for mapping out a company's strategic goals and work with other managers in the organization to achieve these goals using research, planning, and evaluation. The director identifies trends in the market, forecasts patterns, researches the actions of competitors, and formulates cohesive strategies based on this research.
3. Financial Policy Analyst
Financial policy analysts examine the efficacy of existing policies, researches and analyzes the needs of communities, and lays the groundwork for new legislation and programs to fill these needs. Financial policy analysts also work to raise awareness for economic programs and issues that need attention and assistance. Responsibilities include conducting research, analyzing current policies, evaluating the effects of proposed legislation, drafting new legislation, and reporting on findings.
4. Market Research Analyst
Market research analysts collect and analyze data on customer demographics, preferences, needs, and buying habits to identify potential markets and factors that affect product demand. With a thorough understanding of competitors and the markets, they consolidate information into reports and actionable items. They will often design surveys to discover consumers' preferences and measure the effectiveness of programs and strategies. They will then adjust policies based on the results of their research.
5. Business Analyst
A business analyst must identify problems, opportunities, and solutions for a business. Their responsibilities include conducting market analyses, measuring profitability of the business, developing and monitoring data quality metrics, and ensuring business data and reporting needs are met. The end goal is to provide financial insights that help the decision-making process, and align capital and resource allocation within a business budget.
Join the CIPA Community of Mission-Driven Professionals:
The Cornell Institute of Public Affairs is a diverse and welcoming community of compassionate, strategic-minded individuals dedicated to improving the lives of people around the world. We are committed to your success, both personally and professionally, and want to help you build a thriving career in public affairs.
To learn more, be sure to check out the stories, tips, and advice on our blog. If you're ready to speak with someone about your options or if you have questions about Cornell's MPA, we invite you to request more information.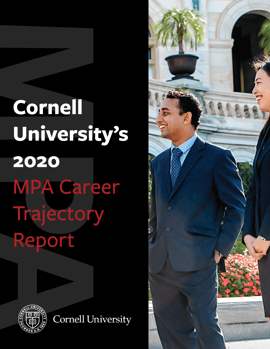 ---
Recommended for you