What You Need to Know About International Development Studies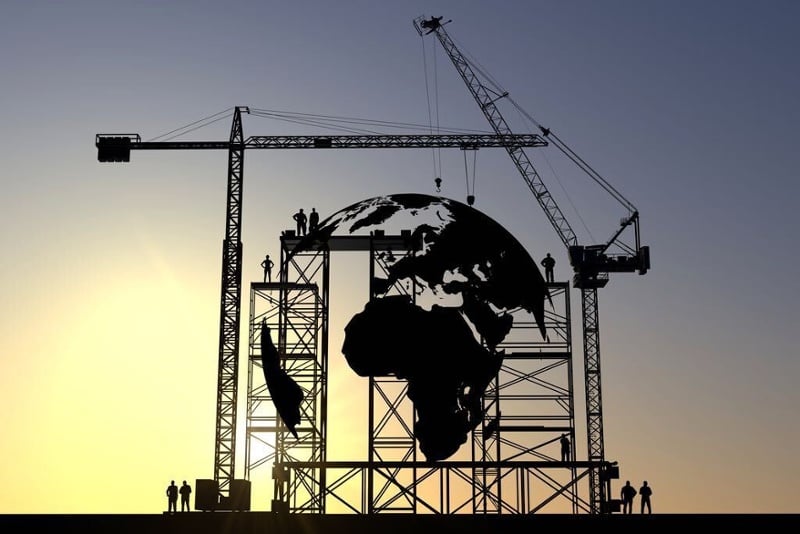 In today's increasingly connected global society, the needs of developing countries are crucial to building and maintaining a universally sustainable and equitable society. However, for many countries around the globe, access to basic necessities can be extremely limited. In many cases, these restrictions are due to weak economic structures, poor policy implementation, and inefficient infrastructure systems.
The reality for many people in developing countries is quite dire. In fact, when examined, the numbers can be staggering:
The mission of international development professionals is to serve developing populations through policy advancements that will increase access to vital resources and improve their overall quality of life. By improving international policy to support the growth of developing countries, we are investing in a more unified and successful global society.
Download Cornell University's MPA Career Report to explore a variety of MPA alumni who have pursued diverse careers in fields related to public administration!
With a diverse range of employment opportunities available, there are many different and unique ways to build a career in international development. Keep reading to discover the many ways a focus on international development can help you achieve your professional goals and make a meaningful difference in the lives of people around the world.
Working in International Development:
Professionals working in the field of international development are united by the goal of eliminating global poverty while promoting the integrity of all peoples and protecting the earth on which we all live. By helping countries develop strong policies, institutions, skills, partnerships, and institutions, the field of international development helps countries build and sustain systems that draw people out of poverty and provide them with the resources needed to build a successful life.
Implementing policy and educating countries in the areas of public health, economic growth, and sustainability efforts are just some of the ways international development aids and supports developing countries. These countries often need assistance developing better health care systems, better schools, and better ways to bring water and electricity to people.
Work in international development is an ideal career path for service-oriented individuals looking to make a real, tangible difference in people's lives. To provide the assistance needed to support these developing countries, we need dedicated, mission-driven professionals who will advocate on behalf of the communities in which they work.
The Value of Earning an MPA:
Preparing and implementing development efforts requires knowledge across a wide range of disciplines, including economics, finance, sociology, technology, and law. Earning a Master of Public Administration (MPA) prepares individuals to address concerns in developing countries with understanding, knowledge, and experience.
Compared to other professional degrees, the MPA degree is far more interdisciplinary and provides the opportunity to gain a deep understanding of all the disciplines needed to accelerate your career in international development. The MPA fosters the development of innovative ideas and tools that really matter for improving the political, economic, environmental, and social climate of our world, making it a strategic option for those interested in pursuing a career in international development.
"I was able to combine practical experience with coursework taught by professors at the cutting edge of their fields. I spent a semester working full time at the United Nations World Food Programme, while earning academic credit. I worked on some of the largest humanitarian emergencies in the world today, including the crisis in Syria — and I was able to see how the theory I learned at Cornell translated into practice. Ultimately, this experience led to a full-time job offer." — Daniel Arukwe Johansen, MPA '15
Getting an MPA with a Concentration in International Development Studies:
Cornell's Institute for Public Affairs (CIPA) offers a two-year MPA program designed to prepare mission-driven individuals for leadership and management careers in the field of public affairs. Because of our interdisciplinary approach, students are afforded the opportunity to work with renowned faculty across many different departments, schools, and colleges at Cornell, which can build important connections to help further their professional development.
In addition to our rigorous, interdisciplinary curriculum, MPA students at Cornell have the valuable option of choosing one of eight areas of concentration. Within each concentration, you have the flexibility to formulate a personalized study plan that allows you to cater your coursework to your unique goals. By augmenting your degree with a concentration, you are benefiting from the diverse foundational knowledge provided through Cornell's MPA program while developing and honing the skills that will be critical in the pursuit of your professional interests.
By getting an MPA at Cornell University and choosing to concentrate in International Development Studies, you will build an understanding of both the broad and specific contexts in which international development decisions are made. Through this concentration, students explore international development concerns using a range of interdisciplinary perspectives and methods including anthropology, demography, economics, regional planning, sociology, biotechnology, and legal studies.
Graduates with an international development concentration leave Cornell's MPA program prepared to address policy issues, formulate solutions, and implement change.
Gain Hands-On Experience While Getting an MPA:
Not only does Cornell prepare you for a meaningful career through rigorous and relevant coursework expected in an Ivy League MPA program, but through worthwhile, practical experiences as well. A key component of our program is the emphasis placed on experiential learning. We offer a variety of opportunities — including an externship semester in Mysore, India — which allow students to build professional work experience and prepare to enter the field immediately upon graduation.
The goal is for you to leave Cornell prepared to compete as one of the best-of-the-best in your chosen field. The knowledge and experience gained through Cornell's MPA program, and more specifically through the international development concentration, open up doors to careers in the global arena.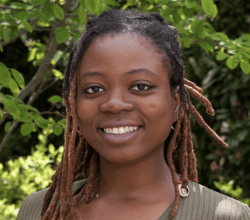 "At CIPA, I established close friendships, joined two consulting teams, became active in the local community, enrolled in the Systems Thinking and Leadership Certificate program, and participated in an alumni networking event in Washington D.C.
In the Cornell MPA program, I have learned first-hand the processes and challenges involved in project management, data analysis, evaluation, consulting, and more. Prior to attending, I had high expectations of CIPA that have been surpassed in ways that I could not have even imagined." — Jamila E. Daniel, MPA '19
International Development Careers for Changemakers:
With the wide range of employment opportunities available, there are many important professional contributions individuals can make to the field of international development that specifically draw upon their unique strengths. Whether your interests lie in finance, politics, agriculture, or cultural relations, you will be able to leverage your skills to build a meaningful and impactful career.
Some recent Cornell MPA students with concentrations in international development have held jobs or internships at organizations that include:
Inter-American Development Bank
International Finance Corporation
International Food Policy Research Institute
UN Development Programme
UN Food and Agriculture Organization
US Agency for International Development
The World Bank
With opportunities available at many national and international organizations, you will have the chance to explore career paths in a variety of specialized areas.
Here are five international development careers for professionals who obtain an MPA:
1. Foreign Service Officer
Foreign service officers promote and protect the United States' political, economic, and commercial interests overseas. They formulate and implement the foreign policy of the United States and conduct relations with foreign countries and international organizations. Foreign service officers spend most of their careers overseas as members of U.S. embassies, consulates, and other diplomatic missions representing the government and the people of the United States.
2. Research Analyst
Research analysts explore the economic, political, and cultural trends that impact societies. Their responsibilities may include reviewing and evaluating existing research, assembling and analyzing quantitative data, conducting interviews and performing independent research, preparing reports on findings, observing trends, and developing data-backed recommendations. The work performed by research analysts helps shape policy decisions and determines what types of programs are needed to help countries grow.
3. Program Officer
Program officers oversee the development and successful implementation of global support programs. Their responsibilities include providing recommendations that determine the planning, operational, technical, and budgetary needs for specific project activities, preparing project design, mapping out budget allocations, and overseeing the preparation and submission of formal reports. Program officers may also manage other members of the project support team.
4. Project Coordinator
Project coordinators provide administrative, logistical, and coordination support for global organizations. Their responsibilities encompass a wide range of tasks, including monitoring project progress and tracking project issues, maintaining organized records, compiling reports, serving as liaison between project teams, coordinating resource mobilization, and monitoring project budgets. Project coordinators may periodically travel to project sites to serve as support for training events and assist project teams.
5. Consultant
Consultants working in international development specialize in assisting international organizations with management, organizational, or policy issues. While some consultants may be employed full-time at larger institutions, most are contracted out by organizations to assist with a specific project or need that aligns with their area of expertise. Consultants are responsible for researching relevant issues, developing creative solutions, and teaching others how to implement them.
Build your public service career in international development at Cornell University:
At Cornell University, we are committed to preparing individuals to become leaders in the field of public affairs who will make a positive impact on the lives of others. By earning your MPA at Cornell, you are investing in a degree that will open doors to a rewarding career in international development.
If you have questions about beginning your MPA journey at Cornell, we encourage you to request more information today!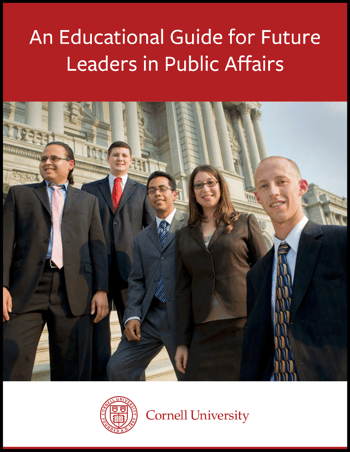 Explore our digital resource — An Educational Guide for Future Leaders in Public Affairs — for tips and tools related to pursuing a Master of Public Administration degree and a career in public affairs!
---
Recommended for you