How Getting an MPA at Cornell Helped Me Launch a Startup Company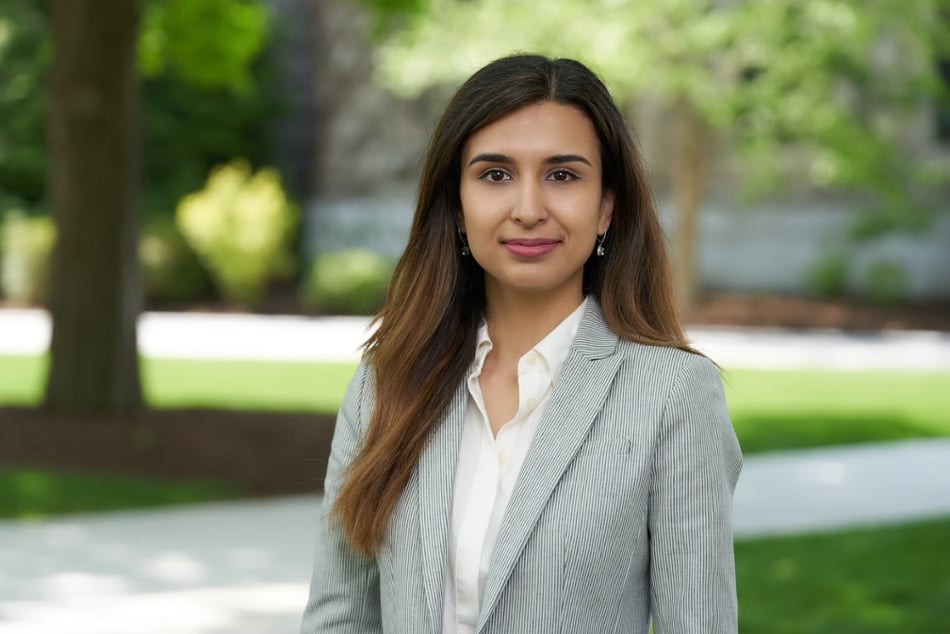 Elaha Mahboob completed her MPA at Cornell University in May of 2019, with a concentration in Science, Technology, and Infrastructure Policy. She is a social entrepreneur and the founder and CEO of Bright Citizen. Bright Citizen is a social enterprise focused on creating a sustainable future by giving 50 percent of its profits back and introducing a first-of-its-kind coffee product blended with saffron.
In 2018, she was featured as a social entrepreneur in the Forbes 30 Under 30 Asia list. Individuals are chosen for their ability to "[leverage] business tools to save the region's problems." Elaha is also the co-founder of the New York-based Digital Citizen Fund (DCF) with her sister, Roya.
Here's what she had to say about getting an MPA at Cornell University.
What made you choose Cornell's MPA over other programs you were considering?
The interdisciplinary approach of Cornell's MPA program, along with the flexibility in creating a unique study plan based on my interests and taking classes across Cornell are some of the reasons why I chose the Cornell Institute for Public Affairs (CIPA) over any other public affairs schools.
How did Cornell's MPA prepare you to achieve your long-term career goals?
My long-term goal is to grow my own social enterprise that champions empowering women in developing countries by giving them access to education and technology. Cornell's MPA has prepared me for this by helping me accumulate the necessary knowledge for reaching my goal, teaching me both qualitative and analytical skills.
Both CIPA's foundation and elective courses have helped me develop advanced strategic skills, as well as improved my ability to think strategically and become a better decision-maker, which will prepare me for my ultimate goal.
CIPA has expanded my knowledge by offering a variety of opportunities such as a customized plan of study, real-world experiences through my capstone, networking events, and exposure to speakers in the relevant fields.
Pro Tip: For more information, read "What is Science, Technology, and Infrastructure Policy?"
List the top three reasons that CIPA was a good fit for you.
First, CIPA was a good fit for me due to its challenging environment and countless opportunities, as well as outstanding professors, which all helped me pursue my interest.
Second, the customized study plan helped me choose courses that aligned with and prepared me for my future career.
Third, Cornell's MPA multicultural environment gave me the opportunity to learn more about other students' experiences and cultures, and to make new friends.
Are there any particular "stand out" experiences in Cornell's MPA that made a lasting impact on you?
One of the experiences that had the most impact on me was working and offering my own project — a startup called Bright Citizen — for my capstone course. I was given this opportunity by CIPA to start a consulting project with the International Capstone Team. Being able to work along with my fellow team members on the strategic development of my social enterprise was greatly helpful.
The capstone helped my team develop an entrepreneurial mindset and create a strategic plan in order to enable business growth and increase the brand's social impact. It was a challenging experience, considering the fact that we needed to build an actionable plan for the startup from scratch. On the other hand, working on this project throughout the course of the program was a constant practical learning experience for my team members and myself. In addition, the resources available at CIPA helped us conduct extensive research, both from within the Cornell and from outside, thereby creating a real-world experience.
How would you describe the sense of community you find at CIPA?
The welcoming nature of CIPA, the amount of assistance one gets, and the plethora of opportunities available to students shaped my two-year experience. In addition, the multicultural environment that dominates CIPA makes it unique. I gained new insight into global issues by sharing and discussing my fellow classmates' personal experiences in different regions. That's something that will be beneficial to me in my future career as well.
Is there anything else about Cornell's MPA program that you would like to share with prospective students?
Working as vice president of Women in Public Policy (WIPP), a CIPA-based graduate student organization was another exciting experience for me while I was at CIPA. Being able to work along with my other CIPA colleagues to address issues that women face globally in a variety of areas, as well as organizing events so they can meet up and share their experiences, was another great opportunity for me to learn from and take advantage of while at CIPA.
Getting an MPA at Cornell University:
At Cornell University, we are committed to preparing individuals to become leaders in the field of public affairs and make a positive impact on the lives of others. By earning your MPA at Cornell, you are investing in a degree that will open doors to a dynamic, rewarding career in public service.
If you have questions about beginning your MPA journey at Cornell, we encourage you to request more information today!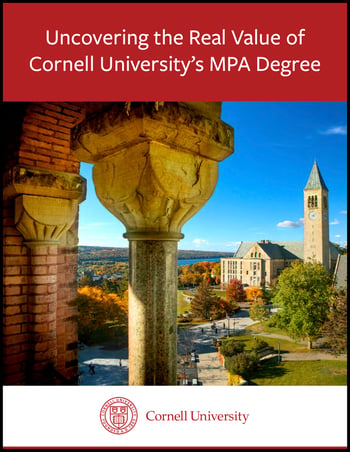 Uncover the value of getting an MPA at Cornell University.
Unlock the digital resource today!
---
Recommended for you