What is Science, Technology, and Infrastructure Policy?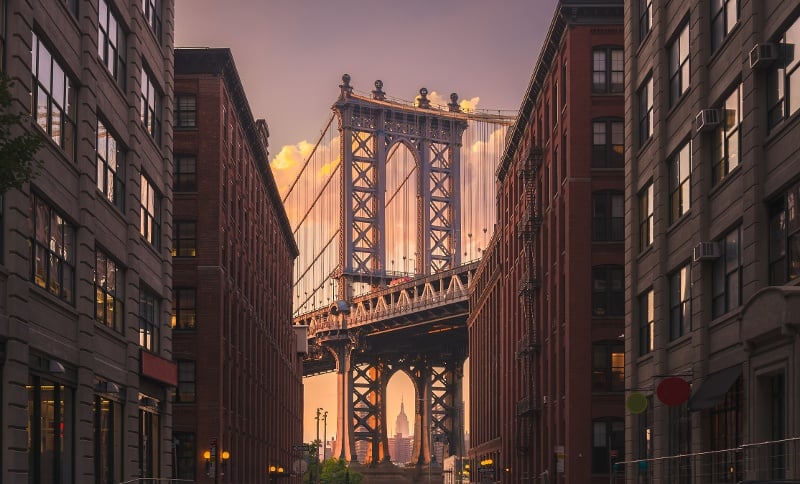 Building strong communities and improving quality of life are just two of the many reasons passionate individuals chose to pursue careers in public service or public affairs.
Working in public affairs is fulfilling and rewarding work, yet when considering a career in public affairs, there are many different avenues one can choose to pursue. This broad discipline can be applied to a wide range of careers in public service, including many important fields that may not immediately come to mind. One of these critical areas is infrastructure policy, which is the design, development, and regulation of the physical systems that make up the building blocks of a community.
Science, technology, and infrastructure are important elements that play a pivotal role in health and human safety, and the policies that dictate their use and efficiency go a long way in improving the overall quality of life for members of society.
Download Cornell University's MPA Career Report to explore a variety of MPA alumni who have pursued diverse careers in fields related to public administration.
Let's take a closer look at the areas of science, technology, and infrastructure policy.
What is science, technology, and infrastructure policy?
Infrastructure is the basic physical and organizational structures and facilities needed for the operation of society, including buildings, parks, and power grids, along with water, sewer, transportation, safety, and communication systems.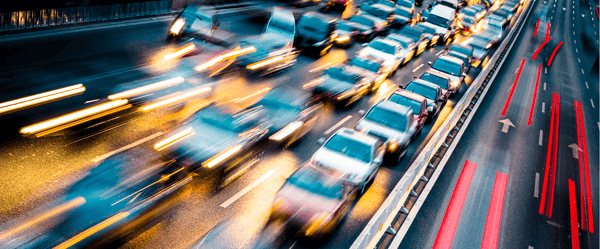 Science, technology and infrastructure policy is the development of designs, policies, regulations that ensure safe, strong, and adaptive systems of infrastructure. These structures are vital to a society's functioning, economic development, and prosperity, and the science and technology that goes into establishing and securing these systems is regularly advancing and developing new and innovative solutions to existing problems.
Why is science, technology, and infrastructure policy important?
Even as the world becomes more digital, our reliance on physical infrastructure grows. There is a direct link between the physical structures that connect our societies and the growing digital structures that connect us virtually. In fact, the digital technologies making our physical world smarter are themselves dependent on physical systems. For example, the infrastructure of the internet is reliant on physical servers and hard drives, cables, and satellites. The internet, in return, has allowed us to make safer, stronger, and more adaptive physical infrastructure systems.
There are many ways in which infrastructure helps connect and improve communities — here are just a few:
Electrical systems need to handle the growing number of devices in our homes and businesses.
Agricultural systems need to produce adequate food supplies.
Transportation systems need to keep up with the surge in global shipping and delivery services.
Water systems need to provide populations with clean, drinkable water.
Communication systems need to reach even the most remote locations.
Simply put, strong physical infrastructure is essential for the advancement of society. To continue building strong communities, we need mission-driven leaders who understand current trends and regulations and can implement the policies needed to ensure sound systems of infrastructure.
Getting an MPA with a concentration in Science, Technology, and Infrastructure Policy at Cornell University:
A Master of Public Administration (MPA) is a professional degree designed specifically for those interested in advancing the quality of life of those around them and leaving a lasting impact on their local and global communities. Cornell University's offers a two-year MPA program that prepares individuals for management and leadership careers in public service.
To help you further your specific career goals, MPA students at Cornell University have the valuable option of choosing one of eight areas of concentration. Within each of these concentrations, you have the flexibility to formulate a personalized study plan.
By getting an MPA at Cornell University and choosing to concentrate in Science, Technology and Infrastructure Policy (STIP), students build the knowledge and skills necessary to impact change and improve the systems and structures that connect societies and augment development.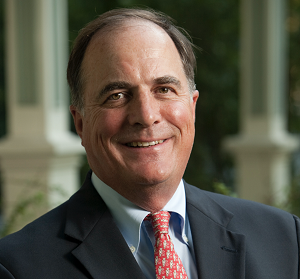 "As someone who has an MPA degree which has been invaluable in my career, I am a strong believer in what this degree represents. It is much more than a credential; it is skill set that has broad applicability across many sectors. A Cornell MPA has the added feature of allowing the opportunity to become a specialist in a particular field which provides a great jumping off spot after graduation."—John Foote, Infrastructure Policy Expert and Visiting Scholar at CIPA
Through the STIP concentration, individuals develop the knowledge and skills to work in policy analysis, project planning, design and implementation, and operations of the critical systems that keep societies running. Students can approach the concentration from various perspectives to align with their unique interests, drawing on Cornell's strengths in engineering, finance, planning, economics, environmental and resource management, policy analysis, and sustainability studies.
Pro Tip: MPA students at Cornell University also have the opportunity to pursue a graduate certificate focused on infrastructure policy— Infrastructure Project Management and Finance (IPMF) Fellows. You can read about one student's experience and how the courses in this graduate certificate took her to Puerto Rico to work directly with the Puerto Rican Department of Education (PRDE).
Careers in public service related to science, tech, and infrastructure:
An MPA prepares graduates for many different opportunities in the diverse field of public affairs ⁠— but what jobs are out there for individuals concentrating on infrastructure policy?
The knowledge and skills acquired through an MPA program, and more specifically, through a STIP concentration, open up doors to careers in the local, state, or global arenas. Some recent Cornell MPA students who have studied STIP have held jobs or internships at organizations that include:
National Aeronautics and Space Administration
NYC Department of Transportation
Port Authority of New York and New Jersey
US Department of Transportation
The World Bank
At every level of public service, there exists a need for professionals who understand what it takes to build and maintain the physical structures that develop communities and hold societies together.
Here are five careers in public affairs for individuals interested in science, technology, and infrastructure policy:
1. Financial Analyst
Financial analysts are responsible for tracking a company, organization, or municipality's financial performance. They are familiar with current financial regulations and policies applicable to their organization or industry sector. As part of their role, they help create forecasts and make tactical, strategic recommendations for the efficient allocation of funding. Other responsibilities include determining standard operating costs, analyzing financial outcomes, identifying financial pitfalls, guiding organizational leaders to policy decisions based on market regulations, and providing recommendations for action based on monetary trends.
2. Management Analyst
Management analysts work with organizations to improve their overall efficiency and solve operational problems. Generally, management analysts work as consultants and are hired by organizations as needed. They typically conduct organizational studies and evaluations, identify current problems, examine financial data, conduct interviews, develop suggestions for solutions and alternate practices, and design new operational systems. Additionally, they may prepare manuals and train workers in the use of new forms, reports, procedures, or equipment, according to the changes they have helped implement.
3. City Manager
City managers focus on the practical, everyday responsibilities of running a city as well as long-term systems and programs that benefit residents. They are generally hired by the city council, as opposed to being elected, to manage the operations of a municipal government under the supervision of the mayor or city council. The responsibilities of the city manager can include labor relations, insurance and risk management, budgeting, financial analysis, grant management, and inter-municipal relations. They may also be responsible for overseeing important services such as trash pickup and recycling programs, ensuring water supplies are safe, working on economic development projects, and responding to concerns of residents.
4. Operations Manager
Operations managers often serve as the glue that holds an organization together. They are responsible for making sure all members of staff have what they need in order to be successful, and typically take a holistic approach to developing a well-functioning organization. Responsibilities may include staffing, volunteer recruitment, managing the budget, overseeing client and constituent relationships, operational planning and forecasting, and quality assurance on deliverables. They may also directly manage a team of people, making them responsible for the training and development of their team. As part of their leadership role, they must balance the growth strategy for their organization with the needs of their staff.
5. City Planner
City planners work to determine the best way to use a city's land and resources. They may help draft legislation, plan the construction projects, help protect the environment, and suggest zoning regulations. Part of their role is determining infrastructure locations and planning for repairs or replacement of structures. City planners are often responsible for studying their city's current population and land use, predicting trends, projecting project costs, preparing reports, and meeting with other professionals in both industry and public service. They may hold public meetings with government officials, land developers, lawyers, special interest groups, and the general public to develop or address issues regarding city land use.
Getting an MPA at Cornell University:
At Cornell University, we are committed to preparing individuals to become leaders in the field of public affairs and make a positive impact on the lives of others. By earning your MPA at Cornell, you are investing in a degree that will open doors to a dynamic, rewarding career in public service.
If you have questions about beginning your MPA journey at Cornell, we encourage you to request more information today!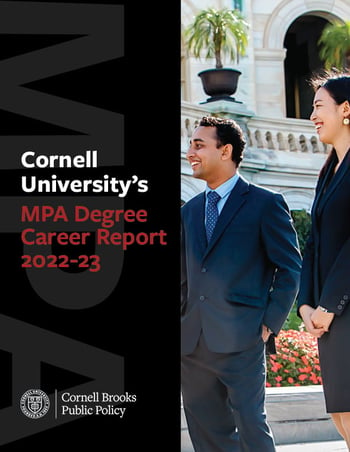 Allow the professionals in Cornell's MPA program to help you land your dream career — download the MPA Career Report today!
---
Recommended for you