Jobs for MPA Graduates — And Where MPA Graduates are Working Today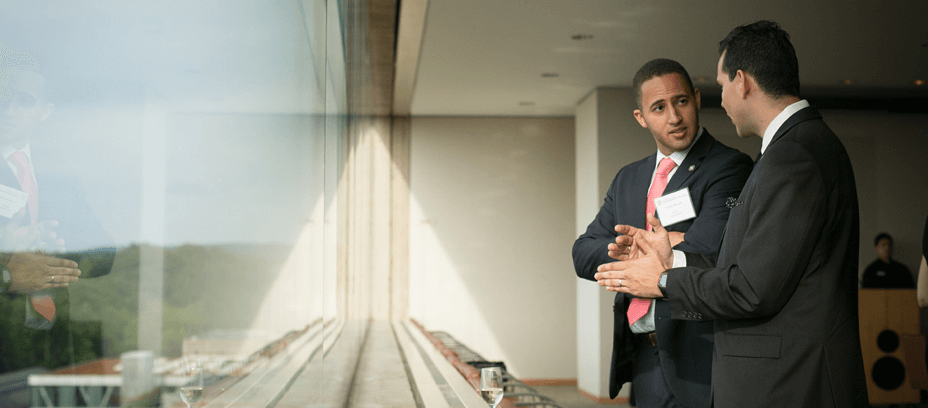 Professionals who obtain a Master of Public Administration (MPA) are driven, empathetic individuals who all have a common goal in mind: to improve the lives of others and to leave the world a better place.
As such, leaders in public affairs must develop the tools, knowledge, and skills needed to address the world's most pressing and challenging public policy issues — issues that transcend location, race, class, creed, and age.
Some of the most challenging public policy issues today include (but are certainly not limited to) these:
Addressing climate change and how climate change affects related spaces
Improving infrastructure policy in underdeveloped countries
Contributing to the field of sustainable business development
Transitioning incarcerated individuals back into society
Combating the nationwide opioid epidemic
Reforming the management and delivery of public/private education around the world

If you are passionate about finding and implementing solutions to challenges like these and so many more in the field of public affairs, then a career in public service could be perfect for you.
Jobs for MPA graduates:
As a driven, mission-oriented leader looking for tools to address the world's most challenging public policy issues, then it is important to explore the various jobs available to those who obtain an MPA degree.
Management Analyst

Public Relations Director

Economist

Operations Manager

Urban and Regional Planner

Administrative Services Manager

Museum Director

Proposal Coordinator

Research Support Analyst

Emergency Management Director

Communication Consultant

Fundraising Project Coordinator

Financial Manager

Operations Research Analyst

Budget Analyst

Foreign Service Officer

Development Associate

Infrastructure Analyst
Where Cornell MPA graduates are working today:
In the Cornell Brooks School MPA program, we foster a tight-knit community of ambitious, passionate professionals who hope to make a difference in the world. Our intimate community of changemakers also understand the importance of supporting one another both during their time at Cornell and beyond.
Graduates of the MPA program may utilize Cornell's career management services as they navigate career transitions post-graduation, and many continue to rely on Cornell's robust network of professionals well into their careers.
Representative Employers of Cornell Brooks School MPA Graduates:


Nonprofit

Cornell University, Office of Engagement Initiatives, Program Manager

EcoAgriculture Partners, Development Associate

International Food Policy Research Institute, Proposal Coordinator

Omar Dengo Foundation, Fundraising and Project Officer, Costa Rica

UNICEF, Policy Advocacy and Communication Consultant

World Affairs Council, Program Officer

Private

CCS, Executive Director

Deloitte Tax LLP, Credits & Incentives, Consultant

Guidehouse, Experienced Associate

Moody's Analytics, Consultant

NextEra Energy, Regulatory Affairs Analyst

Success Academy Charter Schools, Manager

Public

City of Issaquah, Washington, Budget Analyst

Port Authority of New York & New Jersey, Leadership Fellow

U.S. Bureau of Labor Statistics, Office of Pricing & Living Conditions, Economist

U.S. Government Accountability Office, Analyst

U.S. State Department, Foreign Service Officer

UNICEF, Policy Advocacy & Communications Consultant

World Bank, Consultant
Explore public service careers in the field — connect with us at the Cornell Brooks School MPA program to learn more!
If you are looking to secure a meaningful career in the field of public affairs, then you have come to the right place.
At the Cornell Brooks School MPA program, we produce forward-thinking, marketable alumni who are well-equipped to secure a variety of careers in public service. We do so by placing significant emphasis on professional development and career management — before, during, and after your time at Cornell University.
If you are ready to start building a career that will help you transform the world, then we encourage you to reach out to our admissions team. Connect with us today!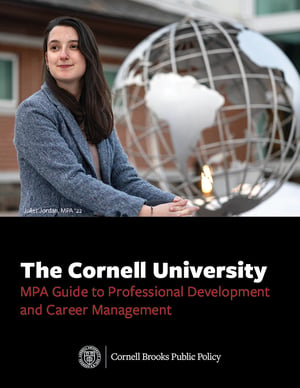 Download "The Cornell University MPA Guide to Professional Development and Career Management" for professional development tips, information on jobs for MPA graduates, and more!
---
Recommended for you