Improve Human Safety in the US With a Career in Infrastructure Management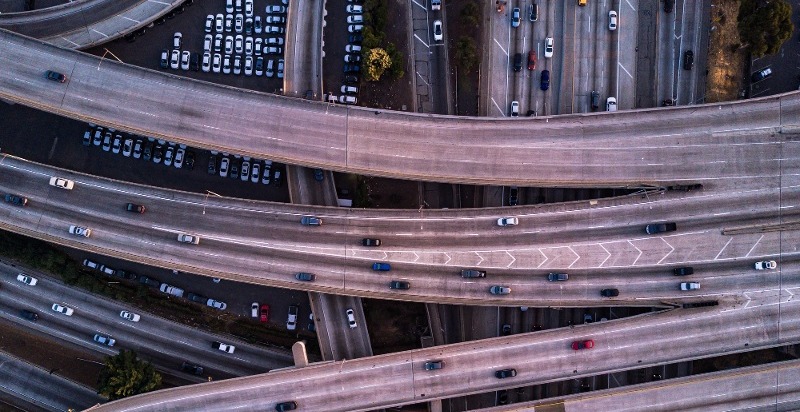 Did you know that the United States' infrastructure received a C- rating in 2021?
Every four years, the American Society of Civil Engineers' Report Card for America's Infrastructure "depicts the condition and performance of American infrastructure in the familiar form of a school report card—assigning letter grades based on the physical condition and needed investments for improvement."
This C- grade is actually an improvement compared to previous years — in 2017 and 2013, the ASCE gave America's infrastructure a D+ grade.
So, what does all this mean?
It means that we need skilled public affairs professionals who have the knowledge to implement new, effective policies that improve our infrastructure systems and prevent them from breaking down in the future.
What is science, technology, and infrastructure policy?
Energy management. Risk assessment. Transportation design.
Believe it or not, leaders in public affairs are hard at work in a wide variety of industries ranging from health and human safety management to infrastructure systems design.
Infrastructure is the basic physical and organizational structures and facilities needed for the operation of society, including buildings, parks, and power grids, along with water, sewer, transportation, safety, and communication systems.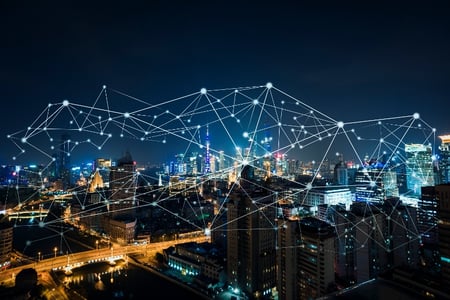 Science, technology and infrastructure policy is the development of designs, policies, regulations that ensure safe, strong, and adaptive systems of infrastructure. These structures are vital to a society's functioning, economic development, and prosperity, and the science and technology that goes into establishing and securing these systems is regularly advancing and developing new and innovative solutions to existing problems.
Ways infrastructure management improves human safety:
Even as the world becomes more digital, our reliance on physical infrastructure grows. There is a direct link between the physical structures that connect our societies and the growing digital structures that connect us virtually. In fact, the digital technologies making our physical world smarter are themselves dependent on physical systems. For example, the infrastructure of the internet is reliant on physical servers and hard drives, cables, and satellites. The internet, in return, has allowed us to make safer, stronger, and more adaptive physical infrastructure systems.
There are many ways in which infrastructure helps connect and improve communities — here are just a few:
Electrical systems need to handle the growing number of devices in our homes and businesses.
Agricultural systems need to produce adequate food supplies.
Transportation systems need to keep up with the surge in global shipping and delivery services.
Water systems need to provide populations with clean, drinkable water.
Communication systems need to reach even the most remote locations.
Waste systems need to promote better recycling initiatives.
Energy systems need to support the transmission and distribution of energy and electricity.
Getting an MPA to secure a career in infrastructure management:
When it comes to making a difference in public affairs, education and related experience are key. A Master of Public Administration degree (MPA) is the gold standard for those looking to develop the skills and training to make a tangible difference in the lives of individuals and communities.
A Master in Public Administration degree prepares graduates for careers in both foreign and domestic policy and in a number of different industries including, but not limited to:
Transportation Infrastructure
Critical Infrastructures (shelter, agriculture, education)
Energy Infrastructure (including renewable and sustainable energy)
Information and Communications Infrastructure
Sustainable Urban Infrastructure
Healthcare Infrastructure
Parks and Recreation Infrastructure
Infrastructure Safety and Risk Management
Infrastructure Financing
Meet Cornell University's infrastructure professionals:
CIPA Visiting Scholar John Foote is a Research Fellow at the Taubman Center for State and Local Government at Harvard's Kennedy School. The co-founder of a transportation engineering company specializing in intelligent transportation systems and services, he first worked as a public finance banker both in the U.S. and in Asia. He oversees the CIPA Graduate Certificate program in Infrastructure Project Management and Finance (IPMF).
"As someone who has an MPA degree which has been invaluable in my career, I am a strong believer in what this degree represents. It is much more than a credential; it is skill set that has broad applicability across many sectors. A Cornell MPA has the added feature of allowing the opportunity to become a specialist in a particular field which provides a great jumping off spot after graduation." — John Foote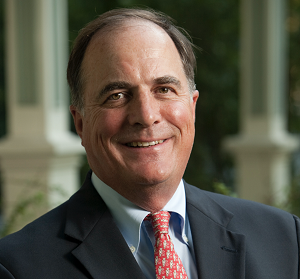 Rick Geddes is Professor in the Department of Policy Analysis and Management at Cornell University and Founding Director of the Cornell Program in Infrastructure Policy (CPIP). He researches the funding, financing, permitting, operation and maintainance of heavy civil and social infrastructure, with a focus on the adoption of new technologies. His research has examined network-wide road pricing, infrastructure resilience, and innovative infrastructure financing via public-private partnerships.
Rick is a member of the Graduate Fields at Cornell of Systems Engineering, Economics, and Public Affairs. He is also a core faculty member of the Cornell Institute for Public Affairs (CIPA), a Visiting Scholar at the American Enterprise Institute (AEI), and a Research Fellow with the Mineta Transportation Institute at San Jose State University.
"As the Founding Director of the Cornell Program in Infrastructure Policy, I'm obviously interested in infrastructure policy. I'm specifically interested in how infrastructure policy and environmental policy interact. For instance, professionals working in infrastructure policy have to take into account how projects will affect water and air quality and must abide by the Endangered Species Act in order to leave the habitats of endangered species undisturbed." — Rick Geddes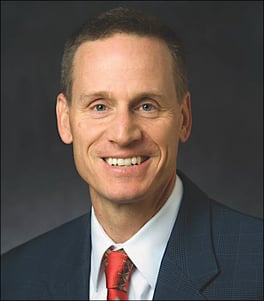 Getting an MPA at Cornell University to secure a career in infrastructure management:
To help you further your specific career goals, MPA students at Cornell University have the valuable option of choosing one of eight areas of concentration. Within each of these concentrations, you have the flexibility to formulate a personalized study plan. The Science, Technology, and Infrastructure Policy concentration is intended to assist MPA students in developing the knowledge and skills to work in policy/project analysis, project planning, implementation (including financing and construction), and operations in the areas of science, technology, and infrastructure policy.
Note: MPA students can also choose to obtain the Infrastructure Project Management and Finance (IPMF) Fellows graduate certificate.
Students can approach the concentration from various perspectives, drawing on Cornell's strengths in engineering, finance, planning, economics, environmental and resource management, policy analysis and sustainability studies. MPA graduates with this concentration will be equipped to work in either the public or private sector and across those sectors.
If you are ready to jumpstart your career in the field of public policy/public affairs, and if you've decided that you belong in a mission-driven graduate program like a Master of Public Administration degree — request more information or start your online application today!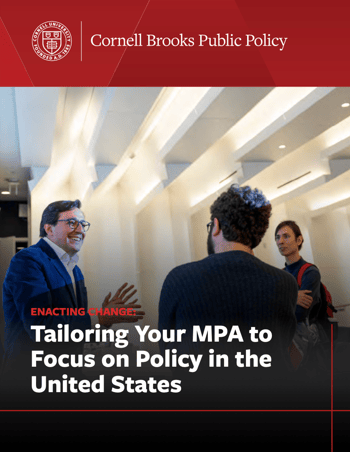 Explore our digital resource — Enacting Change: Tailoring Your MPA to Focus on Policy in the United States — for advice and tips related to choosing a career in domestic policy-making.
---
Recommended for you