How Getting an MPA Will Prepare You for a Career in Nonprofit Management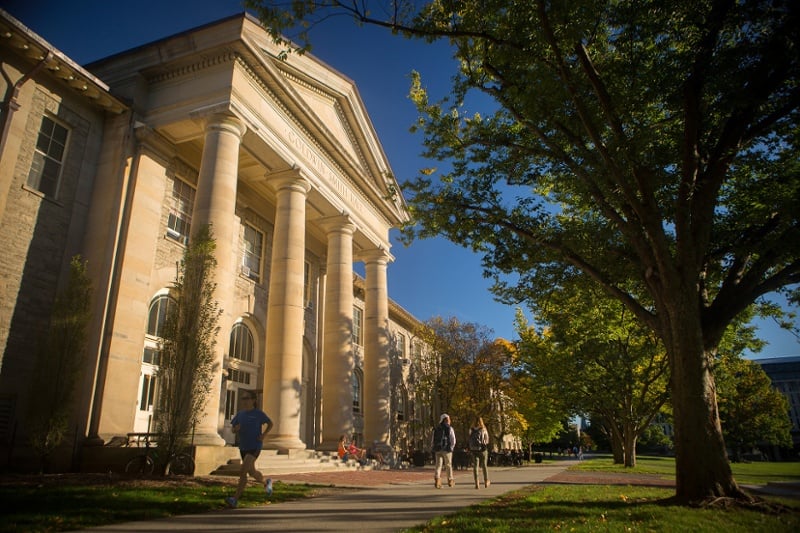 Nonprofit institutions play an important role in community life and are an integral part of the economic, political, and social structure of our nation. Certainly the most distinguishing characteristic of nonprofits is that they do not attempt to make a profit. Instead, their primary goal is to advance a cause that is central to the organization's existence and mission. The mission of a nonprofit can range from worker's rights in the United States to third-world economic development, and are integral in developing new programs designed to improve quality of life.
However, in an era of growing need and shrinking resources, nonprofits are being asked to do even more with less assistance. To help meet this need, many nonprofits are looking for mission-driven, results-oriented professionals who are well-equipped to handle the challenges facing today's organizations.
Download Cornell University's MPA Career Report to explore a variety of MPA alumni who have pursued diverse careers in fields related to public administration.
The Value of Getting an MPA:
Earning a Master of Public Administration (MPA) will prepare you for a career working in the public interest. In today's volatile political climate, an MPA is a valuable graduate degree program that prepares individuals for management and leadership careers across the field of public affairs — in the public, private, and nonprofit sectors. Relative to other professional degrees, the MPA is far more interdisciplinary, drawing on the fields of economics, finance, management, political science, and psychology. By promoting this interdisciplinary perspective, the MPA provides students with the tools required to make an impact in the nonprofit sector and improve people's lives.
The Cornell MPA Difference:
Cornell's two-year MPA program prepares individuals for management and leadership careers in public service through a rich combination of coursework and hands-on experience. Because we are dedicated to fostering an interdisciplinary education, students have the opportunity to work with renowned faculty across many different departments, schools, and colleges at Cornell, which is among the largest and most diverse of the Ivy League universities.
To help you further your specific career goals, MPA students at Cornell University have the valuable option of choosing one of eight areas of concentration. Within each of these concentrations, you have the flexibility to formulate a personalized study plan. By pursuing your MPA at Cornell University and choosing to concentrate in Public and Nonprofit Management, students graduate with the skills and tools needed to work as general managers in the public sector, or as leaders of domestic or international nonprofit organizations.
To be a leader in the nonprofit sector, individuals need to have a deep understanding of all aspects of an organization's mission and operations. Through our program, students acquire skills in budgeting, investment, debt financing, and data analytics, as well as managerial skills including negotiations, leadership, staffing, and compensation skills. The Public and Nonprofit Management concentration is a strategic option for professionals who want to transform public policy that will reform and improve the nonprofit sector.
Gaining Hands-On Experience with Public Administration Internship or Externship:
Having professional or volunteer experience in the nonprofit sector can increase your chances of successfully boosting your career upon the completion of your MPA. Hands-on learning gives students an accurate perception of the kind of work they'll be involved in post-graduation and provides invaluable experience that students will take into careers that make a tangible difference in people's lives. This is one of the reasons why direct experience with professional work in public affairs is a key component of our MPA curriculum.
The MPA program at Cornell offers students a variety of opportunities to gain hands-on professional experience through real-world consulting opportunities, internships, and off-campus study. Our students often say that they're drawn to Cornell's MPA because of the emphasis we place on experiential learning. Recent Cornell MPA fellows have completed professional internships at both domestic and international organizations, including the Council on Foreign Relations, Brookings Institution, International Rescue Committee, and UNICEF.
Careers in Public Service and Public Affairs:
In an increasingly strained global climate, public and nonprofit management is a steadily growing and dynamic career field driven by the development of new organizations and new programs aimed at leaving a positive impact on the world. The nonprofit sector, in particular, offers a wide range of employment opportunities for MPA graduates who are interested in a career in public service.
Here are five possible careers for those interested in working in the nonprofit sector:
1. Program Analyst
A program analyst is responsible for conducting research and analyzing data to assist in the development of new programs or initiatives for a nonprofit. Additionally, a program analyst will often help with the improvement of organizational operations and procedures. Responsibilities typically include, gathering and analyzing data, preparing reports, collaborating with team members, and creating proposals for new programs and systems improvements.
2. Program Coordinator
A program coordinator focuses on organizing the numerous parts of a project and making sure it runs smoothly. They plan meetings, organize logistics, and establish schedules and timelines to monitor progress and help make sure the project meets its goals. Program coordinators track dates and budgets, and are responsible for filing reports, contracts, invoices, and financial files.
3. Fundraising Manager
A fundraising manager helps generate money for a nonprofit organization and oversees all operations in the fundraising department. Typical responsibilities include identifying potential donors from various sectors, organizing meetings, developing fundraising campaigns, applying for grants, and managing the donor database. Fundraising managers may also be responsible for overseeing a team of fundraisers or volunteers.
4. Executive Director
An executive director serves the chief officer of a nonprofit and is responsible for overseeing the administration, programs, and strategic plan of the organization. The position reports directly to the Board of Directors and provides guidance and resources in the areas of fundraising, marketing, and community outreach.
5. Senior Consultant
Senior consultants assess the health of an organization and identify opportunities for growth. They assess team strengths and weaknesses, identify areas in need of improvement, and plan for the future. The role may require establishing training programs, developing strategic recommendations, and creating new organizational initiatives.
Is getting an MPA worth It? Connect with us today to learn more!
Our goal is for you to leave Cornell University's MPA program prepared to compete as one of the best-of-the-best in your respective field, which means we are committed to both your educational and professional success. By earning your MPA at Cornell, you are investing in a degree that will prepare you for a dynamic, rewarding career in public service.
If you have questions about getting an MPA at Cornell University, we encourage you to request more information! You can also start your online application today to jumpstart your journey toward obtaining an MPA.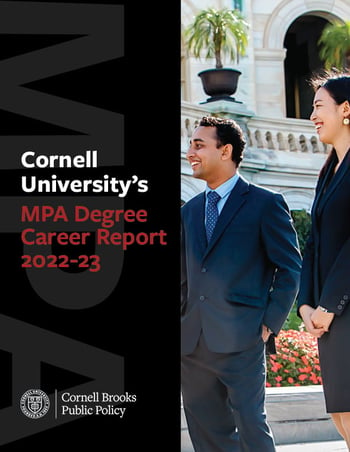 Allow the professionals in Cornell's MPA program to help you land your dream career — download the MPA Career Report today!
---
Recommended for you