How Getting an MPA Can Help You Build a Career in Government Policy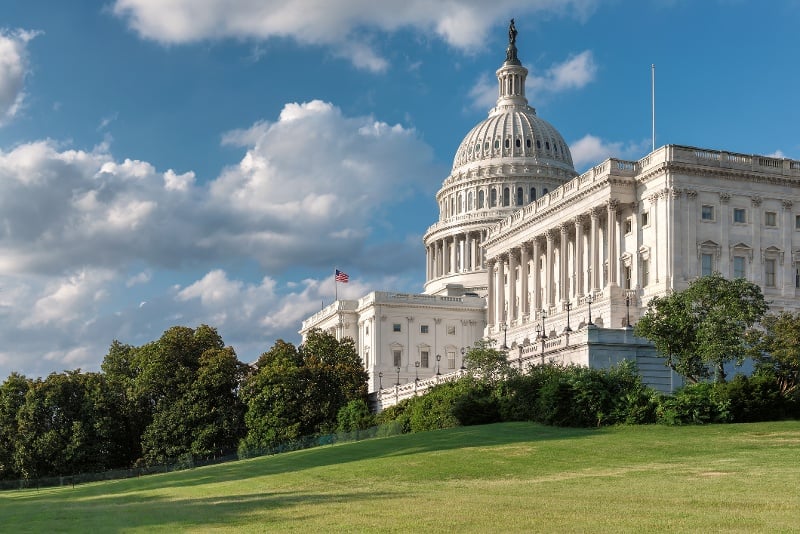 When considering a career in public service, it is important to understand how and why governments are some of the largest and most impactful units of change around the world.
While today's political climate is charged, federal, state, and local governments continue to make meaningful and important contributions to the overall success and well-being of the individuals and communities they govern.
For those interested in enacting and promoting policies that can leave a lasting impact on their communities, earning a master's degree in public administration is a strategic and valuable option.
Careers in Public Policy & Working in the Public Sector
Government employees work in what's considered the "public sector" in order to enhance the lives of people in the U.S. and around the world. Through the implementation of policy, these dedicated civil servants are important participants in initiating change and creating stronger communities. They can play a vital role in ending homelessness, finding cures for diseases, keeping our food supply safe, and much more.
Public sector jobs offer a great range of flexibility and opportunities for advancement. Wherever you want to call home, jobs in government policy are likely available. Nearly 85 percent of federal government jobs are outside of the Washington, D.C., area, and more than 50,000 federal government employees work abroad.
While the federal government offers many routes to success, there are also many career paths in state and local government. In fact, according to the U.S. Bureau of Labor Statistics, approximately 22.5 million Americans work in government, with nearly two-thirds at the local level.
Jobs in government policy also offer excellent training and development opportunities, and many agencies use individual development plans to help you achieve your career goals and find the opportunities that align with your unique career goals. Along with many opportunities for advancement, careers in the public sector typically offer great benefits and competitive pay.
Working in the public sector provides ample opportunities to leave a meaningful impact on your community — locally, nationally, and globally. Regardless of your goals, a master's in public administration can help prepare you for a vibrant career in public service.
The Value of Getting an MPA Degree
Public administration is a broad discipline that focuses on the implementation of government policy. By earning a Master of Public Administration (MPA), individuals receive the foundational knowledge and experience needed for management and leadership careers across the field of public administration. In the midst of today's political climate, an MPA is a valuable graduate degree program that gives mission-driven professionals a competitive edge and prepares them for a successful career working in the public sector.
Relative to other professional degrees, the MPA is far more interdisciplinary, drawing on the fields of economics, finance, management, political science, and psychology — making it increasingly valuable for individuals interested in the diverse and ever-changing world of government policy.
The Cornell Difference: Getting an MPA with a Government, Politics and Policy Concentration
The Cornell Jeb E. Brooks School of Public Policy offers a two-year MPA program that prepares individuals for management and leadership careers in public service through a rich combination of interdisciplinary coursework and hands-on experience. The program offers students a variety of ways to gain professional working experience in the field of public administration. This experience provides students an accurate perception of the kind of work they'll be involved in post-graduation and gives them the opportunity to start making an impact while still earning their degree.
In addition to a diverse curriculum and hands-on opportunities, the Cornell Brooks MPA program also gives students the valuable option of choosing one of eight areas of concentration. Within each of these concentrations, you have the flexibility to formulate a personalized study plan.
By getting an MPA at Cornell University and choosing to concentrate in Government, Politics, and Policy Studies, students develop an advanced understanding of how politics and political management intersect with policy processes, program development, and resource management in the public sector. This concentration, in particular, focuses on the politics of domestic and international policymaking and administrative processes.
Graduates leave the program with skills that allow them to work with elected officials, public managers, and citizens to develop actionable policy goals.
Here's what a recent MPA graduate had to say about the program: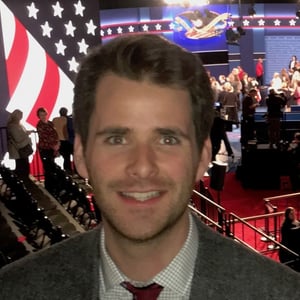 "The Cornell MPA provides the missing link that bridges my passion to my profession. Just over a quarter of the way into this graduate program, and I'm already more empowered to navigate many of the professional obstacles I endured prior to enrolling at Cornell.
Cornell approaches skill-development aggressively — it's well-resourced, efficient and to-the-point from day one onward. Through the Brooks School's influence, I'm unquestionably more capable of ensuring that my professional career is well-aligned with my personal ambitions." —Grant O'Brien, MPA '20


Careers in Government, Politics, and Public Policy
Whatever your strengths and passions, there is likely a job in public administration that's perfect for you.
Whether your skills are in accounting, engineering, diplomacy, or healthcare, you can find opportunities at the government level that align with your goals and interests.
Cornell Brooks MPA students who have studied GPP have held jobs or internships at organizations that include:
Congressional Research Services
NYC Mayor's Office of Operations
UN Office of Human Resource Management, Strategic Planning and Staffing
US Department of State
US Securities and Exchange Commission
Here are five possible jobs opportunities for those interested in government, politics, and policy:
1. Legislative Assistant
Legislative assistants support legislators in legislative drafting, legal services, and publications functions and are responsible for editing legislations, amendments to legislation, legal memos, and other written work. Other responsibilities include researching and monitoring specific issues, tracking bills, and editing legislation. Legislative assistants may also have administrative duties that include maintaining office operations, handling constituent inquiries and casework, managing schedules and travel, and supervising interns or volunteers.
2. Policy Analyst
Policy analysts are responsible for examining the efficacy of existing policies and laying out the groundwork for new programs and legislation to meet objectives and goals. Duties of the position include reviewing and amending policy drafts and proposing suggestions to improve the effects of existing policies. This typically involves conducting research, analyzing current policies, evaluating the effects of proposed legislation, and reporting on findings. Many policy analysts choose to specialize and build their expertise in one particular area.
3. Political Scientist
Political scientists study the origin, development, and operation of political systems. They research political ideas and analyze governments, policies, political trends, and related issues. General responsibilities include collecting and analyzing data from public opinion surveys, developing and testing political theories, forecasting political, economic, and social trends, and publishing their findings. Political scientists usually specialize in one of the following areas: national politics, comparative politics, international relations, or political theory.
4. Foreign Service Officer
Foreign service officers promote and protect the United States' political, economic, and commercial interests overseas. They formulate and implement the foreign policy of the United States and conduct relations with foreign countries and international organizations. Foreign service officers spend most of their careers overseas as members of U.S. embassies, consulates, and other diplomatic missions representing the government and the people of the United States
5. Program Specialist
Program specialists develop procedures for the implementation and evaluation of government programs. They assist governments by establishing program goals and objectives, developing program guidelines, creating schedules, priorities, managing program budgets, and evaluating outcomes. They may also be responsible for providing consultative and technical services to other governmental agencies, community organizations and the general public.
Start Building Your Career in Government Policy at Cornell University!
At Cornell University, we are prepared to help you build a successful and meaningful career, which means we are committed to both your educational and professional success. By earning your MPA at Cornell, you are investing in a degree that will prepare you for a dynamic, rewarding career in public administration.
If you have questions about beginning your MPA journey at Cornell, we encourage you to request more information today!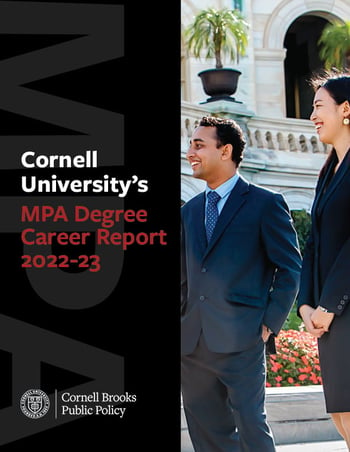 Allow the professionals in the Cornell Brooks MPA program to help you land your dream career — download the 2021-22 MPA Career Report today!