Is Getting an MPA Worth It After Military Service?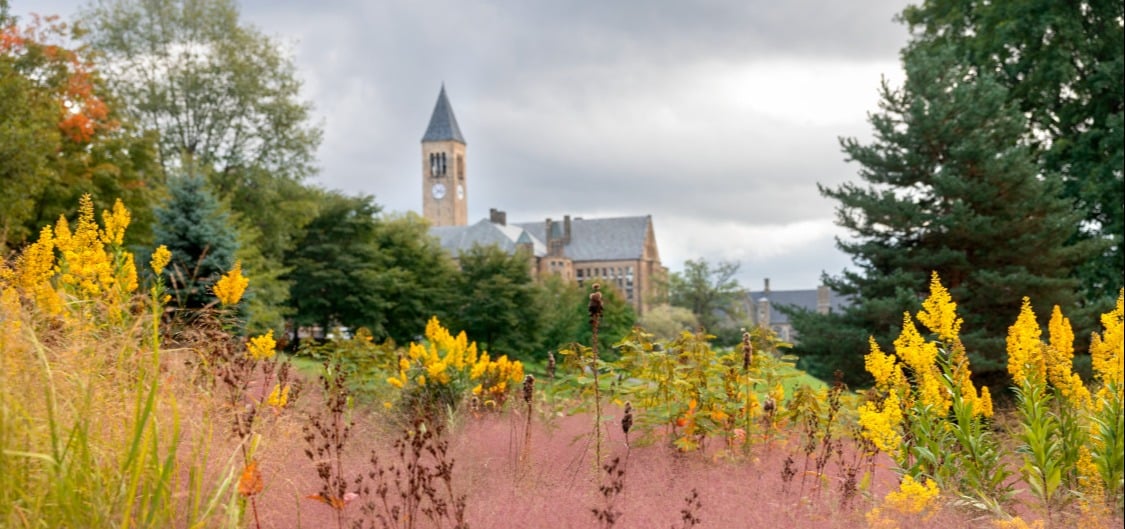 Veterans and current military service members are some of the most impactful, mission-driven contributors to our society today. As such, many choose to continue a career in public service after obtaining a graduate degree related to a field that is ultimately about leaving the world a better place — a Master of Public Administration (MPA).
We talked to MPA student ambassador and active military service member, Amber Ingwell, about why she chose Cornell's MPA program.
Tell us a little bit about yourself. What's your name, age, location, and educational background?
My name is Amber Ingwell. I am 30 years old and currently living in Ithaca while I'm obtaining my Master of Public Administration degree at Cornell University.
I grew up in Wisconsin and attended the University of Wisconsin-Madison for a BA in Political Science and Legal Studies.
What first inspired you to join the military?
I first enlisted in 2009 in the Wisconsin Army National Guard in high school with an aspiration to serve and gain experience while taking advantage of generous education benefits to attain my bachelor's degree. I then joined UW-Madison's ROTC program when I realized the countless opportunities I would have as an Army officer.
Upon graduation in 2014, I was commissioned as an active-duty aviation officer. I graduated from flight school in 2016 and then spent 3.5 years at Fort Drum, NY. Following that, I spent two years at Fort Bliss, TX as a flight company commander.
I have since moved to Ithaca to pursue my MPA here at Cornell.
What branch did you choose and what was your role?
I chose the Army since it was the most familiar to me, given my family experiences. After serving as an enlisted soldier for a couple of years, I realized that being an aviator was an attainable and desirable goal.
I have led and supported missions as a Blackhawk pilot in multiple units and have a range of experiences domestically and abroad.
How did your military experience prepare you to continue a career in public service?
As many people find, the military gave me the confidence and skills to engage in complex, diverse, and high-stakes situations. Many of the experiences and challenges I regularly faced provided excellent context for similar challenges encountered in the public sector.
Also, the core values instilled in military members, like selfless service or integrity, are also foundational to what it means to be an admirable public servant.
What drew you to Cornell's MPA program?
Cornell's MPA was a good fit for me for several reasons. For one, a two-year program seemed like the appropriate choice (over a one-year program) to give me enough time to gain the necessary skills and allow for a true immersion in the breadth of material required to be a professional in the field.
Second, Cornell's MPA concentration areas give an opportunity to hone your interests and signal some commitment to a specific area.
Third, Cornell's principle of "any person, any study" also applies to the MPA program. There is great flexibility to shape the degree to your specific needs and interests. The ability to take classes across campus means exposure to many different areas.
Fourth, the program puts emphasis not only on technical skills but also on leadership and management principles. There is ample opportunity to translate leadership skills exercised in the military to future roles in the civilian sector.
Finally, Cornell's faculty and staff are committed to your success in your field. There are a lot of opportunities for practical experiences to prepare you for future jobs and build a network of colleagues.
Cornell also offered the best academic experience in a beautiful location — Ithaca, NY!
Which MPA concentration are you pursuing? Tell us about that experience.
I am planning to pursue the Government, Politics, and Policy concentration.
This will set me up to develop an understanding of political management and processes and has broad application across the public sector. Because this is a broad area, there are opportunities to focus on interests like international relations or policy analysis.
Tell us about your role as a Student Ambassador. How do you serve as a resource for other students?
My role as ambassador is to be a voice for military or veteran potential applicants and incoming students and contribute to the community of current student vets and the military. We have similar experiences and motivations, and it is good to have someone to reach out to that can provide guidance, recommendations, or reassurance in the transition.
How is Cornell's MPA preparing you to reach your career goals?
I plan to pursue opportunities that allow me to understand, analyze, and contribute to Army policymaking. Through Cornell's robust course offerings, professional network, and practical experiences, the goal is to achieve the quantitative and qualitative skills to provide a foundation for meaningful impact.
What advice would you give to someone thinking about choosing Cornell's MPA program?
Do not sell yourself short. Your experiences will serve you well both in the program and as a future leader in public affairs. Also, do not stress if you do not know exactly where you want to go after the program. The flexibility of Cornell's program allows you to change your mind, explore interests, and obtain excellent foundational knowledge.
You can be confident that the Master of Public Administration offered at the Cornell Jeb E. Brooks School of Public Policy, an Ivy League MPA program, will be helpful as you pursue a career in the public, nonprofit, or private sectors.
Ready to learn more about careers for veterans in the field of public affairs? Don't wait!
At the Ivy League Cornell Brooks School MPA program, we are looking for students of exceptional quality who have the analytical, leadership, and communication skills necessary to succeed in a career serving the public in government, nonprofit, or for-profit sectors.
Take the first step; start building a career that is going to equip you to transform the world. Start your online application today.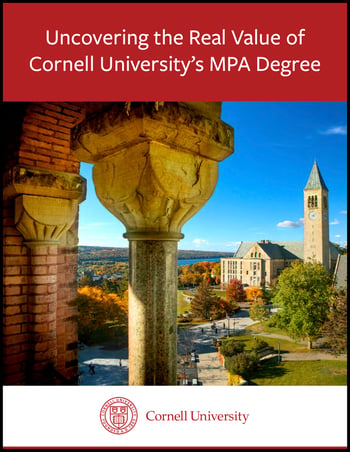 Uncover the value of getting an MPA at Cornell University.
---
Recommended for you