Learning-by-Doing in Cornell's MPA Program — Beth's Story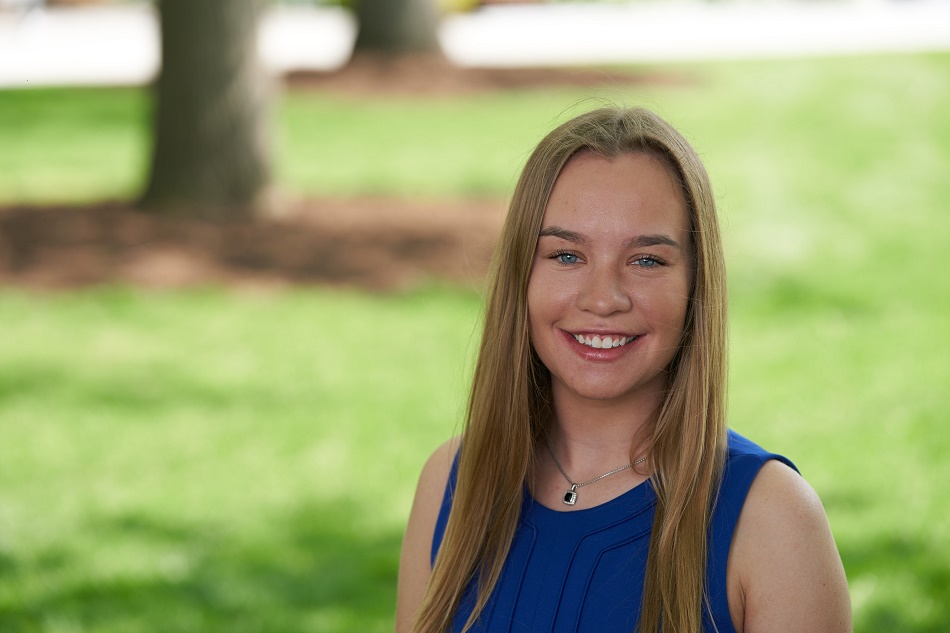 Beth Yarze completed her MPA at Cornell University in May of 2019, with a concentration in Economic and Fiscal Policy. She is employed at PricewaterhouseCoopers, LLC (PwC) in Boston, MA as a Transfer Pricing Associate.
Here's what she had to say about getting an MPA at Cornell University, her concentration of choice, going to Uruguay as a part of her Capstone project, and how working on an eBay project affected her professional future.
What made you choose CIPA over other programs you were considering?
I chose CIPA because of all of the resources afforded by its flexible structure, as well as those available at Cornell broadly. At CIPA, you are able to uniquely design and tailor your curriculum and take courses across the numerous colleges at Cornell.
What are your long-term career goals?
My long-term career goals broadly include continuing to build my skillset to be adaptable in the public affairs arena and be prepared to work between sectors. The coursework offered at CIPA allows students to build transferable skills to manage and be successful in the public, nonprofit, and private sectors through the Consulting and Capstone courses.
You may also take advantage of other opportunities at Cornell such as the SMART Program or SGE Immersion. I participated in both the SGE Immersion during my first year and the Capstone course during my second, and both were extremely critical for affording me practical experience that I can draw on through managing client relationships and working in teams.
What would you say are the top three reasons that CIPA was a good fit for you?
Curriculum flexibility
Resources/opportunities (at both CIPA and Cornell broadly)
Faculty diversity and expertise
Are there any "stand out" experiences at CIPA that made a lasting impact on you?
I participated in the Sustainable Global Enterprise (SGE) Immersion through the Johnson Graduate School of Management in Spring 2018, which involved working with a team of first-year MBA students on a consulting project related to social or environmental sustainability's impact on business. My team had a project for eBay, Inc., working with their Global Impact team to dissect the question of whether or not Millennial consumers' purchasing decisions could be impacted by eBay's sustainability messaging.
With SGE, I worked as part of a diverse team, with members representing wide ranging interests and work backgrounds, and pursuing a different degree program than my own. The project allowed me to further develop my research, communication, and presentation skills by working closely with our client throughout the duration of the semester.
How would you describe the sense of community you find at CIPA?
Everyone in the cohort is very supportive of one another and is constantly encouraging personal growth and development. The wide variety of backgrounds and interests represented at CIPA made for a diverse group of individuals. It was conductive to the sort of cross-cultural collaboration that is imperative in our increasingly-connected world. I gained invaluable preparation for working effectively with individuals from around the globe.
What role did the Capstone played in your educational experience at CIPA?
The Capstone course was fantastic in providing experience working on a team with other MPA students for a client whose interests were aligned with public affairs in some capacity. Our project involved researching regulations and providing a comparative analysis of the legal recreational cannabis market across multiple U.S. states, Canada, and Uruguay. One of my teammates and I had the opportunity to travel to Montevideo, Uruguay over spring break with our professor to meet directly with regulators and others involved in the legal cannabis supply chain, which provided invaluable insights ad research for the final presentation and report that we delivered to our client at the end of the semester.
Getting an MPA could transform your future:
If you're interested in management or leadership roles in public service — community or economic development, criminal justice, cultural or environmental policy, education, emergency management, nonprofit management, public health, sustainability, transportation, urban planning, and more — then getting the Master of Public Administration degree at Cornell University could be the perfect fit for you.
If you have questions about getting an MPA, we encourage you to request more information today!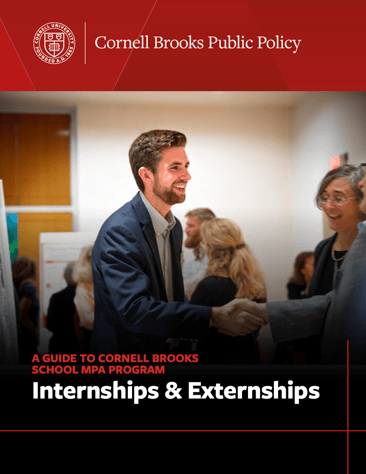 For a closer look at the experiential learning opportunities in Cornell University's MPA program, explore our interactive resource: A Guide to Internships & Externships in the Cornell MPA Program.
to learn more!