Why I Chose Cornell's Master of Public Administration Program — Molly's Story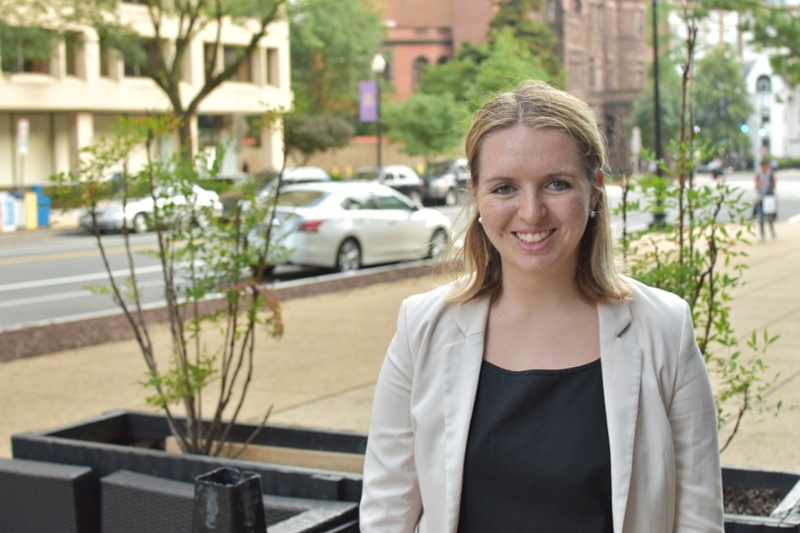 Molly Warrington graduated from Cornell's MPA program in May of 2018 as an Infrastructure Project Management and Finance (IPMF) Fellow with a concentration in Economic and Financial Policy. She currently works as an Experienced Associate at the PwC Public Sector in Washington D.C.
We had the opportunity to talk with Molly and get her thoughts on getting an MPA at Cornell, how CIPA helped her to reach her professional goals in working in domestic policy, and how the experiential learning opportunities made her marketable upon graduation.
What made you choose CIPA over other programs you were considering?
When considering various MPA programs, CIPA was a program that topped the list. The flexibility the degree offered allowing students to take courses across the University along with the diverse cohort was something I valued. As an incoming Fellow straight out of undergrad, I was drawn to the experiential learning opportunities CIPA offered such as the Capstone course and Externship program, which would allow me to gain valuable hands-on experience. The reputation of Cornell, dedicated faculty members and beautiful Ithaca campus also helped make CIPA an excellent choice.
What are your long-term career goals? How did CIPA help prepare you for these?
CIPA taught me a lot about myself during the two years I was a Fellow. When I first joined I had a different idea about what I would be doing after graduation. As a fellow I was introduced to the IPMF Fellowship that allowed Fellows to enhance their project management and finance skillset within the infrastructure field. I participated in this Fellowship and am now working in the infrastructure space. Aside from sparking my interest in a new field and providing me with industry specific knowledge, CIPA gave me the skillset I need to be successful in my career.
During the program, I led team meetings, managed projects, worked with external clients and was exposed to complex issues in the field of public affairs. I am confident that CIPA prepared me to tackle those complex issues and I look forward to utilizing and building off of what I learned at CIPA throughout my career.
List the top three reasons that CIPA was a good fit for you.
First, I would say the affordability of the degree coupled with the reputation of Cornell. CIPA allowed me to get a world class education at an affordable price.
Pro Tip: For a closer look at the affordable nature of Cornell's MPA program, check out this blog article.
Second, I would say the hands on learning experiences CIPA provided me. As a Fellow who joined CIPA straight from undergrad, having the ability to work with clients in a project setting was extremely helpful to me. I traveled to India for my Consulting course, participated in the January Infrastructure Practicum in NYC and traveled to Greece for my Capstone project. Each project I worked on provided me with experiences I could point to on job interviews and talking points for examples of experience I had from actual work I produced in the past.
Finally, I would say the Externship Program. My final semester I participated in the semester long Externship Program in NYC, working at Fitch Ratings, in their Global Infrastructure Group. As an intern at Fitch, I got firsthand experience working at a top credit rating agency, while also taking coursework online through Cornell. This opportunity allowed me to put the hard skills I learned on campus to use, in a real word setting, and to build off of them. Also, this particular experience was something that stood out to perspective employers and helped me land my current position at PwC.
Are there any particular "stand out" experiences at CIPA that made a lasting impact on you?
I would say participating in John Foote's Infrastructure Practicum in NYC was one of my most memorable CIPA experiences. John arranged a week-long trip to NYC where myself and a group of classmates studied a proposed transportation project. We had multiple meetings each day with key stakeholders to the project and at the end of the week we reconvened back in Ithaca to write a report on our findings.
The enthusiasm John brought that week coupled with his deep connections in the infrastructure field really made it a defining moment throughout my time at CIPA.
How would you describe the sense of community you have at CIPA?
The friends I made at CIPA are friends I will have for a lifetime. The community at CIPA is unique in that it is composed of individuals from many different countries with different backgrounds coming together to learn from one another. The tight knit community at CIPA made Ithaca feel like a second home to me when I was there.
If you have questions about attending Cornell University's Institute for Public Affairs, we encourage you to request more information today!
Explore our digital resource — Enacting Change: Tailoring Your MPA to Focus on Policy in the United States — for advice and tips related to choosing a career in domestic policy-making.
---
Recommended for you