Leave a Legacy: 5 Reasons You Need to Pursue an MPA by 2025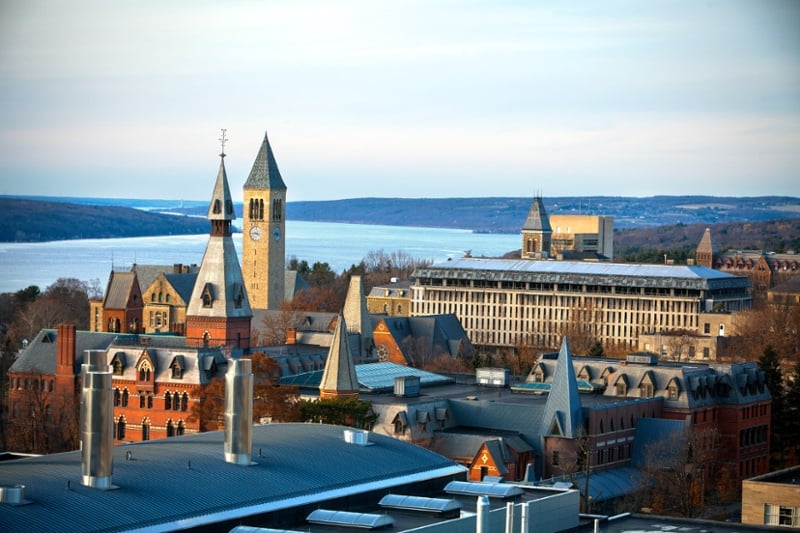 In today's volatile social, political, and environmental climate, the need for policy improvements continues to grow.
These policy discussions need strong changemakers who are driven by a deep dedication to their local, national, or global community and are fueled by the desire to improve the lives of others. The policy decisions made today will leave a lasting impact on generations to come.
With the need for driven agents of change growing in the coming years, there is no time to lose when it comes to finding a program that will cultivate your skills and enable you to enact real, tangible change. A Master of Public Administration (MPA) is a rigorous, interdisciplinary, post-graduate degree that will prepare you for a career working in the public interest. Graduates work in a wide range of federal, state, and local government agencies, nonprofits, private firms where they serve as executives, managers, analysts, and planners.
If you have a strong desire to improve people's lives and leave a lasting legacy, here are some reasons to make getting an MPA part of your five-year plan:
1. There are pressing policy issues in need of solutions.
A quick check of the news will show you a wide range of urgent policy issues that are sure to remain paramount in the next few years. Concerns surrounding climate change, education reform, sustainable agriculture, healthcare, and human rights and social equality are just some of the issues moving to the forefront of policy debates.
These pressing concerns are in need of urgent solutions. In fact, healthcare, climate change, and education are among the top policy issues currently weighing on the minds of American voters. Globally, agricultural concerns and human rights violations continue to threaten peace and quality of life.
We need strong and passionate changemakers to help develop innovative ideas and tools to improve these turbulent political, economic, environmental, and social concerns. Getting your MPA will give you the skills and experience needed to begin tackling these issues and enacting changes that will improve other's quality of life.
2. Hone important skills that will drive your public service career forward.
Whether you're in your desired field at the moment or working hard to get there, a quality MPA program gives graduates the hard and soft skills needed to develop solutions in a strategic, mission-driven, and equitable manner.
Drawing on the fields of economics, finance, management, political science, and psychology, getting an MPA gives you a strong foundation that goes far beyond your chosen career field. Because many policy issues are complex and interrelated, by honing important critical thinking and leadership skills, you become a competitive candidate for positions across private, public, and non-profit sectors.
3. As more people pursue graduate degrees, now is the time make yourself indispensable.
The Bureau of Labor Statistics estimates that jobs requiring master's degrees will grow by 18 percent from 2018 to 2028. As the demand for highly qualified candidates grows, this trend makes it more critical than ever to position yourself at the front of the pack. We have already begun to see the educational level of American adults on the rise as more college graduates go on to earn advanced degrees. Since 2000, the number of people aged 25 and over whose highest degree was a master's has doubled from 10.5 million to 21 million. As the market becomes more saturated, earning your MPA in the next five years will give you a competitive edge for management and leadership positions and allow for greater career growth in the field of public affairs.
4. Is an MPA worth it? Start seeing a return on your investment.
Every professional who chooses to invest the time, money, and energy in a graduate degree hopes to see real, measurable ROI (return on investment) upon graduation. It's true that professionals who invest in a graduate degree are reported to earn an average of 26 percent more in salary compared to those who hold only a bachelor's degree, according to the National Center for Education Statistics in 2017. They also enter the workforce with a greater competitive edge because of their increased knowledge and experience in their area of concentration, making them more qualified for senior leadership roles, which increases their long-term earning potential.
However, with the cost of a postsecondary degree rising an average of 6 percent a year, earning your degree sooner rather than later will help maximize the return on your investment.
5. Make a tangible impact now (even while you're still earning your MPA degree).
You don't have to wait until you have a degree in hand to make a serious and lasting impact. Programs like Cornell's MPA offer students a variety of ways to enhance their MPA degree through real-world experiences. In fact, commitment to experiential learning opportunities in the field of public affairs is a key component of Cornell's MPA curriculum. Real-world consulting opportunities, internships, off-campus study, and Capstone experiences help you develop the skill set you need to be successful in your future careers.
These hands-on learning experiences will give you an accurate perception of the kind of work you'll be involved in post-graduation and provide that invaluable experience of making a tangible difference in people's lives before you even finish your MPA degree.
Join the Cornell MPA community!
By joining the Cornell community, you'll be surrounded by other motivated students who have similar goals and aspirations while taking courses from a variety of world-class faculty representing disciplines from across the university. This positive, dynamic environment will help you stay dedicated to what you care about, provide a supportive network for your future career goals, and will open the doors that will help you leave a lasting impact.
If you have questions, feel free to request more information or start your online application today!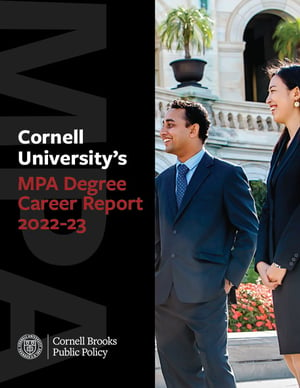 Allow the professionals in Cornell's MPA program to help you land your dream career — download the 2021-22 MPA Career Report today!
---
Recommended for you