7 Benefits of an MPA in 2023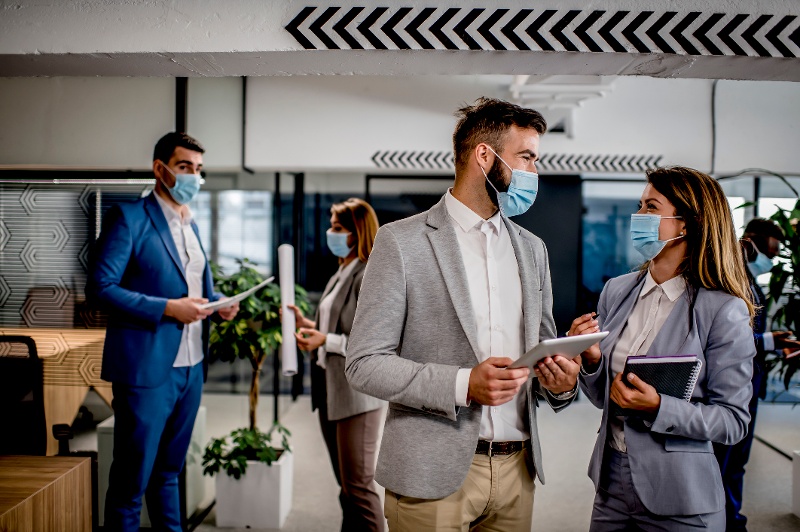 We are living in a challenging era — there's no question.
Between overwhelming political unrest, the detrimental impacts of COVID-19, and a significant economic downturn, millions of people across the nation (and beyond) are struggling to improve the world around us — amidst these critical challenges and countless others.
In fact, in 2020, 83 percent of Americans reported that they were worried about the future of the United States. And while this is a sobering statistic, there is significant reason to believe that with 2021, could come the opportunity for us all to make a tangible difference in the world.
If you are reading this article, then you're probably wondering: how can I, as a compassionate, driven, and ambitious individual, take the first step in impacting the world in a positive way?
By getting an MPA (Master of Public Administration), you will actively gain the practical skills needed to address critical policy challenges across industries. Let's explore some of the many benefits of getting an MPA today.
Benefits of an MPA today:
Today, we are in dire need of skilled, driven, and empathetic leaders who can make a tangible difference in the field of public affairs and public policy. Here are a few of the benefits of getting an MPA this year.
1. Cultivate interdisciplinary skills unique to an MPA:
Because an MPA is interdisciplinary in nature, drawing on the fields of economics, finance, management, political science, and psychology, those who get an MPA pursue management roles in the public interest, where the standards of accountability, transparency, and equity demand a unique mix of knowledge, skills, and abilities. In other words, professionals who obtain an MPA are uniquely qualified to address policy challenges across the field of public affairs.
2. Secure a career in public service after getting an MPA:
When considering advancing your mission-driven career in public affairs with a Master of Public Administration degree, it's important to understand what qualities in an MPA program will make you a competitive, marketable, and driven leader — a leader prepared to succeed in a results-driven field.
Pro Tip: Learn more about your career options; read 7 Public Service Careers for MPA Graduates.
3. Develop the skills needed to address "wicked" policy challenges:
Work in public affairs is for service-oriented professionals looking to make a real, tangible difference in people's lives. Professionals serving in the field of public affairs work as leaders across the public, private, and nonprofit sectors on a variety of pressing and "wicked" public policy issues, such as:
Climate change, and how climate change affects related spaces (disaster management, food security)
Infrastructure in underdeveloped countries
Transitioning incarcerated individuals back into society
Addressing the opioid epidemic
Improving the management and delivery of public and private education around the world
Improving access to healthcare with regards to the COVID-19 vaccine(s)
Economic development strategies for those living in urban areas
If you're interested in building a career in public service, and if you are passionate about improving people's lives, the field of public affairs is an ideal path for you.
4. Gain real-world, practical, and hands-on experience while getting an MPA:
The MPA degree is a professional degree for students seeking a career in public management and public policy. MPA programs develop the skills and techniques used by managers to implement policies, projects, and programs that resolve important problems within their organization and in society. For this reason, Cornell's MPA places emphasis on experiential learning, with hands-on opportunities offered both inside and outside of the classroom.
In addition to internship and externship opportunities, as well as numerous courses with experiential learning components, we offer two intensive consulting courses that are client-based. Graduates regularly cite their consulting engagements as key in helping them develop the skill set they need to be successful in their careers.
5. Learn from diverse professionals with on-the-ground experience:
Cornell's MPA features an interdisciplinary curriculum. This means that, within your concentration, you may take courses through the College of Human Ecology, as well as from a variety of world-class faculty representing disciplines from across the university.
Why is this important? It's important because as you refine your concentration goals, you will have the flexibility to choose coursework with experts who are conducting research and publishing in your chosen area of study, regardless of which Cornell school or college they belong to.
For instance, if you want to study infrastructure policy, for example, you will discover that there are MPA faculty affiliates in City and Regional Planning, Economics, Engineering, and Policy Analysis and Management who offer expertise on the topic. If Public and Nonprofit Management is your intended area of specialization, you will discover MPA affiliates from the Brooks School, the School of Industrial and Labor Relations, the Business School, and Applied Economics and Management.
6. Increase your professional ROI with an MPA:
Our Cornell MPA students are poised to enter the job market with a competitive edge. Historically, more than 90 percent of our graduate survey respondents have found full-time employment in the field or have moved on to further graduate study within nine months of graduation. Our coursework is designed to cultivate your critical thinking skills and to increase your knowledge about policy-making in general, and to develop your expertise in a specific area of policy of your choosing (we offer eight different concentration options).
Obtaining a cutting-edge graduate degree that promotes these skills makes you more qualified for senior leadership roles, which also results in increased salary potential and more opportunities for professional promotion.
7. Evaluate what true success means to you:
We all want to leave the world a better place than we found it.
Whether you're passionate about healthcare or infrastructure, climate change or education — with an MPA, you can actively promote change in areas of public policy/public affairs that are in desperate need of reform.
Bottom line, getting an MPA will prepare you to make a real, tangible world for the people you love.
Getting an MPA amidst today's challenges:
The Cornell Institute for Public Affairs is looking for students of exceptional quality who have the analytical, leadership, and communication skills necessary to succeed in a career serving the public in government, nonprofit, or for-profit sectors. If you're ready to take on some of the world's most complex policy challenges, you're in the right place.
If you have questions about getting an MPA at Cornell University, we encourage you to request more information, visit Cornell's MPA Resource Library, or start your online application today!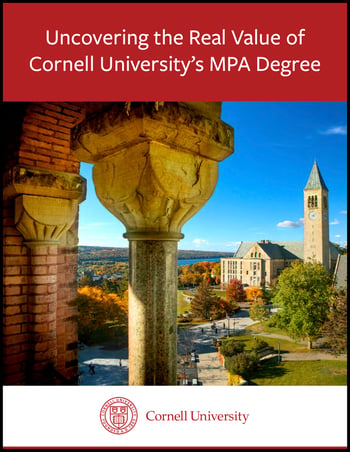 Thinking about getting an MPA at Cornell University?
Download the Value of an MPA Guide!