Getting an MPA With Argentina's Economic Development in Mind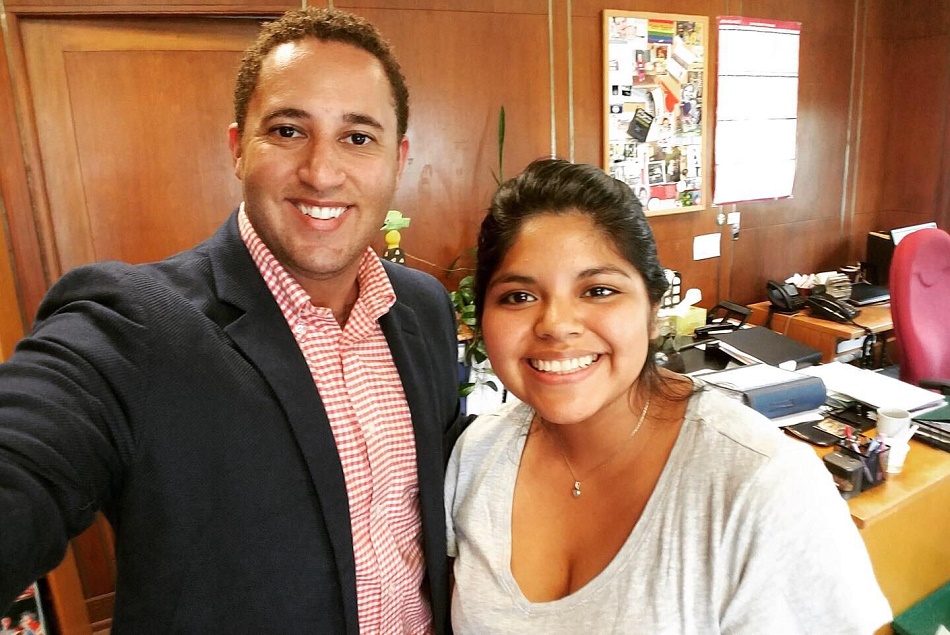 Claudia Poclaba is a second-year CIPA student who is concentrating her studies on Economics and Financial Policy. This summer, she interned for the City of Ithaca, in the Department of Planning, Building, Zoning and Economic Development
In August of 2016, as part of my work responsibilities at the World Summit on Public Policy, I was charged with managing a three day conference with nearly 60 speakers and more than 700 attendees. Thanks to that experience, as well as my work on other conferences, I developed an extensive network of policy makers from around the world who were working to improve their local governments. At the time, I was employed as a communications coordinator for the national government of Argentina, working specifically for the Ministry of Internal Affairs, Public Works and Housing. This position allowed me to see how economic development and infrastructure issues could be addressed on a national level. My experience with the World Summit, however, piqued my interest and desire to make changes to my own country of Argentina starting at the local level.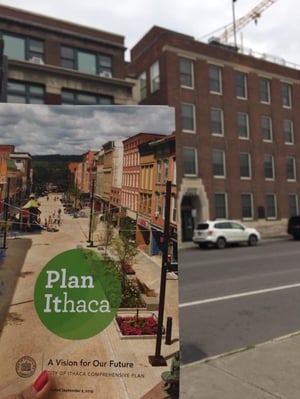 Fast forward to 2019. I had just completed the first year of my MPA studies at Cornell. I had taken courses in infrastructure policy, macroeconomics, public system modeling, and strategic stakeholder engagement, among others. Every course was chosen because of how it would help me in my chosen career path. The same was true when it came time for me to apply for a summer internship; I was looking for a position that would offer me experience working in city government, planning policies for a community and developing transferable skills that I could take back to Argentina. Working for Ithaca seemed like the perfect option!
I decided to apply for a position in the Office of Economic Development at the Department of Planning and Economic Development. Fortunately, CIPA faculty and staff members have strong connections with city government and were able to assist me with my application. Once hired, I discovered that my new boss was not only a Cornell alumnus but had studied and worked with one of my professors from the City and Regional Planning program in developing the comprehensive plan for the City of Ithaca. I was the only intern hired in my department, and I was charged with creating the first draft of the City Economic Strategy Plan. It was the perfect place for me to develop skills that I could take back with me to Argentina.
My project was challenging, particularly since I only had one year of economic and quantitative coursework under my belt. Now I was responsible for bench-marking other cities as a way of comparing and analyzing Ithaca's economic strategy. I researched similar communities' economic development plans, learned about innovative planning occurring in other districts, searched for data relating to small business and startups, etc.
I'm becoming aware of the challenges regarding development in the U.S. and particularly here in Ithaca — something that I would never have thought about in the past. This experience makes me feel more engaged with the community in which I've been living for a year, and I'm feeling more prepared to launch my new career.
I've heard many times that Ithaca is beautiful in the summer, and I can say now that not only is beautiful but also is full of opportunities to learn and to be an active part of change in local government.
Getting an MPA at Cornell University:
Getting an MPA at Cornell University empowers you with the tools required for executive leadership roles in a variety of professional environments. The interdisciplinary MPA program provides a broad education that covers management, political science, economics, and psychology, with a deep-dive into one concentration so you can tailor the degree to your academic and professional goals. The MPA unites Ivy League classroom instruction with hands-on experience through public administration internships, off-campus study, and capstone projects. You will work shoulder-to-shoulder with both world-class faculty and top-tier professionals in your chosen field.
At Cornell University, we're dedicated to providing passionate, dedicated individuals with the skills and knowledge they need to launch a successful career in the field of public affairs/public policy. For more information on our MPA program, contact us today or visit Cornell's MPA Resource Library! We would love to help make your ambitions a reality.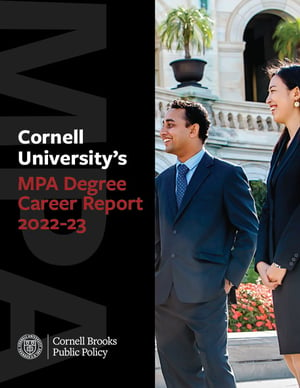 Allow the professionals in Cornell's MPA program to help you land your dream career — download the 2021-22 MPA Career Report today!
---
Recommended for you