5 Reasons to Pursue a Dual Degree — Getting an MPA and an MBA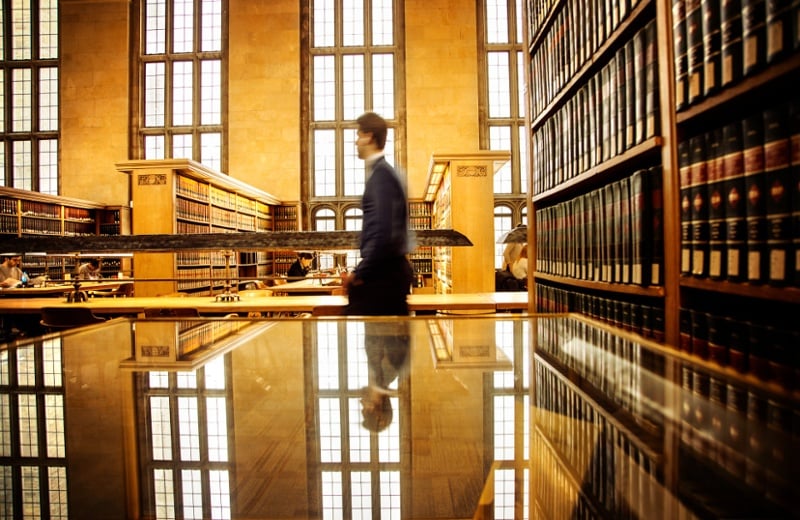 For competitive, driven students, pursuing a dual degree can be a great way to maximize the returns of graduate school.
Taking this into account, Cornell University's Master of Public Administration is designed to allow ambitious, high-achieving students to have the opportunity to pursue an MBA or a JD while getting an MPA.
Let's dive into some information regarding why getting an MPA and an MBA at Cornell University will give you the skills, tools, and knowledge needed to succeed in a variety of careers after graduation! In addition, we'll tell you exactly why pairing your MPA with an MBA is a strategic, valuable option for future leaders in public affairs.
1. A dual degree allows you the opportunity to explore your burgeoning interests.
An MPA is often referred to as a "Master of Business Administration/MBA for the Public and Nonprofit Sectors." While this is the case in many respects, the two degrees are not interchangeable.
So, what's the difference between an MPA and an MBA?
The MPA degree provides insight into the intricacies of how these disciplines apply in the context of mission-driven public service, however, the MBA is focused on profit-driven results. So, if you're interested in the skills and knowledge you'll learn in both the MPA and MBA, then pursuing a dual degree could be the perfect solution for you; doing so could also help you figure out what kind of work is a good fit for you in the long run.
In addition to teaching you the skills needed to succeed in the public, private, or nonprofit sector, pursuing both degrees will give you the opportunity to learn what a career in each sector could look like. Knowing exactly what you could expect from each of those will enable you to make an informed decision as to which environment you'd be most likely to thrive in.
2. Having a broad perspective and range of experiences can help you succeed in the complex and interdisciplinary of today's professional world.
What if you're passionate about working in the nonprofit sector but recognize that you need practical business knowledge to succeed? Further, are you torn between envisioning yourself as a high-powered corporate executive or an impact-oriented nonprofit leader? The skills required for each are less mutually exclusive than you might think. For example, being business-savvy is essential to running a nonprofit organization. According to one source, three of the seven key nonprofit leadership skills are financial management, fundraising, and human resourcing — concrete, practical skills that are also vital to running a successful business.
Similarly, having an acute sense of how best to navigate the public sphere can make you an exceptional business leader. Did you know that approximately 70 percent of millennial consumers report that they will spend more on brands that support a cause they care about? In today's corporate world, accountability, transparency, and equity are becoming increasingly important when it comes to making a profit, and getting an MPA will give you the sought-after skills needed to connect a cause or a brand to your target audience.
3. You can save a semester's worth of tuition — and make the most of your time.
Graduate school is a significant investment of both time and money, and pursuing a dual degree can help you get the most out of both. At Cornell, you can apply up to twelve credits from your MBA towards your MPA if they are relevant to the MPA course of study, meaning that a whole semester's worth of study can count towards both degrees!
Pro Tip: Looking for more information on financing your MPA at Cornell University? This blog is a must-read.
4. You'll have increased career opportunities in competitive fields after graduation.
Obtaining two prestigious master's degrees will give you a significant advantage if you are planning to work in a competitive field. On Devex, a media platform for global development, one article lists an MPA and an MBA as two of the most in-demand graduate degrees for global or international development professionals.
These two graduate degrees have the benefit of being in high demand across a broad variety of sectors, as well, and obtaining both degrees will provide you with skills that are applicable even in very specialized fields and will make your resume stand out to future employers — and who doesn't want that?
5. Pursuing a dual degree will help you double the size of your professional network.
Catarina, a Cornell MPA graduate, cites her previous lack of a network as one of the reasons that she had difficulty finding a position in her field after undergrad. In an ideal world, a stellar academic record would be enough to land you a job, but unfortunately, the challenges that Catarina faced are all too common.
"I soon realized that I could have the greatest transcript in the world, but it would not matter if my networking skills were lacking. For that reason, I chose to get an MPA at Cornell because I wanted to fill this gap, learn how to work a room, and get my name out there."—Catarina Massa, MPA 2019
At Cornell, we provide students with many opportunities to build a professional network, including public administration internships and externships. Studying in two programs simultaneously means that you will have many more options to experience the value of learning-by-doing — and many more options for networking in your chosen field after graduation.
Is getting an MPA at Cornell University right for you?
Getting an MPA at Cornell University empowers you with the tools required for executive leadership roles in a variety of professional environments. The interdisciplinary MPA program provides a broad education that covers management, political science, economics, and psychology, with a deep-dive into one concentration so you can tailor the degree to your academic and professional goals. The MPA unites Ivy League classroom instruction with hands-on experience through public administration internships, off-campus study, and capstone projects. You will work shoulder-to-shoulder with both world-class faculty and top-tier professionals in your chosen field.
At Cornell University, we're dedicated to providing passionate, dedicated individuals with the skills and knowledge they need to launch a successful career in the field of public affairs/public policy. For more information on our MPA program, contact us today or visit Cornell's MPA Resource Library! We would love to help make your ambitions a reality.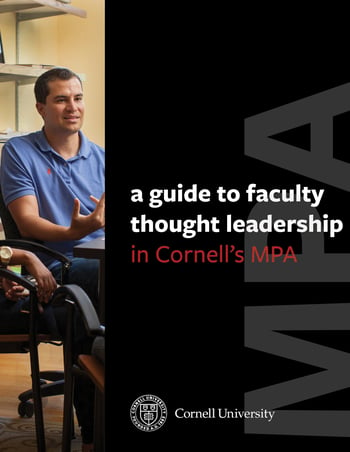 In Cornell's MPA program, you'll learn from world-class faculty who represent disciplines from across the university.
Take the first step in transforming your future, and download the guide today!
---
Recommended for you