Cost-Benefit Analysis: 5 Reasons to Get an MPA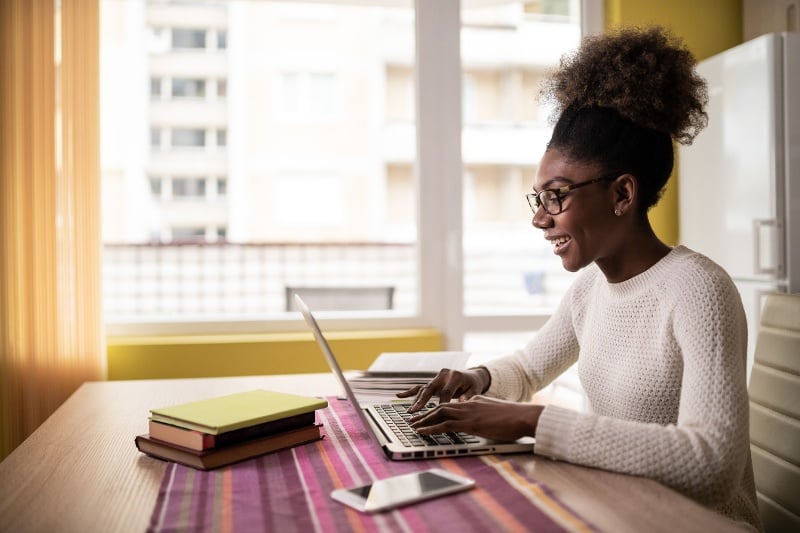 It's no secret that deciding to pursue a graduate degree comes with numerous factors to consider: What's the best option for financing graduate school? Will getting a graduate degree really have an impact on your professional development?
And specifically for future leaders in public affairs, many are wondering: is an MPA worth it?
If you're serious about getting a graduate degree as a way of advancing your career, you should know that it's important to do so sooner rather than later. Let's dive into some research to back up the claim that you should pursue an MPA in the next couple of years.
1. Getting an MPA now is strategic because the cost of higher education only continues to increase.
The skyrocketing costs of graduate school may cause you to wonder: is getting an MPA worth it?
While pursuing a graduate degree may seem expensive, the reality is that it will never be more affordable to pursue a graduate degree than it is right now.
The costs of higher education are inflating exponentially: from 1989 to 2016, the cost of a four-year university increased eight times faster than median wages did, meaning that each successive cohort of graduates is worse off than the last. Additionally, advanced degree holders earn on average 30 percent more than those who have only a bachelor's degree. This wage premium is another reason that it's a smart financial decision to pursue a graduate degree sooner rather than later: if you wait, you'll be forgoing years of a probable salary increase in addition to paying a higher price for your degree.
In the current era of rapid degree inflation, getting an MPA now will also ensure that you remain at the top of your field in the future. Getting an MPA will provide you with the skills and knowledge you need to be a competitive candidate for management and leadership positions in the field of public affairs.
2. Compared to other Ivy League MPA programs, Cornell offers considerable value.
Ambitious graduate students often postpone their studies for financial reasons: they want to be able to afford a high-quality education at an Ivy League graduate program. While this is understandable, cost-conscious students should also be aware that not all Ivy League programs are equally expensive.
Obtaining your MPA at Cornell University, rather than various other Ivy League institutions, could save you anywhere from $20,000-$40,000. And considering that about 50 percent of our students receive merit-based fellowships, the actual cost of your degree could very well end up being much lower than this estimate.
Whether or not you receive one of these fellowships, there are other opportunities for funding that students can pursue to offset the cost of graduate school. These opportunities include part-time employment, external scholarships, and federal loan forgiveness.
3. The sooner you get an MPA, the sooner you can begin to make a significant difference.
Though having an MPA can significantly boost your lifetime earnings, impact-focused individuals know that the benefits of an MPA go beyond a salary increase.
In today's political, environmental, and societal climate, new policy is urgently needed. With millions of children living in poverty, a criminal justice system in dire need of reform, and imminent effects of climate change threatening our future, knowledgeable professionals have the opportunity to make a significant difference in the field of public affairs with an MPA.
While you may be able to land an entry-level position in public affairs with only an undergraduate degree, chances are that it will be more difficult to attain leadership roles in this field unless you have a more comprehensive academic background.
4. Getting an MPA will allow you to pursue your passion now — before you lose focus.
Amid the craziness of everyday life, it's all too easy to promise yourself that you'll apply for graduate school next year or the year after — when you've paid off your debt, bought a house, or accomplished a professional goal. But the truth is that life will always be chaotic, and if you simply wait for the ideal time to present itself, you might never go to graduate school at all.
Though prioritizing higher education now might be difficult, it can have life-changing results: you'll acquire the skills you need to land a job in a field you're passionate about.
While enrolled in Cornell's MPA program, you'll be surrounded by other motivated students who have similar goals and aspirations. This positive, dynamic environment will help you stay focused and dedicated to what you care about, and this focus will almost certainly have positive implications for your future public service career.
5. Cornell's experiential approach will help you jumpstart your public service career.
One of the primary arguments against attending graduate school is that some students want to dive right into the "real world" — believing that they've spent more than enough time in the classroom, they prefer to gain skills and experience that will further their professional development.
At Cornell, we recognize the importance of developing these skills, which is why our curriculum includes the option to participate in the Capstone, a semester-long consultancy project.
Hear from one MPA graduate who obtained a meaningful job after graduating with an MPA from Cornell University.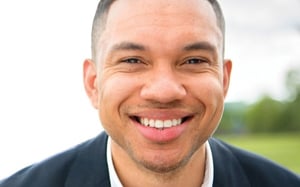 "I was able to combine practical experience with coursework taught by professors at the cutting edge of their fields. . . I spent a semester working full time at the United Nations World Food Programme, while earning academic credit. I worked on some of the largest humanitarian emergencies in the world today, including the crisis in Syria — and I was able to see how the theory I learned at Cornell translated into practice. . . Ultimately, this experience led to a full-time job offer."—Daniel Arukwe Johansen, MPA 2015
In addition to developing a strong academic foundation that will benefit your career in the future, consulting experiences such as this will strengthen your resume and make you stand out to prospective employers.
Getting an MPA at Cornell University — Connect with us!
At Cornell University, we're dedicated to providing passionate, dedicated individuals with the skills and knowledge they need to launch a successful career in the field of public affairs/public policy.
You have the valuable opportunity to obtain a graduate degree that will enable you to make a real, tangible change in the lives of others.
For more information on our MPA program, request more information or visit Cornell's MPA Resource Library!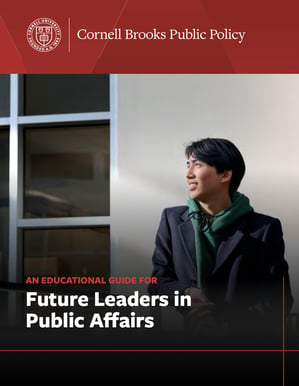 Explore our digital resource page — An Educational Guide for Future Leaders in Public Affairs — for more information about getting an MPA!
---
Recommended for you