Using My MPA to Improve a Nonprofit's Marketing Strategy in Ithaca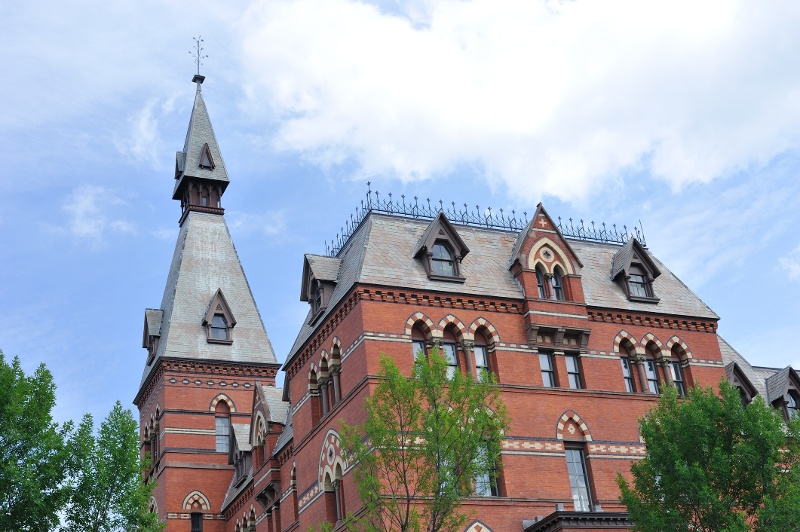 Muhammad Ali Ilahi is a first-year Master of Public Administration student from Pakistan who is concentrating his studies on International Development. He comes to Cornell with experience in both the public and private sector and plans to develop skills at CIPA that will allow him to move into the development sector when he returns to his country.
Here's what he had to say about helping a local nonprofit, Lifelong, along with specific details surrounding the International Development Studies concentration offered through Cornell's MPA program.
My experience at Lifelong in Ithaca:
I had the opportunity of working with a local nonprofit based here in Ithaca for our consulting class PADM: 5900 (Consulting for Non-Profits and Government Organizations). Our project entailed working closely with the organization and coming up with a list of recommendations to help them increase their membership base and outreach.
The organization we worked with is called Lifelong. Lifelong has served the elderly community of Tompkins county for over six decades and continues to be a great avenue for social activities for this particular age group. It offers a large number of courses, activities and counseling services that are available at an affordable cost. Furthermore, a large number of faculty who offer courses at Lifelong are professionals, some of whom are retired professors from Ithaca College and Cornell University.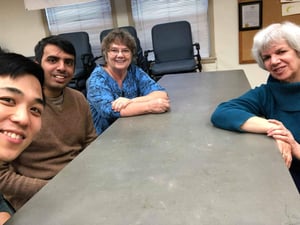 As international students who were assigned to work with Lifelong, we had the opportunity to observe first hand the dynamics of elderly life in the U.S., and how these adults keep themselves occupied. One of the things that stood out to us was that these adults were still interested in the pursuit of knowledge and enrolled in a number of courses that were offered including history, philosophy, art, science, and technology. We were fortunate enough to take a couple of classes at Lifelong, in addition to carrying out focus groups and individual interviews.
The overall discussion and the interaction between the two generations was a wonderful experience for us, and we learned a lot from our interactions with the members.
By the end of the semester, we came up with a report and a binder to help the organization increase its outreach. Furthermore, we also presented in front of the Board of Directors of Lifelong and emphasized strategies they could employ for more effective marketing. Our strategic recommendations required us to do extensive research about the different marketing channels available in Tompkins County including newspapers, radio, social media, and television, and work out the feasibility of employing each medium given the limited budget. We also made a promotional video and one of our articles was published in the local media promoting the organization. Overall, it was a great learning experience and enabled us to gain practical experience and knowledge about how nonprofits function in the United States.
Concentration — International Development Studies:
MPA students concentrating in International Development Studies are concerned with policy issues, policy formulation, and implementation in developing countries. This concentration helps students understand the broad and specific contexts in which international development decisions are made.
Students can explore international development concerns using a range of interdisciplinary perspectives and methods including anthropology, demography, economics, regional planning, sociology, biotechnology, and legal studies.
Further, MPA students who choose the International Development Studies concentration have gained employment (either full time or internships) at the following organizations:
Inter-American Development Bank
International Finance Corporation
International Food Policy Research Institute
UN Development Programme
UN Economic Commission for Latin America and the Caribbean
UN Food and Agriculture Organization
UN World Food Programme
US Agency for International Development
The World Bank
Home County Governments
Join a community of changemakers at Cornell:
At Cornell University, we are dedicated to preparing future leaders who can make a tangible difference in individuals and communities all over the world. In addition to Cornell's customizable MPA coursework, graduate students are able to integrate real-world experience into their program of study by completing an internship or externship.
If you're passionate about the field of public affairs and if you want to learn more about how getting an MPA at Cornell University will enable you to make a real difference in the lives of others, we encourage you to request more information today!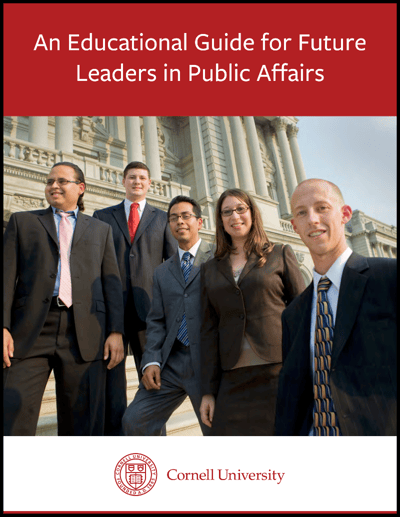 Download our guide: An Educational Guide for Future Leaders in Public Affairs!
---
Recommended for you