Getting an MPA as an Army Lieutenant Colonel — Lee Robinson's Story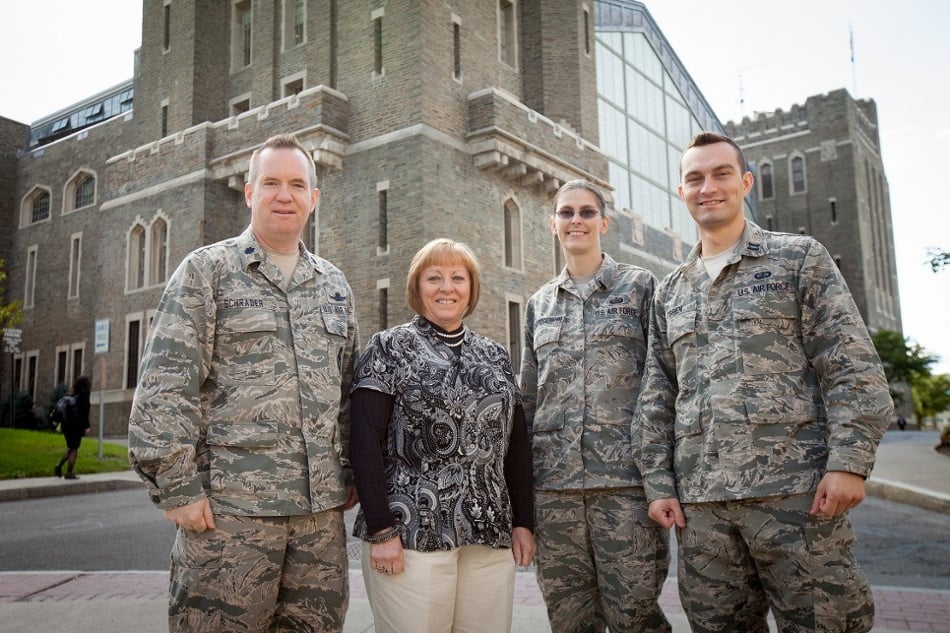 Cornell University is proud to be home to a diverse and high-achieving community of students who are pursuing a Master of Public Administration degree — including a tight-knit community of active duty military professionals and veterans.
Allow us to showcase one Army Lieutenant Colonel, Lee Robinson, who chose to transform his future by getting an MPA at the Cornell Institute for Public Affairs.
When did you graduate from CIPA and what concentration did you complete?
I graduated with my Master of Public Administration from Cornell University in 2010 with a concentration in Government, Politics, and Policy Studies. I then went on to get my PhD in Public Administration at the University of Georgia (2019).
What is your current military title?
Lee Robinson, Lieutenant Colonel. Commander, 603d Aviation Support Battalion, Hunter Army Airfield, GA.

What specifically attracted you to Cornell's MPA and led you to choose it over other programs you were considering?
I attended CIPA as I transitioned from directly leading troops to service as an organizational level leader in the Army. I was attracted by the welcoming nature of the Cornell community, but what made CIPA's MPA program stand out in comparison to the others I considered was its flexibility. I appreciated the chance to design a program of study that I knew would suit my unique needs as a military officer.
Describe how the MPA prepared you for your future work.
Following getting an MPA at CIPA, I taught American Politics, Policy, and Strategy at the U.S. Military Academy for three years. The Government, Politics, and Policy Studies concentration I pursued as part of my MPA prepared me to teach a variety of classes and draw upon some of my experiences with the best scholars in the field at Cornell.
As I transitioned from the classroom back to the expeditionary Army, the skills I learned through the program at CIPA helped me to think strategically and approach problems holistically. When I decided to return to graduate school to pursue a PhD in Public Administration, I found that my MPA experience provided me with an exceptional grounding in the major debates and scholarship in the field.
What makes CIPA's MPA an ideal fit for someone coming from a military background?
CIPA recognizes that each student's journey is unique. The leadership opportunities gained through military service make veterans particularly well suited for CIPA's MPA since the student plays such an active role in designing his/her course of study.
What were the "stand out" experiences at CIPA that made a lasting impact on you?
I enjoyed each day on campus as there are so many opportunities to immerse yourself in coursework, outdoor activities, volunteering, and any number of activities that may be happening on campus.
What I appreciated most about CIPA were the friendships I formed with members of the program. It was enriching to share my experiences as a veteran with my classmates, and it is difficult to quantify how much I grew as a scholar and leader by working with the talented group of people in the program.
Also, the faculty and staff are committed to your success, and the small-town feel of Ithaca provides for a great sense of community.
What advice would you offer a fellow military member who had decided to pursue an MPA at Cornell University?
Cornell University is a place that offers the structure, support, and resources to help you succeed but also provides the freedom to tailor the program to suit your individual needs. The opportunity to take classes across the diverse range of colleges on the Cornell campus is what makes CIPA unique. I was able to pursue my passion for government and policy studies while also establishing a foundation in leadership and finance through coursework in the Business School and School for Industrial and Labor Relations.
Do you have any other insights you think would be helpful for applicants to know?
I would encourage a veteran considering CIPA to schedule a campus visit or schedule a call! I learned so much about the program, faculty, and resources available through CIPA in my campus visit. It solidified for me that CIPA and the Cornell community was the right choice for me and my family.
Getting an MPA at Cornell University:
If you're passionate about the field of public affairs and if you want to learn more about how getting an MPA at Cornell University will enable you to make a real difference in the lives of others, we encourage you to request more information today!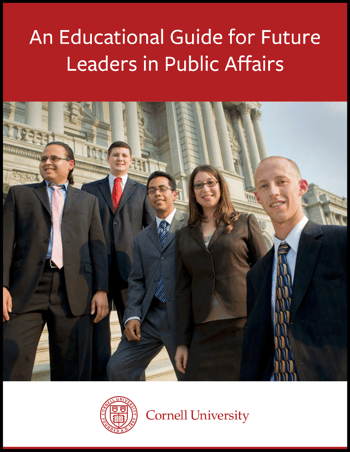 Explore our digital resource page — An Educational Guide for Future Leaders in Public Affairs — for an in-depth look at what it would mean to pursue a Master of Public Administration!
---
Recommended for you