Interdisciplinary Project Takes First-Year MPA Student to South Africa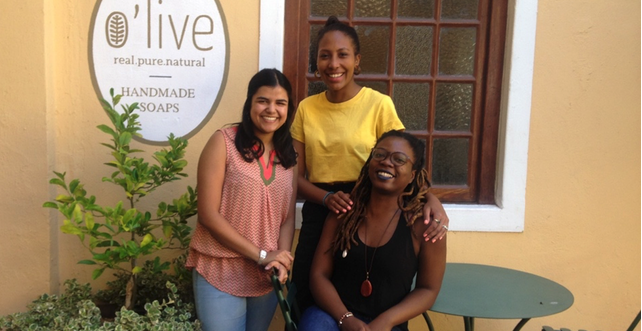 Jamila Daniel is a first-year CIPA student concentrating in international development studies. Prior to CIPA she majored in cultural anthropology at Rutgers University, New Brunswick. She is an alumna of Douglass Residential College and the Institute of Women's Leadership in affiliation with Rutgers. After CIPA, she intends to conduct ethnographic research and specialize in project management and evaluation for development programs globally.

As part of Cornell's SMART (Student Multidisciplinary Applied Research Teams) Program, I had the opportunity to travel to Cape Town, South Africa over winter break to work with a small, family owned business: O'live Handmade Soaps. The SMART program facilitates relationships between students and various businesses abroad. The purpose is to promote experiential learning and engagement for students while the companies receive assistance from a dedicated team. The program requires two half semester courses, one prior to the trip and another upon return. The courses consist of different groups all traveling to different countries to work with companies in some productive capacity.
We had a team of five on this project; I worked with Niagara Pal, an undergraduate senior in the Dyson School of Applied Economics and Management, and Ayan Ahmed, a master's student in Information Science. Our team leader was Chad Fiechter, a master's student in the Dyson School of Applied Economics and Management and our project advisor was Amanda Enqvist, an affiliate with Markets Matter Inc. and resident of Cape Town.
We spent the first class discussing and planning, keeping in mind that we were only going to be in our respective countries for 10 days. My team hadn't yet spoken to our clients so we couldn't know exactly what to prepare; instead, we focused on developing a macro-lensed understanding of South Africa. We each completed PEST analyses, digging into the Political, Economic, Social, and Technical factors in play in the country. We studied the history of Apartheid and its effect on modern day South Africa. We also studied the water crisis and considered how it might affect a small business like O'live Handmade Soaps.
When we arrived in Cape Town, our first day was spent speaking to the company. We felt lucky to work with such kind, creative, and goal-oriented people. Sipho and Zikhona Tefu are husband and wife owners of O'live Handmade Soaps which was founded by Zikhona in 2013. It was both a fun hobby and a solution to their daughter's eczema. Our meeting took the form of an interview. We asked questions such as what they perceived to be their strengths and weaknesses and where the saw themselves in five years. We also inquired about the technicalities of their business such as who their suppliers were, how long it takes to produce their products, and how they manage their finances. This conversation allowed us to decide how we could best serve the company based on their needs and aspirations.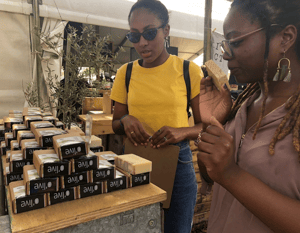 Ultimately, we were able to identify three main growth strategies they were considering. We conducted a cost benefit analysis of each growth strategy, conducted consumer research, and supplied the company with recommendations for social media strategy, branding strategy, and website optimization.
It was an incredible experience engaging with a new country in way that was educational, productive and fun. My team saw first-hand how the factors we studied in our initial PEST analysis influenced a small business and determined their capacity. We saw this in the equipment they were granted by the government and their level 1 Black Economic Empowerment (BEE) status they were given for being a 100% black owned and 50% black woman owned business incentivizing investments and partnerships with other companies. It was clear in how the pricing of their products was influenced by both pricing of essential oils which were now quite high due to the water crisis, and by the great gap in wealth inequality in the country due to Apartheid, allowing them to cater their products to a very wealthy upper class.
We've returned to Ithaca in late January and are now in the final stage of the project. Currently enrolled in the second half semester course, my team is preparing to present our project to the class as a whole and begin writing a case study on the company. We're excited to help other students and other small businesses learn from O'live. They are an amazing case of creative people who were able to grow a successful business despite many challenges. They are innovative and passionate, which was easily contagious. Our team was happy to find that they were satisfied with our work and that we were able to encourage a sense of pride and confidence in their business.
I would also like to add that I climbed all the way up Table Mountain, one of the top seven wonders of nature. I was encouraged by another CIPA student Khyatee Tewari who also completed a SMART project in Durban with a company producing strawberries.
I am extremely grateful to the SMART Program, the Dyson School of Applied Management and Economics, and CIPA, for helping to support my trip, and facilitating such an amazing experience.
If you have questions about attending Cornell University's Institute for Public Affairs, we encourage you to request more information today!
Explore our digital resource — An Educational Guide for Future Leaders in Public Affairs — for tips and tools related to pursuing a Master of Public Administration degree and a career in public affairs!
---
Recommended for you