Making the Most of Service-Learning Opportunities at CIPA: 2019 SMART Team Studies Indonesia's Cacao Industry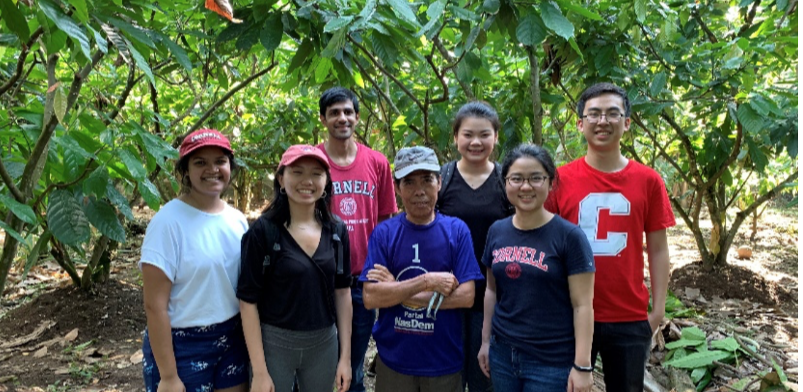 A key advantage of the coursework at CIPA is that it actively encourages students to participate in community centered projects that take students beyond the classroom to understand how public policy issues pan out in the real world.
The CIPA Capstone project and courses like Consulting and Comparative Public Administration: The Case of Seoul are just a few of the multitude of opportunities that allow students to interact with different stake-holders and directly contribute to the work they do.
SMART Program:
One such service-learning experience that I was recently a part of, is the SMART Program. The Student Multidisciplinary Applied Research Teams or SMART in short, brings together students and mentors from all across the university to observe, analyze and evaluate different aspects of emerging market economies. Organized by the Emerging Markets Program under the Charles H. Dyson School of Applied Economics and Management, the SMART program enables students to directly interact with growing businesses in developing countries around the world, understand their challenges and identify prospects for the future.
I was selected to be a part of one of these multi-talented SMART teams and visit Indonesia over this past winter break; my experience was truly enriching and eye-opening in more ways than one.
From Cornell to Indonesia for my Capstone:
Indonesia is the third largest cacao producer in the world and much like other developing countries, it exports most of its produce in the raw form. Lack of onsite value-addition and processing of agri-commodities is a key challenge most developing economies face, often with no easy solutions. Our SMART project in Indonesia thus aimed to understand the cacao value chain and get a broader understanding of economic, social and environmental factors that could enable more cacao to be processed into chocolate. Our 15-day whirlwind field-work encompassed interacting with different stake-holders right from the farmer producers to primary processors of cacao, chocolate manufacturers and academic experts from the field.
Our interaction with small-holder farmers helped us appreciate the challenge of uncertain production and the vagaries of nature they faced. Local chocolate manufacturers were most concerned about the quality of beans available to them, often paying three times the market price for good quality beans. A distorted market for poor quality beans operating through a complex chain of middlemen had ensured that operators at both ends of the supply chain suffered. Mixed with lack of political will, low productivity and poor demand for premium chocolates in the local Indonesian market, it has turned into an enormous challenge. Particularly helpful in comprehending the scale of this challenge was our interaction with professors and staff at the Universitas Gadjah Mada, Yogyakarta.
While the field-work left us with more questions than answers, it helped us appreciate the complexities of the real-world that we will eventually have to operate in. The SMART program enables students to not just experience these complexities first hand but also develop frameworks and case-studies that can facilitate engagement with a broader audience to contemplate on and develop solutions for these issues. Thus, the learning continues beyond the field-work through the associated course-work that students take at the Charles H. Dyson School of Applied Economics and Management. Experiencing a distinct culture from a different part of the world is just the icing on the cake!
Credits: This service-learning opportunity was made possible through the support of the Student Multidisciplinary Applied Research Teams (SMART) program within the Emerging Markets Program (EMP) in the Charles H. Dyson School of Applied Economics and Management and international travel supported by the Cornell Institute for Public Affairs (CIPA) at Cornell University. In Indonesia, many thanks to all the stakeholders – especially Cau Chocolates, Bali, select group of businesses, the farmers and faculty and staff at Universitas Gadjah Mada, Yogyakarta who shared their experiences and knowledge with us.
If you have questions about attending Cornell University's Institute for Public Affairs, we encourage you to request more information today!
Explore our digital resource — An Educational Guide for Future Leaders in Public Affairs — for tips and tools related to pursuing a Master of Public Administration degree and a career in public affairs!
---
Recommended for you