Systems Thinking: CIPA's Derek & Laura Cabrera Offer New Hope for Solving Wicked Problems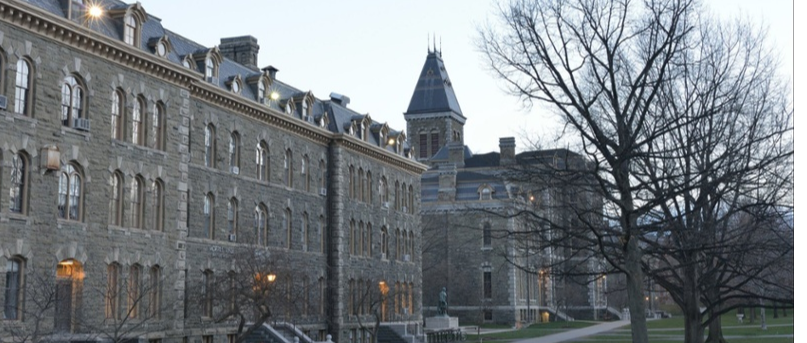 Drs. Derek Cabrera and Laura Cabrera, internationally known for their work in the field of systems thinking, systems leadership, and systems modeling, have been offering CIPA MPA coursework in this subject area since 2015. Their courses are regularly cited by CIPA students as being among their favorites. They have authored numerous books including, Flock Not Clock: Design, Align, and Lead to Achieve Your Vision and Systems Thinking Made Simple: New Hope for Solving Wicked Problems, which was selected as the winner of the 2017 AECT outstanding book award. Derek and Laura are founders of Plectica where Derek serves as the Chief Science Officer and Laura serves as the Chief Research Officer. You can see them provide an overview of their work on CIPA's Cornell Policy Review YouTube Channel: The Cabreras on Systems Thinking.

How has your background prepared you to be a part of the CIPA MPA program?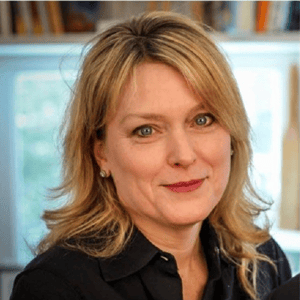 Laura was a CIPA grad so she is died-in-the wool CIPA. She grew up in the D.C. area and talks about the fact that policy and politics were the subject of dinner conversations all of her life. Her mom was involved in the civil rights movement, ERA, and a no-nukes protester. So, Laura grew up interested in the effects that policy can (or should) have on people, in particular vulnerable populations. Fast forward many years, that led to her B.S. in Policy Analysis and Management, a Master of Public Administration from CIPA, and a PhD - also in Policy Analysis and Management.
She's worked at the Department of Justice, Department of Health & Human Services, The National Academy Sciences, and many other government offices, until finally landing here at Cornell, happily working with CIPA Students.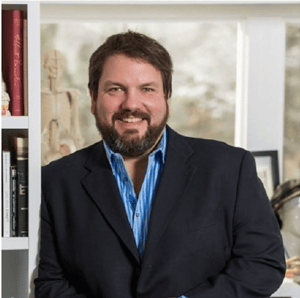 Derek started his career as a mountain guide for two decades prior to becoming a systems theorist and scientist. He brings 20 years of experience as an experiential educator with Outward Bound to his teaching. He comes to CIPA through a circuitous and Forrest Gump-like chain of events, all of which conspire towards relevancy. Nonetheless, his PhD from Cornell allowed him to zero in on his interest in researching how humans think and learn. As a result, he teaches to transform the student experience by developing both a mastery of Systems Thinking and metacognition among his students.
What specific courses do you teach for CIPA students? How do they fit into the MPA curriculum?
Topically, we teach Systems Thinking, Systems Mapping, and Systems Leadership. Our two courses are core courses in the MPA curriculum. The specific courses we teach are:
PADM 5449 - Systems Thinking in Public Affairs. Generally, you will get an in depth look at what systems thinking is and in particular how to do it using powerful Systems Mapping software (Plectica) that you will be able to continue to use in your career. The course gives you a deep set of analytical concepts and tools that you can take with you.
PADM 5114 - Organizational Design, Change, and Leadership. In this course you learn how to apply systems thinking principles to organizations, leadership, management, organizational change, and culture change. As you attempt to solve the world's wicked problems you will inevitably realize that you'll need to lead and manage organizations in order to solve them. This course provides conceptual and practical tools for doing just that.
We also run the Systems Thinking and Mapping Certificate Program (STML), which is a two year certificate for students who are keenly interested in taking a systemic approach to the systems and problems they care about. This is an exciting program with an amazing cohort of students.
What do you enjoy most about working with the CIPA program?
The students. We often say that CIPA students are the perfect combination of big brains with big hearts. They not only bring the analytical chops to their coursework; they also deeply care about and believe they can change the world.
What advice do you have for someone who is considering the pros and cons of returning to school to pursue an MPA degree?
The value of "reflection" cannot be underestimated. For an early to mid-career professional, it is important to take time to reflect upon, understand, and model your experiences. An MPA at CIPA is a great way to do that. Without regular reflection periods, a dynamic career can become nothing more than doldrums.
What research projects are you currently involved with?
We recently received an NSF SBIR grant to study how artificial intelligence (AI) and machine learning can be used to enhance human thinking (cognition) and metacognition (awareness of thinking). We are keenly interested in quantifying the thinking process through data-driven technology.
We are also the co-editors of the forthcoming Handbook of Systems Management for Routledge. In addition, we have two articles in the next issue of AECT-Springer Major Reference Work (MRW) titled, "Learning, Design, and Technology: An International Compendium of Theory, Research, Practice and Policy."
Is there anything else you would like prospective students to know?
We do this work because we know that our students will change the world for the better. It is incredibly motivating to us, to be able to influence the influencers of the future. But changing the world is hard, so you have to have some fun along the way as well.
If you have questions about attending Cornell University's Institute for Public Affairs, we encourage you to request more information today!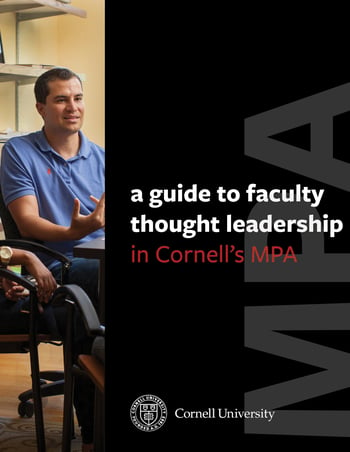 In Cornell's MPA program, you'll learn from world-class faculty who represent disciplines from across the university. Take the first step in transforming your future, and download the guide today!