How a Capstone Project Turned into a Research Position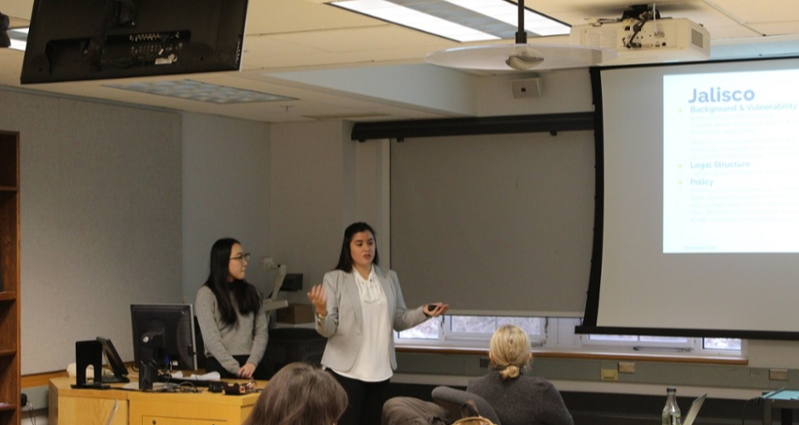 Sarah Cartagena is a second-year CIPA student who is concentrating her studies on Human Rights and Social Justice, with a particular emphasis on migrant rights. A returned Peace Corps Volunteer who served in Madagascar, Sarah works as a graduate assistant for CIPA's public engagement efforts and is the president of the Cornell Latin America Student Society (CLASS).
In our second-year, CIPA students receive the opportunity to fulfill their writing requirement by participating in a capstone project. We are able to choose from a multitude of projects and can work on topics we are passionate about while honing our skills.
Last semester, I completed my capstone project working for a group of faculty researchers associated with the Atkinson Center, who are studying the effects of climate change on migration in Mexico. My capstone partner and I were tasked with researching the climate policy governance in Mexico, and we specifically focused on three states with high climate change volatility and high emigration: Guerrero, Jalisco, and Veracruz.
After concluding our extensive research, we submitted our finalized report to the Atkinson Center Climate Migration Project faculty group. Our research demonstrated that the most suitable states to continue research field work in were Jalisco, and Chiapas-which although was not initially selected, was suggested to our capstone team by a primary source in Mexico. Following our report, we were notified by the faculty researchers that the team would be continuing with our suggestions and would use it to conduct fieldwork in the summer of 2019!
After one of the lead faculty members of the project messaged our capstone professor Laurie Miller stating that they would be interested in continuing work with members of the capstone team, I immediately reached out. The faculty member, Dr. Filiz Garip, quickly responded stating that she would be more than happy for me to spearhead their summer fieldwork team! I was ecstatic that I would be able to continue the work that I had dedicated so much and time and effort to, and that it would be with such a passionate team. We met the following week and finalized our summer field work schedule!
Although I have not yet secured a job after graduation, I have been able to acquire a paid position that will continue to develop my skills. This field work experience will expose me to networks and resources that I can tap into for my future career. Capstone allowed me to build relationships with Cornell faculty that assisted me in developing skills and knowledge that I will surely use in my future career.
Explore our digital resource — An Educational Guide for Future Leaders in Public Affairs — for tips and tools related to pursuing a Master of Public Administration degree and a career in public affairs!
---
Recommended for you