Fall 2018 Capstone: Developing a Business Plan for an Afghan Coffee Start-Up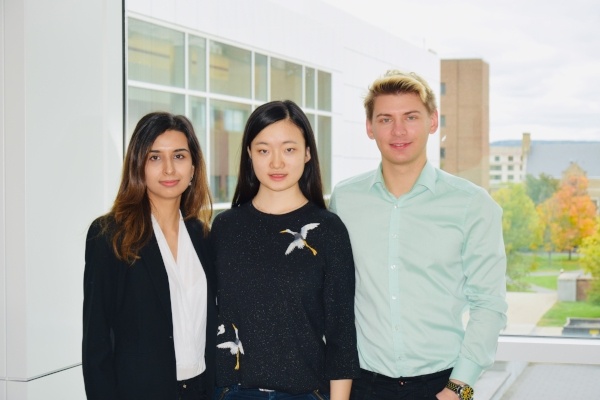 CIPA students have the opportunity to complete a capstone project during their second year of study. For these projects, students apply what they have learned in their coursework to productive partnerships with organizations or companies in their area of interest.
For their capstone, Elaha Mahboob, Eleanor Wen and Marcell Fischler (pictured) are creating a business plan for Bright Citizen, a social impact start-up based in Afghanistan. The start-up focuses on saffron coffee production to support education and employment opportunities for women in the coffee business.
Bright Citizen aims to create beneficial social impact for Afghan women farmers
This start-up markets a coffee blend that consists of ground, fair-trade coffee beans primarily from South America, infused with saffron sourced from Afghanistan. Bright Citizen is a social enterprise that operates for-profit, giving back half of its profits to Digital Citizen Fund, a non-profit that helps women and children by giving them access to technology and providing digital literacy and financial literacy programs. The goal is to empower more women in middle eastern, developing countries while also building better communication of their culture through the promotion of local ingredients. Through the initiative, social benefits could materialize through local infrastructure investments, improvements in education, and the continued production of high-quality saffron crops, supporting families to achieve higher living standards.
So far, our team has completed several qualitative interviews, which were conducted either in-person or via video conference, to define what criteria our target audience considers to be the most important with regards to premium coffee products (taste, flavor notes, social impact, fair-trade, etc.). Additionally, we have created a Terms of Reference document and a preliminary work plan based upon our needs assessment. It contains a list of deliverables and tentative due dates in order to ensure timely completion of milestones and continued progress on the Capstone project.
Although we have established this tentative timeline for deliverables, our future plan includes redefining those milestones as necessary and solidifying expectations for every single deliverable that is to be submitted. Additionally, we would like to promote team member ownership for the deliverables in order to ensure that members are held responsible for the tasks they are charged with. We also plan to conduct more interviews over the next few weeks to gain a better understanding of the market that our product will be competing in. Another one of our core objectives is to gather additional data from partners and to research potential partnerships that can be established as part of the project, in terms of the marketing as well as the sales and distribution strategy. Finally, we want to assess the social impact these measure are expected to create to validate that our efforts are in line with the vision of the company.
Stay tuned for future updates on our project! If you have questions about attending Cornell University's Institute for Public Affairs, we encourage you to request more information today!
Subscribe to our graduate education blog — Public Policy in Action

—

for tips and tools related to pursuing a Master of Public Administration degree!
---
Recommended for you