Lessons Learned from My CIPA Capstone — Bright Citizen
During the Fall 2018 semester, I offered my own project, a startup called "Bright Citizen", for my capstone course. I started working on this startup in early 2018 and continued during my summer break. Bright Citizen is a social enterprise that introduced its first coffee blend consisting of ground, Fair Trade coffee beans primarily from South America, infused with saffron sourced from Afghanistan.
By creating this social enterprise, my goal is to provide an excellent product that also empowers women in developing countries, while improving communication of their culture through the promotion of local ingredients. Bright Citizen will give half of its profits to the Digital Citizen Fund (DCF), a non-profit that helps women and children by giving them access to technology, while providing digital literacy and financial literacy programs. This provides women with the skills to advance professionally in male-dominated environments. By becoming a Digital Citizen, they can compete in a world that is increasingly tech skill-based as geographical boundaries become less significant. As a result, women are empowered to become who they want to be, not what society demands from them.
Additionally, sourcing saffron locally from Afghanistan helps Afghan women farmers become financially independent, a cornerstone around which Bright Citizen was built in the first place. As a result, Bright Citizen realizes women empowerment in the most efficient way possible: through the work of women themselves.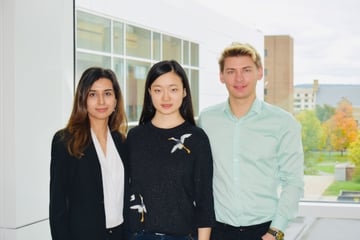 I was given this opportunity by CIPA to start a consulting project with the International Capstone Team. Along with my team members, Eleanor Wen and Marcell Fischler, we conducted both qualitative interviews and a quantitative Qualtrics survey for market research. We recommended and developed a strategic solution that will enable business growth, target the most lucrative customer segment, and also increase the brand's social impact.
In addition, we noticed the fact that crowdfunding is commonly used by many other food and beverage startups. This is a great solution at the first phase because there are people there who can invest in your product and the product can be traded. As a result, we recommended that Bright Citizen should pursue online fundraising efforts via platforms such as Kickstarter. During my winter break, I was busy working to prepare the content and materials needed for a Kickstarter campaign and we're hoping to launch it very soon.
Although I have experience working on startups, mostly in tech sectors, this was my first experience with developing a beverage product. Introducing a new beverage or food product needs constant research and resources in order to find the exact niche market. Breaking into the food or beverage industry requires knowledge and a massive amount of work, both before and after product launch.
As a new entrepreneur in this sector, it's critical for me to constantly increase knowledge and learn new skills. For instance, in this business, it's important for an entrepreneur to understand how to conduct market research, supply chain management, cash flow management and distribution channels. However, because the goal is not to simply sell a product but rather to sell something ethical and build a brand, having knowledge of brand marketing along with social entrepreneurship skills are also important.
Resources available at Cornell and CIPA helped us conduct extensive research, both from Cornell's students and from outside. Also, there are a variety of courses available at Cornell that can help a social entrepreneur. Students can take advantage of those courses, as I'm planning to do in this Spring semester at CIPA.
If you have questions about attending Cornell University's Institute for Public Affairs, we encourage you to
request more information
today!
Elaha Mahboob is a second-year CIPA student who is concentrating her studies on Science, Technology and Infrastructure Studies. While in undergraduate, she and her sister Roha founded Afghan Citadel Software Company, the first female-owned IT business in Afghanistan. Later, they co-founded a nonprofit organization called Digital Citizen Fund (DCF).
---
Recommended for you