Students Reflect on the 2018 Cyber Policy Competition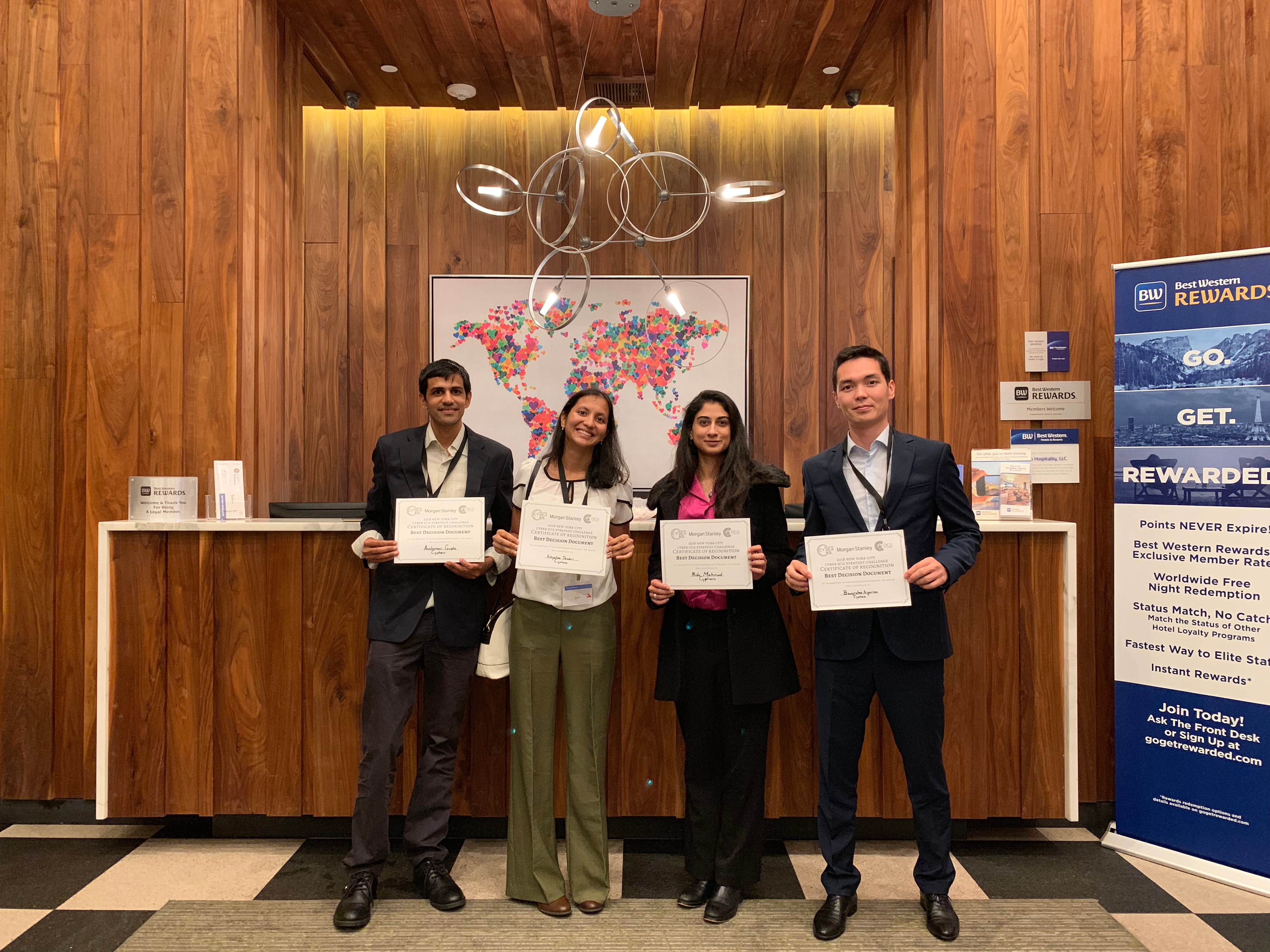 This CIPA team including (l to r) Anshuman Gupta '20, Khyatee Tewari '20, Nida Mahmud '19, and Bauyrzhan Aigarinov '20, received the "Best Decision Document" award at the competition.
"As an MPA fellow focusing on domestic and national security, it was a rewarding experience to be evaluated by a panel of professionals and understand the application of my academic training in real-world conditions. Additionally, I had the honor of being part of an incredible team of dedicated CIPA students, each of whom brought a unique set of skills and experiences, adding value to our work."
--Nida Mahmud '19
This past weekend, I had the opportunity to attend the 9/12 Cyber Policy Competition at Columbia University, along with seven of my fellow CIPA students. We formed two teams of four people each. The competition was designed for cross-disciplined understanding of policy challenges associated with cyber crisis and conflicts. It proved to be a very good learning experience for people with an interest in security, cyber, and technology policy, as well as those who were looking to explore a new area of policy and broaden their skills.
The policy competition was designed around providing real-life simulations concerning cyber security within the U.S.A, to be submitted to the Executive Office of the President (this already tells you the intensity and scope of the field, and the practical applications of competitions such as this). Since none of us had a cyber/tech background, this opportunity helped us to learn some of the key issues around cyber policy. We also came away from the competition with a newfound appreciation for how impactful our studies at CIPA are. We applied the skills we had been learning in our classes to solve new issues that we were unfamiliar with. It helped us understand why CIPA foundation classes are designed the way they are. The competition also allowed us to meet and interact with top professionals in the field of policy. These individuals represented organizations such as FIA, CIA, Morgan Stanley and the military. We learned from their experiences and expanded our professional network.
This competition was sponsored by Morgan Stanley and the company invited all the participants to their office for a reception dinner on the first night of the competition. We all had a moment of awe when we were introduced and given a tour of their Fusion Centre. All the cyber security, tracking, and analysis is conducted at this center. It was interesting to witness the tools they used to deal with cyber threats. This was an amazing, value-added opportunity that the competition made possible for us.
Personally, I think the competition was a new book that opened a world I hadn't explored before. I learned very quickly that working in the policy world meant that I would often need to creatively use the skills that I have developed over the past few years on topics that I had not encountered before. I was extremely lucky to work with other CIPA students, who were so diverse in their skills. This diversity enhanced our analysis of the problem at hand, making it more cohesive and multi-dimensional. Another treat from this competition was the fact that the team I was on produced a report that won the 'Best Decision Document' award. In addition, both CIPA teams qualified for the semi-finals round of the competition. I think this speaks very highly of the cohort we have at CIPA, especially since no one on either of the teams had a background in cyber policy.
I believe that one of the biggest problems of the contemporary world is the fact that it has been built on a fragile system that is easy to manipulate. To solve this, we need interventions from not only policy analysts and law makers, but also from the private sector, the military, and various other stakeholders. I think that competitions like this help us extend our purview over things we would not have otherwise considered, and I would encourage everyone to participate in such gatherings as much as possible.
P.S: The real MVP's are CIPA lecturer Rebecca Morgenstern Brenner and the rest of the CIPA staff who supported us, whole-heartedly, throughout the competition.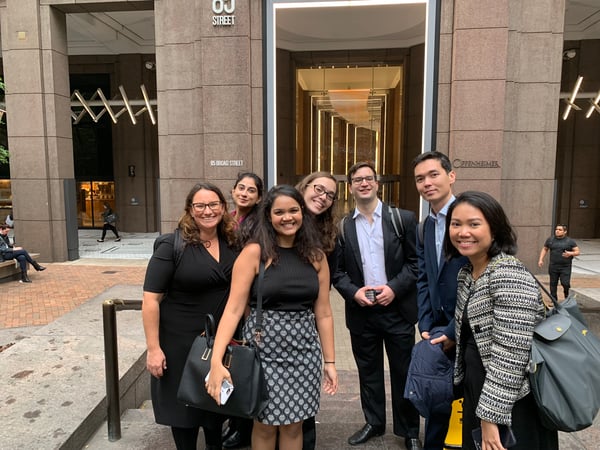 CIPA Lecturer Rebecca Morgenstern Brenner, far left, mentors CIPA students who participate in policy competitions and often attends the competitions, such as this one at Columbia, with the CIPA teams.
REFLECTIONS BY OTHER CIPA STUDENTS
"The cyber security policy competition was an eye opening experience that taught me a lot about the policy making process. As security concerns increase, nations have to form a multi-pronged approach to address interconnected issues. I hope to leverage this experience as I move forward to work on policies that include all relevant stakeholders in the decision-making process."
--Mahrusah Zain '20
"The policy competition was a great opportunity to immerse myself in a very interesting field while developing critical teamwork and analytical skills. The focus the competition had on cybersecurity allowed me to rapidly learn about the field and network with leading professionals in the sector. Furthermore, it was a great opportunity to work alongside a cadre of talented peers."
--Sebastian Molina '20
"The competition provided us an opportunity to interact with and learn from leaders and experts in the field of cybersecurity and defense. Leading to the competition, our team was able to tie our broader understanding of public affairs to the specific issues of cybersecurity. CIPA does a good job by equipping its students with transferable skills and knowledge. I definitely encourage other fellows to join more policy competitions like this."
--Arianna Rebancos '20
"Without specific knowledge of cybersecurity policy, our team had to think outside the box and leverage our own diverse experiences. We decided to put ourselves in the positions of future public administrators, who are often forced to make decisions without understanding of technicalities. I am confident the skills learned in this competition will be applicable to our jobs, regardless or industry or job function"
--Stefy Smith Joint MBA and MPA '21
"The Cyber 9/12 Challenge was an invigorating and challenging experience. Working overnight to come up with relevant policy recommendations that the US government could take up to ward off the imminent risk it faced helped me appreciate the dynamic and complex environment that policy-makers have to operate in. Besides the exposure, winning the Best Decision Document was the icing on cake and I will hope to make use of this experience to achieve greater heights in the near future."
--Anshuman Gupta '20
If you have questions about attending Cornell University's Institute for Public Affairs and getting an MPA, we encourage you to request more information today!
Subscribe to our graduate education blog — Public Policy in Action

—

for tips and tools related to pursuing a Master of Public Administration degree!
---
Recommended for you