Just Another Day at CIPA: Meeting White House Reporter April Ryan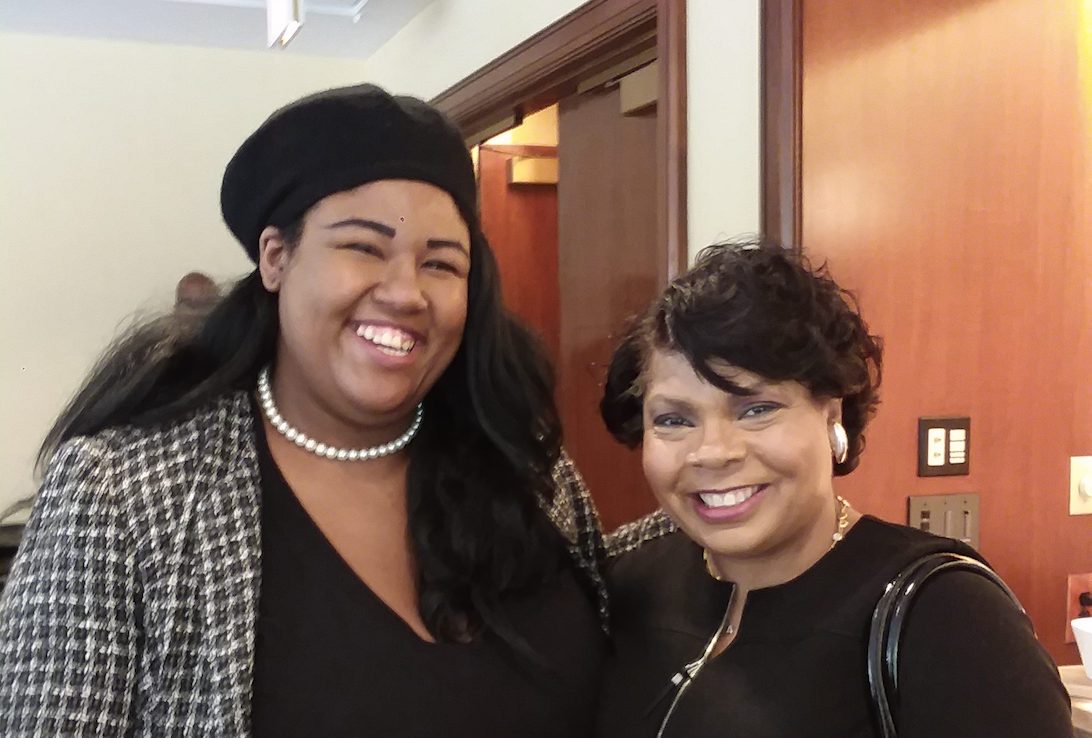 Alexandria is a second-year student who is concentrating her studies on Government, Politics and Policy Studies. Originally from Washington, DC, she came to CIPA having worked with federal agencies and nonprofit organizations including the U.S. Department of State, the United Nations Foundation, and United Voices for America. She completed her undergraduate studies in Rome, Italy and has professional experience in China, Hong Kong, and Cuba. Her long-term goal is to work for the U.S. Foreign Service as a Public Affairs Officer. She currently serves as the president of the student organization, Women in Public Policy (WIPP).
In September, I was invited to attend a private lunch hosted by the Cornell Department of American Studies, which featured American journalist and author, Ms. April D. Ryan. A veteran press official with more than 20 years of experience, Ms. Ryan worked as a White House correspondent through the presidencies of Bill Clinton, George W. Bush, Barack Obama, and current President Donald Trump. She is currently the Washington D.C. bureau chief for American Urban Radio Networks and a political analyst for CNN.
"Heavy is the head that wears the crown" she said in response to my question about remaining true to oneself while potentially being seen as "overly confident" or "intimidating" to peers. Ms. Ryan is an inspiration to me.
As an active member of the press who consistently asks for answers from the White House on matters of national security, elections and accountability, Ms. Ryan has faced immense criticism and challenges from this administration. For her consistent and value-driven work, she was awarded named "Journalist of the Year" in May of 2017 by the National Association of Black Journalists.
What I thought would be a stuffy, faculty-filled policy questioning session, was actually a student-centered experience. Ms. Ryan used the opportunity to share a number of informative lessons and experiences from her career. She also offered her perspective on various political events and the current political climate in general. What struck me most was her ability to overcome a number of challenges as a Black woman in a WASP-male-dominated field. She has weathered having colleagues question her values, accusing her of taking money from Hillary Clinton. After she questioned White House Press Secretary Sarah Huckabee Sanders about whether President Trump had considered resigning and she asked President Trump himself if he was a racist, she received numerous death threats and had to hire a body guard.
Ms. Ryan noted a recent turnover in press correspondents and said new correspondents are challenging the old norms of the press (bloggers included). She asserted that there is bias with this administration over "who" is selected to ask questions during the White House Press Conferences. She highlighted the necessity of a successful career in political journalism being grounded in relationship-building on both sides of the aisle.
Ms. Ryan is an inspiration to what it means to have character in the face of opposition. She is a single mother of two daughters for whom she wants to leave a legacy of excellence. Her new book Under Fire: Reporting from the Front Lines of the Trump White House is her accounting of the current chaos in the White House and what it is like to be a reporter when Trump has deemed you an enemy of the people. Her first book, The Presidency in Black and White: My Up-Close Views of Three Presidents and Race in America, was published in 2015 and won an NAACP Image Award.
If you have questions about attending Cornell University's Institute for Public Affairs, we encourage you to request more information today!
Subscribe to our graduate education blog — Public Policy in Action

—

for tips and tools related to pursuing a Master of Public Administration degree!
---
Recommended for you